Blowing Up the NBA and Re-Drafting: Who'd Go Where and Why (Round One)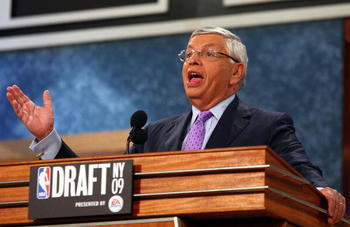 The NBA has been facing some financial struggles as of late. These money troubles have the league facing a potential work stoppage in 2011.
Let's say the NBA wanted a new look, a complete overhaul in an attempt to attract some attention and give hurting markets a fresh start. In an unprecedented move, the NBA decides to start from scratch and re-draft the entire league.
Keeping the lottery system in place, the 14 worst teams are thrown into a weighted pool and draft in the order that the balls come up. To keep the league from becoming too top-heavy, the NBA implements an idea borrowed from the increasingly popular fantasy world, a snake-style draft process.
Here we go with the first ever re-draft in the NBA. Let's join league commissioner David Stern with the first pick.
1.) New Jersey Nets: LeBron James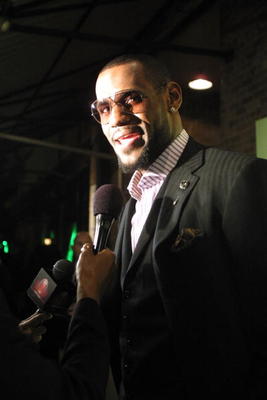 David stern steps up to the podium and announces, "Thank you for joining us here in New York City for the re-drafting of the National Basketball Association."
"With the first pick in the NBA Re-Draft," Stern says with a sly smile, "the New Jersey Nets select LeBron James."
Jay Z's "Empire State of Mind" floods Madison Square Garden to the shower of boos from New York Knicks' fans who had already assumed the LeBron was coming to the Big Apple. They may not be as far off the mark as they think.
As King James makes his way to the stage, a pack of juiced-up guidos with blowout hair start fist pumping as the premier player in basketball is coming to New Jersey.
In another corner of the room, a group of jaded, hipster Brooklynites mocks the crew of Jersey Shore castoffs, knowing that in a matter of a few years, the Nets (and LeBron) will be headed to Brooklyn thanks to Russian billionaire Mikhail Prokhorov.
James shakes Stern's hand and slaps a Nets hat on his head. Knowing that, with equal distribution of talent, LeBron is in line for multiple NBA titles, LeBron cracks a huge smile.
Sauntering back to his seat next to Jay Z, LeBron spots Spike Lee, points, and laughs heartily. James knew all along that he was never going to play for the Knicks.
Minnesota is on the clock.
2.) Minnesota Timberwolves: Kobe Bryant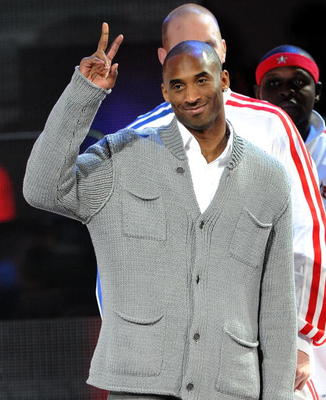 David Stern walks back up to the microphone to announce that the Nets have already sold out of season tickets for the upcoming season before getting back to business.
"With the second pick in the NBA Re-Draft," Stern says, looking puzzled, "the Minnesota Timberwolves select Kobe Bryant."
The crowd collectively gasps before a group mumbling takes over the Garden. Sure, Kobe Bryant is a mega-star, but at age 31 and with 14 seasons on his odometer, is he the guy you want to trust the future of your franchise with?
Bryant walks up to the podium with his shoulders slumped and a defeated smirk on his face. After shaking hands with Stern and putting the T-Wolves hat atop his head in the same uneasy manner that Minnesota draft picks usually do, Kobe jokes aloud, "I better get a North Face endorsement deal out of this."
Stuart Scott interviews T-Wolves' GM David Khan after the pick and asks "My man, why did you take an aging Kobe when you could have had anyone in the world?"
Kahn replies confidently, "You see Stu, since 1960, the people of Minnesota have wanted the Lakers back in Minneapolis. I figured, if I couldn't deliver them the Lakers, I'd at least give them the best Laker."
This is the kind on management that forced this re-draft in the first place.
The New York Knicks are on the clock and the building is buzzing.
3.) New York Knicks: Dwight Howard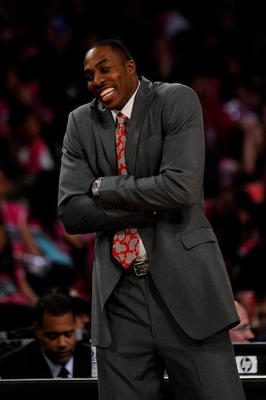 "With the third pick in the NBA Re-Draft, the New York Knicks select Dwight Howard," Stern announces, thinking that this will be the first time since Patrick Ewing that the MSG fans will cheer for the Knicks' pick.
Stern is wrong. The New York crowd showers Howard with a rain of boos, apparently hoping to get Kevin Durant and his scoring prowess.
Unfazed by the hostile Knicks' fans, Howard smiles big for the cameras and shrugs as he places the Knicks hat on his head. This just proves that there is nothing in the world that can shake Howard's happy-go-lucky mindset.
Knicks' GM Donnie Walsh smokes a couple of cigarettes simultaneously, rings his hands, and begins working on his letter of resignation.
Golden State is on the clock as the New York "faithful" pour out of the arena, mistakenly disappointed.
4.) Golden State Warriors: Kevin Durant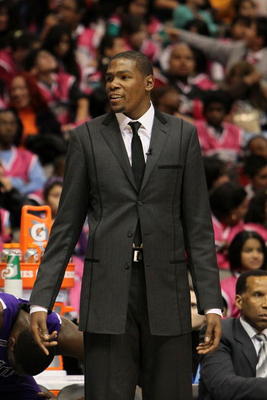 David Stern looks rattled by the reaction to the No. 3 pick by his largest market. Is there nothing that will make these fans happy?
He makes the announcement that the Golden State Warriors will be selecting Kevin Durant, a guy that knows the feeling of getting passed over to be drafted by a team with an uncertain future.
As Durant approaches Stern, he asks the commish in his ear, "C'mon man, where we movin' this team, St. Louis?"
Stern bites his lip and gives KD a half-hearted chuckle, knowing that he's not far off the mark.
Golden State is so excited about "Durantula's" offensive skill that they sign Don Nelson to an indefinite extension. St. Louis begins construction of a new basketball arena.
Stern rolls his eyes as he states that Indiana is on the clock.
5.) Indiana Pacers: Dirk Nowitzki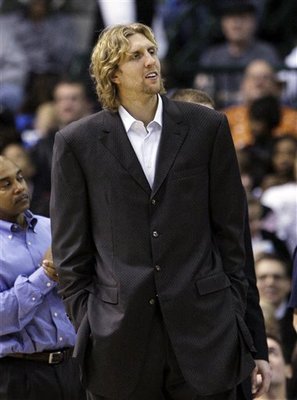 Stern comes back to the podium, second-guessing the whole re-draft idea. Things get worse as he announces the Pacers pick.
"With the fifth pick in the NBA Re-Draft, the Indiana Pacers select Dirk Nowitzki," Stern states as he shakes his head.
The big German approaches Stern to accept his handshake and new hat. On his request, the sounds of David Hasselhoff fill the Garden.
As Stuart Scott sits with Indiana GM David Morway and asks what moved him to select Dirk. Morway smiles and notes, "What can I say, we love big, goofy white guys that can shoot in Indiana, Dirk is everything we could ask for."
Scott reluctantly accepts the answer, knowing that some things will never change. That said, the Detroit Pistons are on the clock and Darko Milicic is still available. Everyone instantly holds their breath.
6.) Detroit Pistons: Carmello Anthony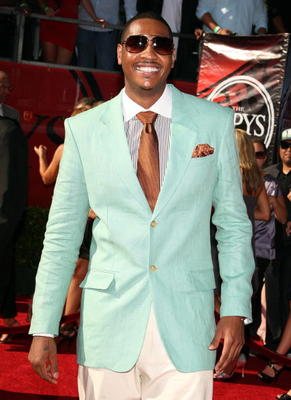 An obviously uneasy David Stern opens the envelope to find that Detroit has selected Carmelo Anthony and immediately exhales enough air to blow up a hot air balloon.
Carmelo swaggers onto the stage and snatches the Pistons hat out of Stern's hand while avoiding the customary handshake. Anthony says into the mic, "Hit my music."
The arena starts blasting Puff Daddy's "Bad Boy for Life" as 'Melo proclaims, "I'm glad to be coming to Detroit, we bringin' the Bad Boys back."
In the post-pick interview with Stuart Scott, Pistons' GM Joe Dumars laughs, "What did you think was going to happen, Stu, pass up a talent like Carmelo Anthony?"
Scott, noticeably shaken by the irony, sends it back to David Stern as he announces that Sacramento was on the clock. Stern is crossing his fingers hoping that he won't be sending Dwyane Wade to the Kings.
7.) Sacramento Kings: Dwyane Wade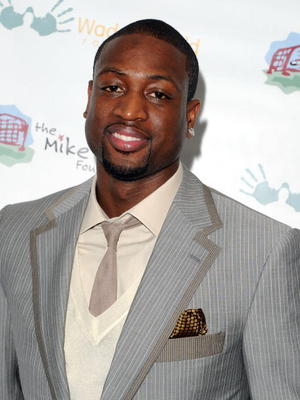 The Sacramento Kings select Dwyane Wade as Stern hangs his head is disbelief. Another of the league's premier talents is headed to a volatile situation in a doomed market.
Wade accepts his hat and handshake before walking up to the microphone to make a statement. Stern looks irritated now that half of the players selected have abused their moment on stage as a platform to speak.
Wade tells the Kings management "I just want it to be clear that I want to be surrounded with talent and I want the team to be serious about winning a title."
Good luck, Dwyane. The Washington Wizards are on the clock.
8.) Washington Wizards: Chris Paul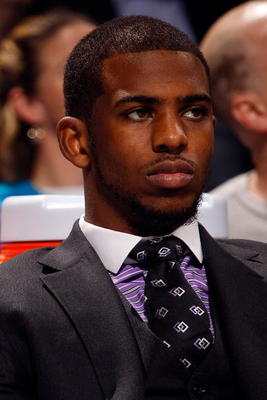 Before David Stern announces Washington's pick, he declares that Gilbert Arenas has been reinstated to the league. This word gets only a laugh from Wizards' management as they hand their envelope to Stern.
The commissioner opens the pick to see that Chris Paul is headed to the nation's capital. As Paul walks up to the stage, security stops him and pats him down looking for weapons.
A now agitated CP3 put on his hat and shakes Stern's hand and leans in to ask him a question. "Is it too early to ask Washington for a buyout?" Paul asks.
Stern chuckles and whispers to Paul, "I don't blame you for asking, we'll work something out."
Chris Paul takes his seat and starts working his Blackberry vigorously, apparently contacting teams that have expressed interest.
The Philadelphia 76ers are now on the clock.
9.) Philadelphia 76ers: Brandon Roy
The Sixers hand David Stern a note before turning in their selection. Stern reads the note aloud, letting the audience know that Allen Iverson won't be returning to play another season due to circumstances that he'd rather not get into at this time,
A press conference to announce Iverson's retirement will be scheduled during the first Philly practice of the season.
Stern tells the crowd that the Philadelphia 76ers will be selecting Brandon Roy with the ninth pick in the re-draft. A group of confused Philly fans in Eagles gear begin to boo loudly before being escorted out of the arena.
Roy takes his hat, shakes Stern's hand, and heads for the emergency exit to avoid the Philly fanatics.
Now for the moment Stern has been dreading all night, the Los Angeles Clippers are on the clock.
10.) Los Angeles Clippers: Blake Griffin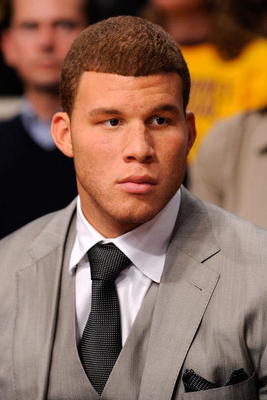 A reluctant David Stern steps up to the podium to announce the Clippers' pick. As he opens the envelope, Stern mumbles something that sounds like, "I wonder how they'll screw this one up."
In a moment of deja vu, Stern calls out that "The Clippers select...Blake Griffin." This time, however, he doesn't look as happy about the call.
Still on crutches from destroying his knee, Griffin limps up to the podium to collect his hat. He leans on one crutch to shake Stern's hand, falls from the stage, and shatters his healthy knee. Damn that Sacred Buffalo!
The Charlotte Bobcats are on the clock.
11.) Charlotte Bobcats: Chris Bosh
David Stern opens the envelope to find a Michael Jordan baseball card signed "#*@& you, Stern. I'm back! MJ". Under the card is the selection. The Bobcats have chosen Chris Bosh with the 11th pick in the NBA Re-Draft.
Stern hands Bosh a hat and shakes his hand as Bosh hisses something in Avatar-speak. Stern walks away, takes a deep breath, and glances at his watch.
Stuart Scott sits down with new Charlotte owner Michael Jordan. Jordan explains that they were going to pick Derrick Rose until he realized that Rose was under contract with Adidas. "Deal-breaker!" exclaims Jordan, while laughing to himself.
Jordan goes on to tell Scot that he is planning on changing the team name to the Carolina Flight and using the Nike Swoosh as the team logo. Scott tells Jordan, "Go on, MJ. You da' man."
New Orleans is on the clock.
12.) New Orleans Hornets: Derrick Rose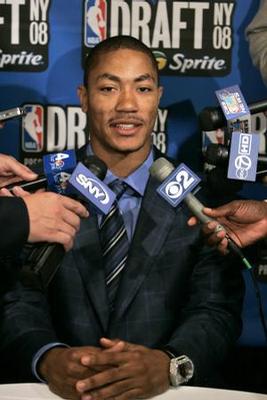 After reading a petition to return the name Jazz back to New Orleans, a clearly exhausted David Stern clears his throat and announces that the New Orleans Hornets have selected Derrick Rose.
In a redundant move, the arena speakers blast "When the Saints Go Marching In." As Rose tries on his new hat he says into the mic' "This is for the city of New Orleans." Rose smiles and walks off the stage.
GM Jeff Bower talks to Stuart Scott after the pick. He tells Scott with a smile, "This is for the city of New Orleans."
Scott asks, "What is for New Orleans?"
Bower responds with a bigger smile, "This, all of this."
Memphis is on the clock.
13.) Memphis Grizzlies: Pau Gasol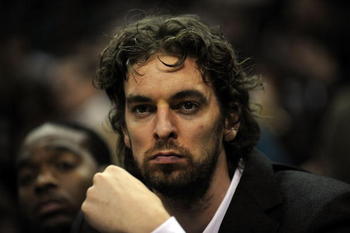 By now, David Stern has clearly had his fill. As Memphis Grizzlies' GM Chris Wallace hands Stern his pick, Stern jokes, "If I open this and see Hasheem Thabeet, I'm sending the team back to Vancouver."
Memphis selects Pau Gasol with the 13th pick in the NBA Re-Draft. Immediately, the phone of Chris Wallace starts to ring. On the other line is Jerry Buss. The following exchange takes place:
Wallace: What do you want, Jerry?
Buss: Hey, Chris, how the hall are ya' buddy?
Wallace: What do you want, Jerry?
Buss: I was just calling to see how you've been.
Wallace: Yeah right, Jerry.
Buss: I was wondering how attached you were to Gasol.
Wallace: I'm not falling for this again, you don't even have anything to trade yet.
Buss: Yeah, well, we're working on this 7'4" D-League player and we still have the rights to Nick Van Exel.
Wallace: Well, since you put it that way, call me after the first round and we can talk money.
Buss: I love you, Chris!
Houston is on the clock.
14.) Houston Rockets: Deron Williams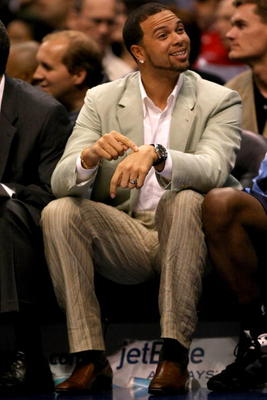 David Stern is beaming because this is the final pick of the lottery. After the Houston pick, he can start rushing things and try to get home in time to stop the bleeding.
"With the 14th pick in the NBA Re-Draft, the Houston Rockets select Deron Williams."
Stern is just happy to get through a sensible pick with no awkward moments. Before Stern can fully enjoy the moment, Deron Williams storms the podium shouting, "Yeah %#@#*, no more Utah. WOOOOO! What it do, H-Town. Let's get the party poppin'."
Houston GM Daryl Morey is ushered out of the building by paramedics after attempting to hang himself from a rafter beam.
The Chicago Bulls are on the clock.
15.) Chicago Bulls: John Wall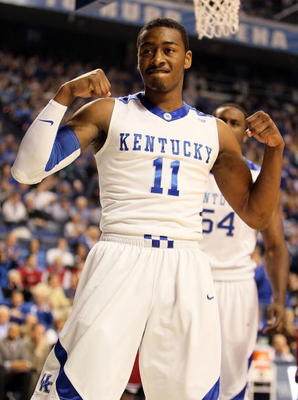 The Bulls get a steal at No. 15, shoring up their future with the first player selected out of the college ranks, John Wall. Ushering in the "tiny jersey, huge shorts" era, Wall comes in to bring Chicago back to the glory days of Michael Jordan.
Saturday Night Live scrambles to assemble a new "Da Bears" skit with slovenly Chicago fans sitting around a table ans saying "Jooooooohn Wall".
The Miami Heat are now on the clock.
16.) Miami Heat: Amar'e Stoudemire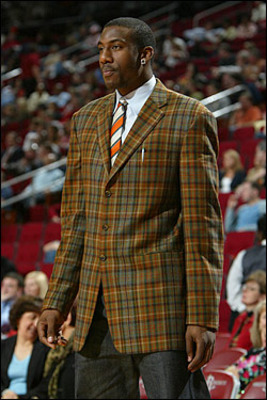 A stuborn Miami team, still angry that they couldn't land Amar'e Stoudemire before the trade deadline, picks him at 16. After the pick, Pat Riley shouts, "Hey Dwyane, we got him!...Dwyane?......DWYANE !?!"
Milwaukee is on the clock.
17.) Milwaukee Bucks: Joe Johnson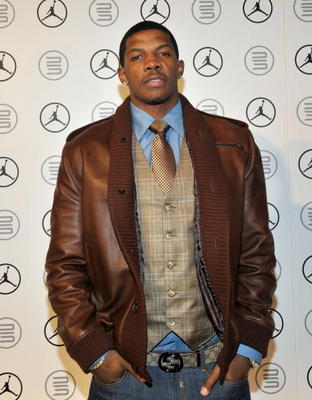 The Milwaukee Bucks can't pass up getting Joe Johnson this late. Maybe a player with his explosive ability can get fans in Milwaukee excited about basketball...then again, maybe not.
Toronto, you are on the clock.
18.) Toronto Raptors: Steve Nash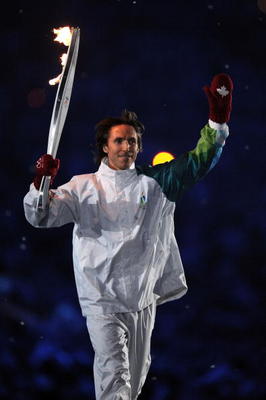 Toronto GM Brian Colangelo is well aware that nobody wants to play in Canada, well except for a Canadian. The Raptors don't hesitate one bit before selecting Steve Nash, the greatest basketball player to come out of Canada.
Nash is excited "a-boot" the pick. He can end his career in his native country and looks forward to tuning unhappy players into better unhappy players.
Portland is on the clock.
19.) Portland Trail Blazers: Yao Ming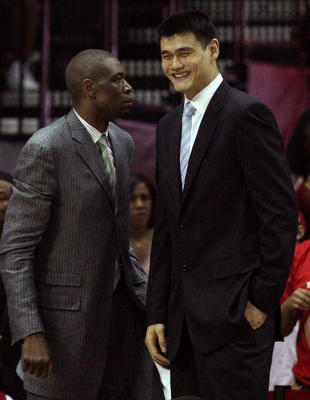 The Portland Trail Blazers' GM Kevin Pritchard is amazed that Yao Ming has slipped to pick 19 in this re-draft. Unable to pass on a potential franchise center, regardless of his injury history, the Blazers draft Yao. At least this time they aren't passing up Michael Jordan or Kevin Durant.
Dikembe Mutumbo asks former teammate Yao if he could put a good word in for him. Yao laughs, not understanding a word Mutumbo says. Join the club, Yao.
The clock is on for San Antonio.
20.) San Antonio Spurs: Tim Duncan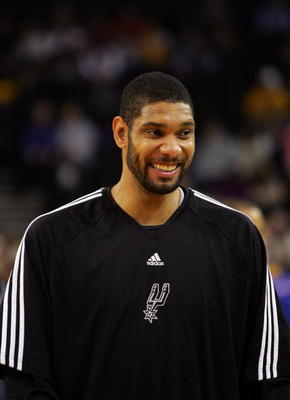 After seeing Tim Duncan show up in his Spurs warm-ups, San Antonio RC Buford feels that the team owes him the world. The Spurs select Duncan, knowing that he won't last through his contract.
Seriously, could you picture Duncan playing anywhere other than San Antonio? I know it's boring, but we are talking about Tim Duncan here.
The Oklahoma City Thunder are now on the clock.
21.) Oklahoma City Thunder : Josh Smith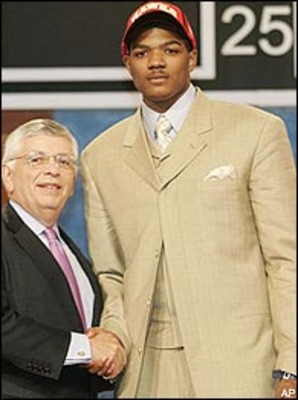 Thunder GM Sam Presti is a master thief. He stole Kevin Durant with the No. 2 pick in the 2007 draft. In the re-draft, Presti waits out a run of older players and snatches Josh Smith at No. 21.
Smith fits into the Thunder philosophy with his amazing athleticism and defensive prowess. "J-Smoove" does not, however, fit into the Oklahoma City culture. He may have to buy a cowboy hat.
Phoenix, the clock is yours.
22.) Phoenix Suns: Monta Ellis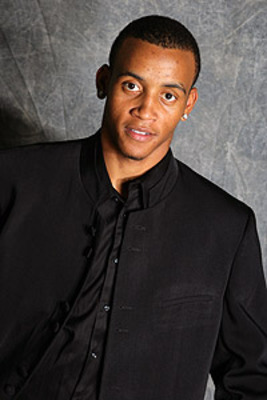 David Stern breaks a relatively smooth run to make an announcement.
"I'm sorry to inform the Phoenix Suns that, by the NBA Re-Draft rules, they will not be allowed to trade the No. 22 pick to the Los Angeles Lakers for Cash considerations. Please add an additional minute to the clock for the Phoenix Suns' selection," Stern says in a aggravated tone.
The Suns decide on offense-first SG, Monta Ellis. Phoenix petitions the league to adjust the rules regarding trades during the remainder of the re-draft.
Utah is on the clock.
23.) Utah Jazz: Brook Lopez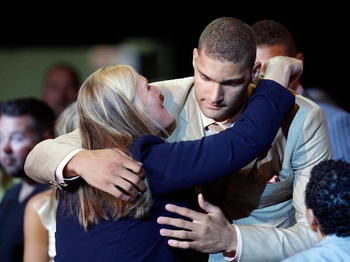 The Utah Jazz make no hesitation grabbing Brook Lopez at No. 23. Jazz GM Kevin O'Connor tells Stuart Scott that he loves the fact that Lopez combines tough defense and underrated offense with the fact that very few people outside of the league have ever heard of him.
The center of Cuban origin does a quick internet search to find out more about the Latino population of Utah, only to find out that he is the Latino population.
24.) Atlanta Hawks: Danny Granger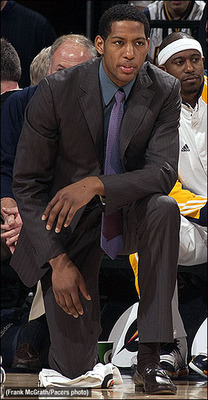 After seeing former GM Billy Knight's plan ultimately come to fruition, Hawks GM Rick Sund feels obligated to pick a 6'8" player best suited to play SF. Danny Granger is so excited to be out of Indiana that he hugs Stern for a solid five minutes before being ushered off the stage by security.
Please set the clock for Boston.
25.) Boston Celtics: Rudy Gay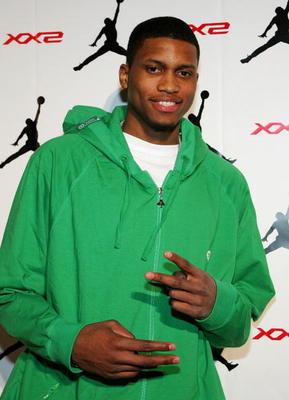 The Celtics reportedly tried to trade Rajon Rondo for Rudy Gay in an offer that Memphis turned down. Danny Ainge picks Gay after being particularly impressed by Gay's brain-type.
A couple of Boston fans debate the merits of the pick when one calls the pick "wicked retahded" as the obligatory Dropkick Murphy's song (you know, the one from The Departed and anything remotely related to Boston or Ireland) floods Madison Square Garden.
Denver is on the clock.
26.) Denver Nuggets: Rajon Rondo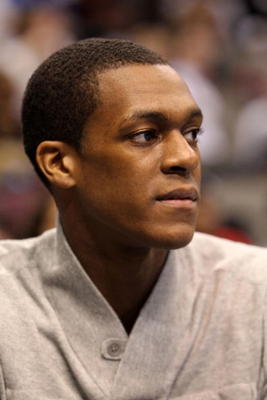 The Denver Nuggets select Rajon Rondo with the 26th pick. Rondo shows his championship ring to David Stern at the podium and tells him, "You may be the commissioner, but you never gonna win one of these."
GM Mark Warkentien tells Stuart Scott that he couldn't pass up a guy that shoots .628 over his career. Scott points out that .628 is his free throw percentage, not his percentage from the field.
Dallas is on the clock.
27.) Dallas Mavricks: Paul Pierce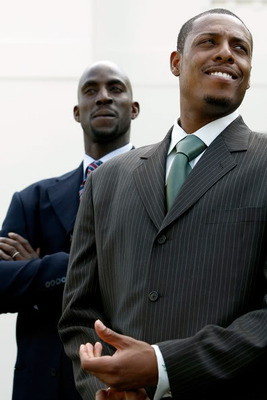 Dallas Mavericks' owner Mark Cuban storms the stage and announces that David Stern screwed him over by not holding the NBA Re-Draft in the new, state-of-the-art Cowboys Stadium. Cuban gives the mic back to a confounded Stern, who names Paul Pierce as the 27th pick.
Cuban sits down with Stuart Scott and proceeds to tell him, "I had to take Pierce after his performance in the 3-Point Shootout at All-Star Weekend in the new, state-of-the-art Cowboys Stadium."
Cuban goes on to point out that in Pierce's own words, he is one of the best shooters in NBA history. Cuban asks, "Seriously Stu, how can you argue with that?"
Scott just shakes his head in disbelief.
Orlando is on the clock.
28.) Orlando Magic: Gilbert Arenas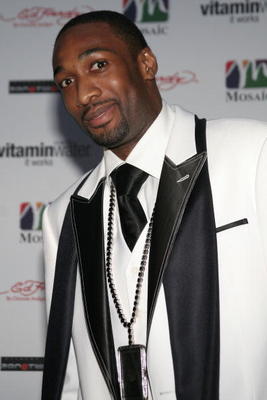 To everyone's surprise, Orlando selects Gilbert Arenas with the No. 28 pick. Half of the New York crowd reaches for their waist bands as security surrounds Arenas.
GM Otis Smith has a sit down with Stuart Scott to shed some light on the shocking pick. Scott asks if the fact that Smith drafted Arenas when he was in Golden State had any bearing on the selection.
Smith responds, "Sure, it was a factor, but I've been gunning for Arenas for a while. He brings new meaning to the phrase shooting guard. Not to mention that he has experience as a Wizard, maybe he can use what he learned to conjure up some magic. Hahahaha."
Scott does not laugh.
The Los Angeles Lakers are on the clock.
29.) Los Angeles Lakers: Ricky Rubio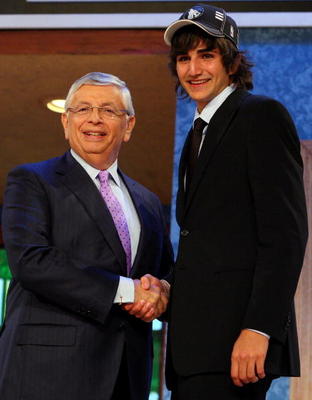 The Los Angeles Lakers, obviously desperate for some star power, select Ricky Rubio with their first round pick.
As Rubio shakes hands with David Stern, he is pulled closer as Stern whispers to him while smiling, "Don't make me look stupid again, young man. Los Angeles is a big market and that's where you are playing from now on."
Rubio shrugs his shoulders and begins fielding phone calls and texts from acting agents, movie producers, and studio executives.
Rubio agrees to star opposite Zach Effron in High School Musical: Foreign Exchange and immediately starts dating Miley Cyrus.
Uhhh, Cleveland is on the clock.
30.) Cleveland Cavaliers: Evan Turner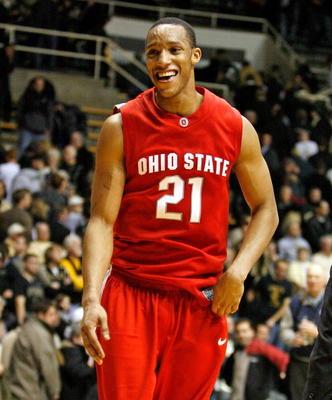 David Stern approaches the podium with a giant grin on his face.
"With the FINAL selection in the NBA Re-Draft, the Cleveland Cavaliers select Evan Turner," Stern says with giddiness, happy to pass the duties over to lesser NBA executives for the remainder of the re-draft.
Stuart Scott discusses the final selection with Cleveland GM Danny Ferry, "Why did you go after a college guy with so much proven talent available, Danny?"
"Not many players are excited about playing in Cleveland, Stuart. We learned with LeBron James that the only factor we can use to entice stars to stay here is to get hometown guys and guilt them into staying in Ohio."
Scott points out that Turner was born and raised in Chicago. He chose Ohio State because he was impressed with the program.
Ferry's head falls into his hands.
Cleveland is still on the clock...
Farewell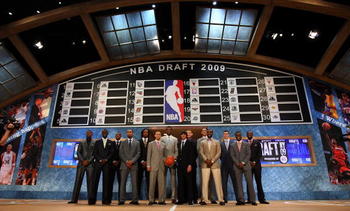 This concludes coverage of the first round of the NBA Re-Draft. Look for Round Two in the coming week as we see where Kevin Garnett, David Lee, Tyreke Evans, and other stars go and what happens when Ron Artest shares the stage with David Stern.
Until then, thanks for reading.
Keep Reading