Montreal-Anaheim: Habs Late Rally Sinks Anaheim Ducks 4-3 in SO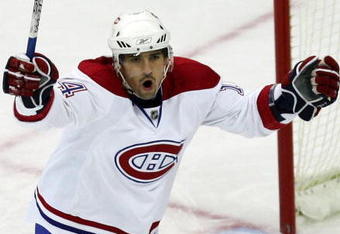 Streeter Lecka/Getty Images
Raise your hand everyone who thought that the Habs would have three out of four wins and six out of eight points on their post-Olympic West Coast road trip.

Not all at once now.

The good news is that in a room of one hundred people, there would likely only be five or six with their hands up, myself excluded.

Yesterday's game against the Anaheim Ducks was supposed to have been an entertaining match, as two teams who were in desperate need of points clashed for their second game in 24 hours.

Unfortunately, the script didn't quite play out that way.

The Habs definitely had jump to their game, from the opening faceoff, but were unable to capitalize on their numerous opportunities.

On the other side of the ice, however, the porous Habs defense was busy making Carey Price look bad, yet again.

While many fans in Habs-nation have already fit Price with goat horns this morning, we should be reminded that the lackluster performance of the team in front of him was the reason for the three first period Ducks' goals.

Sure, Price could have been stronger along the ice on the first two, but it was ultimately a combination of missed assignments and poor gap control that allowed the Ducks' players to have their way with Price. Try as he may, he just can't seem to catch a break this year.

Trailing by three going into the first intermission, Coach Jacques Martin wisely put Halak in nets to start the second period. This move was in no way a reflection on Price but more a move done to try and shake things up for his team.

On the other end of the ice, Ducks' goalie Jonas Hiller looked to be picking up where he left off during his Olympic stint with the Swiss team, as he made several spectacular saves to keep the Habs off the board.

Tomas Plekanec started the comeback for the Canadiens, however, by scoring at 7:48 of the second period. Despite the goal, you could see that neither team had much left in the tank as they had both played the night before.

The third period was a display of some of the most slow paced, boring, mistake-ridden hockey I have seen in a long time as both teams struggled to keep their legs moving.

Despite the molasses that both teams were obviously skating in, the Habs decided to make things interesting with less than two minutes to play. As Brian Gionta scored his 20th of the season at 18:08 to draw the Habs to within one, the Canadiens seemed to find their wings.

The drama was heightened as the Ducks' Corey Perry rang the puck off of the outside of the post, with Halak on the bench for the extra attacker, for a missed opportunity that would have sealed the deal.

With the play back in the Anaheim zone and time running out, Markov, standing in the slot to the right of the crease, fired the puck past Hiller with just under 11 seconds left on the clock to send the game to overtime.

Overtime solved nothing and it was left to Plekanec to score the winner in the shootout, sealing the win for the Habs.

Final Score: Habs 4 - Ducks 3


Game Notes
1. Poor Carey Price. Just when we might have thought he was turning the corner with two solid performances—against Boston and San Jose—he gets shelled for three not-so-strong goals in one period and is yanked in favour of Halak.

I find it unfortunate for the young protégée as his confidence never really gets a chance to soar. For some sickening reason, the team just seems to play better in front of Halak—as my wife astutely pointed out last night.

It is hard to understand why, but the team just doesn't seem to score very much when Price is in nets.

The difficult or not so difficult question now—depending on how you look at it—is who do the Habs start in their next game? Can Martin afford to try Price to see if he can do the job? Does Martin have to forget about playing favorite and just ride Halak?

Logic would dictate that the Habs best chance of making the playoffs will be on Halak's back, but logic hasn't always been the deciding force behind the Habs goaltending decisions this season.

2. Dominic Moore is looking like an excellent addition by GM Pierre Gauthier so far. With four points (2G, 2A) and a +2 rating in six games since joining the Habs, Moore has breathed life into the Habs fourth line. And not a moment too soon too, as the Habs need more balanced scoring if they are going to make the playoffs.

3. The first line of Gionta, Gomez, and Pouliot has been carrying the Habs since the Olympic break. Gionta (3G, 2A, +2), Gomez (1G, 4A, +2), and Pouliot (2G, 2A, +3) have been the offensive spark-plugs for them over the last four games, and look ready to do all they can to get the Habs into the playoffs.

Too bad they don't have much secondary scoring support because a one-trick pony doesn't usually get very far in this league.

4. Speaking of secondary scoring, while Plekanec has two goals over the last two games, his principle linemate, Andrei Kostitsyn, has zero points and has a -1 rating over the last four games.

That just doesn't cut it as no team can have sustained success with one scoring line.

AK46 is getting his chances, mind you, he just hasn't been able to bury them. It's unfortunate too, because before his pre-Olympic injury, Andrei had 11 points over a nine game stretch.

The injury seems to have set him back to where he was a few months ago, and with time running out on the season that does not bode well for the Habs.

Aside from Michael Cammalleri, AK46 is supposed to be one of the best snipers on this team and if he can't start finding the back of the net soon the Habs will have a hard time making the playoffs.

To his credit, Andrei has been getting his chances, he just has to start burying them. He looks like he needs a lucky bounce or something, in order to get the monkey off his back.

Let's hope that bounce comes soon!

5. Spacek and Hamrlik are aging warriors. While both of them have moments where they are solid on the ice, they seem to have an equal amount of times where they look old and tired. In fact, the more the season progresses the more Spacek is looking like an old man out there.

Did they play too many minutes too early in the season when Markov was injured, and as such, have very little in the tank? Is the grind of the compressed Olympic schedule too much for their 35-year-old bodies?

Who knows for sure. But if those two can't keep it together out there, whether the Habs make the playoffs or not becomes almost secondary, as a lack of a second defensive pairing will surely make any playoff appearance a one-and-done performance.


Standings and Next Game
The win last night gives the Habs 70 points as they sit in seventh overall in the East. Ahead of the Canadiens are Philly with 72 points and three games in hand while behind them are Boston (69 points, three games in hand), the Rangers (67 points, one game in hand), Atlanta (66 points, three games in hand), and Tampa (65 points, three games in hand).

Next up for the Habs is a well earned trip home to take on the Lightning on Tuesday evening.

A win against Tampa on Tuesday can go a long way toward knocking them out of playoff contention while simultaneously increasing the Habs chances.

Vincent Lecavalier, Martin St. Louis, and Alex Tanguay always make it difficult for the Habs to beat the Lightning but with 15 games remaining, those two points are more precious than ever.
---
NEW - design a logo for HabsAddict.com and win Habs tickets!
http://www.habsaddict.com/2010/02/habsaddictcom-logo-design-contest.html

Sign your email up now for HabsAddict.com Daily Digest!
http://links.HabsAddict.com/ - Daily Habs Links
http://www.HabsAddict.com - Habs Addict blog
http://www.facebook.com/pages/Habs-Addict/293450486615 - Facebook
http://twitter.com/HabsAddict - Habs Addict on Twitter
This article is
What is the duplicate article?
Why is this article offensive?
Where is this article plagiarized from?
Why is this article poorly edited?

Montreal Canadiens: Like this team?