UNC-Duke: Recounting the Best of the 2000s in Sports' Greatest Rivalry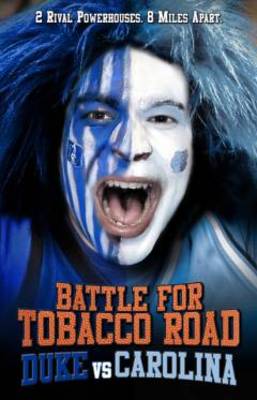 To me, North Carolina-Duke will forever remain the greatest sports rivalry on earth—amateur and professional sports included—no if's, and's, or but's attached.
Now, I know and understand one could arguably make a legitimate case for a handful of rivalries across the sports spectrum: FC Barcelona vs. Real Madrid, Boston Red Sox vs. New York Yankees, Roger Federer vs. Rafael Nadal, Los Angeles Lakers vs. Boston Celtics, Ohio State Buckeyes vs. Michigan Wolverines.
However, there is something about the two teams clad in different shades of blue that puts this clash above the rest.
The two programs have competed against one another for 90 years, since Jan. 24, 1920. North Carolina leads the all-time series 130-98, but Duke surely has its fair share of significant wins. The Blue Devils dominated the first half of the 2000s until the Tar Heels came back in the latter.
The tug-and-pull of their history just goes to show a decade contains enough tempestuous, memorable moments to appear like an epic.
Two schools—one public, the other private—separated by an eight-mile road with entirely different locales on each side. Duke's smaller, enclosed, mainly Gothic-style campus evokes Old Europe as opposed to North Carolina's larger, open, traditionally simpler Southern architecture.
The two schools portray distinctly different images, and the contrasting descriptions offer a dueling narrative—locals vs. outsiders, populists vs. elitists.
As the nation's first public university, North Carolina presents itself school of the people, especially those of the state, as expressed by famous alumnus Charles Kuralt. Duke carries itself in the mold of the Ivy Leagues, which has led some, especially fans of North Carolina, to equate the school with elitism.
Duke will not hesitate to argue that the Blue Devils have been the more successful program since the arrival of their beloved Coach K. They boast of more wins, more ACC regular-season and tournament titles, more final No. 1 rankings, more consensus first-team All-Americans and NBA lottery picks. Plus, the Blue Devils can say that their team has won more games, 291, than any other in a 10-year span.
Duke revels in the fact they play in Cameron Indoor, where the students enjoy the prime seats. They belittle North Carolina's mascot—is it a foot or a ram? Even the school's colors are the object of scorn, described as too childish or feminine. By the way, we can read, they say.
Not to be outdone, North Carolina has some choice words for the "University of New Jersey," Dook's preferred name in Tar Heel circles. UNC states that their recruits join a program with a legitimate shot at an NBA career while at Duke, players seem to enjoy sporting a suit and joining their coach on the bench. We have two national titles in five years, three Final Four appearances, and four straight wins at your high school gymnasium despite the unoriginal antics of the Cameron Crazies, who are a bunch of insufferable snobs, full of faux mojo and deranged from having suffered too much time in their tent city, also known as K-ville.
On the other hand, Tar Heels profess having class and a dose of proper Southern chivalry. Oh, and Carolina girls are, well, best in the world (and hot, period).
Both schools delight in not only defeating the other but when their archrival loses to a third party. The unofficial philosophy is to be your school's best fan then the fan of whoever is playing Duke or North Carolina.
Clearly, North Carolina vs. Duke encompasses so much more than simply sports. North Carolina-Duke is an eternal feud that requires choosing a team in life for life. It is ultimately a way of life, forever mired in blue blood and hate that constantly yields happiness.
March 4, 2007 - No. 14 Duke 72, No. 8 North Carolina 86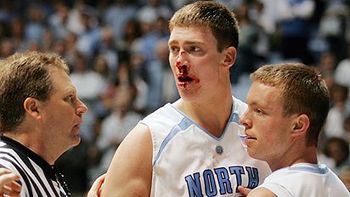 Gerald Henderson's combative foul against Tyler Hansbrough with 14.5 seconds left in the game summed up the hard physical contact that defined the entire game. Henderson's elbow hit Hansbrough on the nose, breaking it and drawing blood. A stunned Hansbrough lay on the ground before jumping up to confront Henderson, but teammate Dewey Burke calmed him.
Both Henderson and Hansbrough left the game; officials ejected Henderson while Hansbrough went in the locker room for medical attention. The Tar Heels' win at home meant a sweep of the Blue Devils for the season.
After the game, both Henderson and Hansbrough stated that the foul was unintentional.
Hansbrough would wear a face mask throughout the ACC Tournament until the NCAA Tournament second round.
March 4, 2006 - No. 13 North Carolina 83, No. 1 Duke 76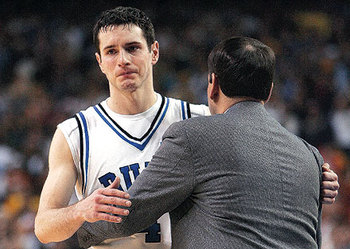 UNC, though ranked No. 13, had lost most of the key players from the previous year's national title-winning team—only Reyshawn Terry and David Noel returned. No. 1 Duke hosted senior night to specially honor National Player of the Year and then-ACC all-time scoring leader J.J. Redick and two-time National Defensive Player of the Year Sheldon Williams.
Freshmen Tyler Hansbrough and Danny Green joined Terry and Noel to keep the game competitive despite Duke's early lead. The Blue Devils would enter halftime with a one-point lead.
In the second half, the Tar Heels went on a hot streak with Hansbrough and Terry draining shots. Duke would claw back, but combined with a great defensive effort by Marcus Ginyard, whose effort caused Redick to miss 15 of his last 16 shots, and clutch free throws ensured North Carolina the win.
The most impressionable moment occurred at the game's end with juxtaposing reaction shots from Hansbrough and Redick. Hansbrough simply could not contain his excitement and thrill of victory, his smile beaming in the face of Cameron Crazies. Redick, on the other hand, exited the game teary-eyed and embraced his coach, Mike Krzyzewski. What was supposed to be a sentimental celebration turned out to be a heartbreaking, bittersweet farewell.
The game turned out to be the most watched college basketball game ever with 3.78 million households tuning in on ESPN or ESPN2.
March 6, 2005 - No. 6 Duke 73, No. 2 North Carolina 75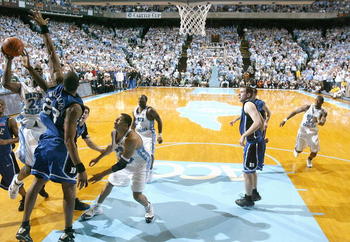 Senior night in Chapel Hill was the site of the largest crowd to watch a college basketball game in the state of North Carolina (22,125).
The talented Tar Heels came into the game with a chance to win the ACC regular season title outright for the first time since 1993. However, on this night, Duke led most of the way. With three minutes in regulation, the Blue Devils held a 73-64 advantage.
Jawad Williams and Marvin Williams scored consecutively off of offensive rebounds and put backs, then Sean May converted a three-point play to trim the lead to 73-71 with 1:45 left. Lee Melchionni and J.J. Redick missed the next two jumpers to give control of the ball back to the Heels, but Sheldon Williams made a key block to take possession right back.
David Noel prevented the Blue Devils from scoring by knocking the ball out of Daniel Ewing's hands, as Raymond Felton grabbed it quickly to call for a timeout.
On the next play, Felton drove to the hoop, drawing a foul. He converted his first free throw but missed his second. However, Felton tipped the rebound to Marvin Williams, who took the ball straight to the hoop, hitting the shot and drawing a foul as the Dean Smith Center erupted with joy. Williams' free throw would put the Tar Heels up 75-73, leaving the Blue Devils with time for one last play.
Redick took the last shot, but his three-pointer rimmed out. Ewing's subsequent desperation jumper fell short.
February 9, 2005 - No. 7 Duke 71, No. 2 North Carolina 70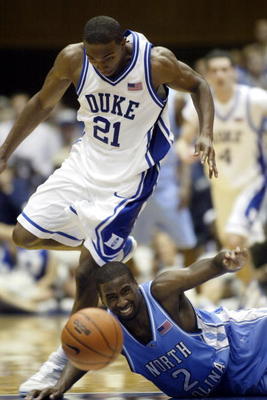 The Blue Devils had a poor shooting night but still managed to lead throughout the game.
North Carolina's big man Sean May singlehandedly kept the pace with a 23 points and 18 rebounds as Raymond Felton added tenacious play.
Down by nine with five minutes to go, the Tar Heels crawled back. Rashad McCants hit a layup, cutting the deficit to 71-70 with a minute to go.
UNC passed over fouling in favor of gritty defense, which paid off when J.J. Redick's shot an air ball, giving the Heels an opportunity for a game-winning shot. Naturally, Felton took control of the ball and had a play when Daniel Ewing lunged for the ball. Felton sidestepped him, opening the lane to the goal, but instead of driving to the rim, Felton continued the designated plan, dribbled, and ultimately had nowhere to go.
Duke tipped away his desperate pass to David Noel, who was standing near the sideline, as the horn sounded, ending the game on a sour, anticlimactic note.
The Tar Heels had relinquished their final shot attempt.
February 4, 2004 - No. 1 Duke 83, No. 17 North Carolina (OT)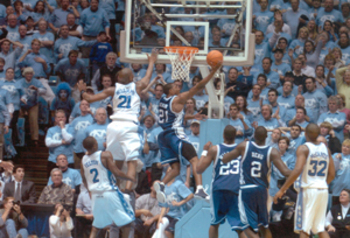 Roy Williams' first game against Mike Krzyzewski and the Duke Blue Devils ended in dramatic, gut-wrenching fashion on North Carolina's home court.
The Tar Heels led in the game's waning minutes until Duke went on a 10-0 tear that resulted in a 72-69 score reversal after Luol Deng's two free throws with 1:08. Sean May scored on the next play, but J.J. Redick quickly negated the effort with a drive of his own with 38 seconds left.
UNC called a timeout.
Out of the timeout, Jawad Williams tied the game with a three-pointer, and with three seconds remaining, Daniel Ewing missed the potential game-winner, resulting in overtime.
The two teams traded blows with Sheldon Williams blocking two shots and forcing a 35-second shot clock violation with 22 seconds left. Redick converted two three throws, upping Duke's lead to 81-78, but Rashad McCants drilled a three-pointer.
Like in regulation, the Blue Devils had a final game-winning chance. This time, they converted, as Chris Duhon delivered a reverse layup with 6.5 seconds to go. The Heels could not muster a tie or win in that short span.
The win would give Duke its 16th consecutive seasonal victory and the fifth win in the last six years at Chapel Hill.
March 9, 2003 - No. 10 Duke 79, North Carolina 82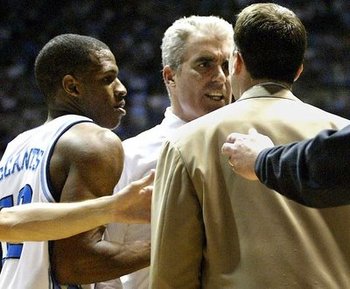 Gerald Henderson was not the first Blue Devil to throw an elbow and bloody a Tar Heel.
With 8:17 left and the score tied at 63, Duke's Dahntay Jones bloodied Felton's mouth with his elbow. Then as UNC coach Matt Doherty helped Felton to his feet, Duke assistant coach Chris Collins began to jaw with Doherty.
Afterwards, Blue Devils reserve guard Andre Buckner came out of the huddle and pushed Doherty in the chest with two hands, prompting Doherty to go back at Buckner. Both teams started pushing and shoving as the officials and Duke coach Mike Krzyzewski tried to restore order.
Jones hit a shot from 30-feet out, but it came just after the buzzer sounded.
Officials watched TV replays to confirm the late shot as thousands of fans stormed the floor.
Raymond Felton needed stitches, and Doherty not only "bumped heads" with Collins, but took a shove from a Duke player.
In the end, the Tar Heels were the team left standing, ending a six-game slump against Duke.
February 1, 2001 - No. 2 Duke 83, No. 4 North Carolina 85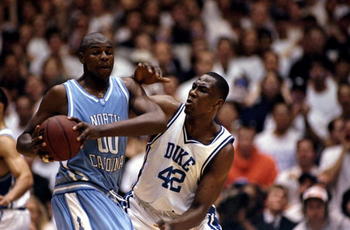 Brendan Haywood entered the game with a 48 percent free throw percentage but made two clutch free throws with 1.2 seconds left on the clock, pushing the Tar Heels to a 85-83 victory over the Blue Devils at Cameron Indoor Stadium.
Joseph Forte added 24 points and a career-high 16 rebounds for North Carolina.
Mike Dunleavy, Jr., who missed his first five three-point attempts, tied the game for the last time with 9.3 seconds left after draining a three. However, Shane Battier crashed into Haywood and fouled out in the last seconds of the game, allowing Haywood the chance to proof himself under pressure.
Chris Duhon's half court attempt hit the iron at the buzzer.
February 3, 2000 - No. 3 Duke 90, North Carolina 86 (OT)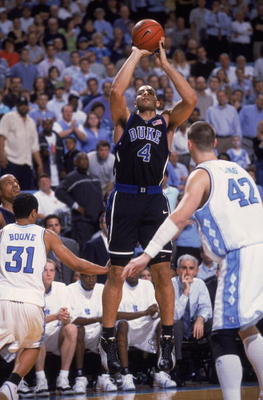 For the first time in a decade, North Carolina entered its matchup against Duke unranked.
Shane Battier exploded in the first half with 14 points with the Tar Heels gifting the Blue Devils with the same number of turnovers, resulting in a 17-point lead for Duke at halftime.
The Blue Devils opened the second half by stretching their lead to 19-points, but steely determined play by UNC tied the game at 73, as the Heels scored on 19 of its final 22 possessions including Joseph Forte's three-pointer with 5.2 seconds left.
North Carolina's comeback fell short in overtime, as the Tar Heels' play fizzled while Duke scored on its first six possessions behind Carlos Boozer's seven points, allowing the Blue Devils to scrape past with a 90-86 win.
Keep Reading

UNC Basketball: Like this team?