Montreal-San Jose: Carey Price Shines in Habs 3-2 Loss to Sharks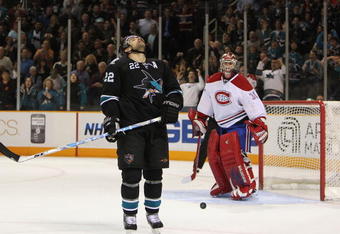 Jed Jacobsohn/Getty Images
They say that a loss is a loss no matter how well a team plays. On paper there is no question that last night's 3-2 loss to the Sharks hurt the Habs tremendously in the standings. That being said, there were no shortage of positive and encouraging signs for the Habs but unfortunately you don't get points for effort in the NHL.

Both teams had their chances in the first period with Carey Price—who was getting his second consecutive start—playing the role of difference-maker as he came up with a bunch of key saves to keep the Sharks off the scoreboard.

Things changed around the halfway point of the first as Brian Gionta scored his 18th of the season off of a Scott Gomez feed. The play was created by Gomez on a Patrick Marleau defensive zone turnover and the result was a Gionta blast from the high slot past a screened Evgeni Nabokov.

Man, can he shoot the puck!

The Habs continued to buzz with Benoit Pouliot getting a semi-breakaway a few minutes after the goal. In addition, the Habs fourth line of Glen Metropolit, Tom Pyatt, and Mathieu Darche used the cycle to cause problems for the Sharks' defense all night long.

Price continued to be the story of the first as he stopped Joe Pavelski on a break with less than two minutes in the period.

The Sharks got on the board early in the second, however, with Marleau scoring his 39th of the season shorthanded. His shot from the point deflected off of Jaroslav Spacek and past Price to tie the game at one.

The Habs got that one back quickly on the powerplay, as Gomez swept to the outside and fired the puck between Nabokov's pads to make it a 2-1 game.

With the Habs clinging to a one goal lead, the Sharks were awarded a penalty shot on a bit of a strange play.

Price had dropped his stick and Hal Gill was trying to hand it back to him but saw that the play was turning around. In what looked like a reflex action, Gill dropped the stick but it landed in the San Jose player's shooting lane, resulting in a Dan Boyle penalty shot.

Price again stood tall and gave Boyle little to shoot at as he rung the puck off of the post.

Despite being outshot 29-19 overall, the Habs took a one goal lead into the intermission on the back of a dominant performance by Carey Price.

While the Canadiens were being outshot, they were able to skate with the Sharks as they employed an attacking style over the first two periods. Unfortunately for the Habs, the Jacques Martin passive-resistance style kicked in for the third period as the Habs sat back and let the Sharks come at them.

The result was that as the Habs stopped skating, the Sharks heaped an offensive onslaught on Price. Despite his best efforts, Price couldn't stop everything and the Sharks scored two quick goals, less than three minutes apart, to make it a 3-2 game.

With Price on the bench for the extra attacker, the Habs pressed for the tie but ultimately ran out of time.

Final score: Habs 2-Sharks 3


Game Notes
1. Price, Price, Price! Despite the loss, Carey Price was a difference-maker tonight. If not for his heroics, this game would have been over early in the first.

While Price has looked shaky on far too many a night pre-Olympics, he looks focused and confident in the net since coming back. Coming out to challenge shooters and looking big in the net, Price is giving the opposition very little to shoot at.

I said it after the Olympics and I'll say it again: I predict that we will see a much better Price over the rest of the season than we did before the Olympics.

2. What the heck was Maxim Lapierre thinking? While he played his best game of the season the other night against Boston, Lapierre played more of a passable game last night. In addition, he was involved in a stupid, dangerous play early in the third as he shoved the Sharks' Scott Nichol into the boards from behind.

Nichol had just rung a shot off of the post and was a good six feet away from the boards at the time. He crashed hard into the boards and went down in a heap. It was the type of play where you don't expect the player to get up quickly.

Fortunately for Nichol, he was quick to his feet but he did leave the game favoring his shoulder and did not return. The worst part of it was to see Lapierre sitting on the Canadiens bench, laughing.

Disgusting. There is simply no place for that kind of dirty hit in this league.

Lapierre was, generally speaking, a hated man before the game and he likely just increased the size of the bullseye on his back.

3. The Tomas Plekanec line is coming together. Last night was only the second game that Plekanec has played with the brothers Kostitsyn on his wing and you can see them starting to gel. Both Andrei and Sergei had multiple scoring chances on the night and you get the sense that that line is on the verge of breaking out.

Give them another game or two and they should start being consistent producers for the Habs.

4. Plekanec is a marked man. If his stellar pre-Olympic play wasn't enough, his excellent performance for the Czech Republic served to propel Pleky up the visibility chart.

From the drop of the puck last night, it was clear that San Jose had targeted Pleky as the offensive catalyst for the Habs. As such, they heaped tons of physical abuse on him. Unlike last season, however, Plekanec has learned how to fight through this additional attention and is able to create more space for his linemates as a result. This should lead to increased scoring chances for that line and should bode well for their future.

5. The plumbers continue to do their jobs. The Habs fourth line of Metro, Darche, and Pyatt look to be excellent complements to each other. Every time they were on the ice last night, they were causing havoc for the San Jose defenders.

They use their speed and grit to grind it out in the corners and tire the opposition. If they can continue to roll up their sleeves and chip in the occasional goal, they will become an important factor in balancing the Habs offense.

Standings and Next Game
With 66 points in 65 games, the Habs are now in 10th place overall in the East. In their rearview mirror are Tampa, with 63 points and two games in hand, and Florida, with 60 points and two games in hand.

The problem for Montreal is in front of them in the standings, with the Rangers (66 points; one game), Atlanta (66 points; three games), Boston (67 points; three games), and Philly (69 points; three games).

The Habs have Friday off before taking on the Kings in L.A. on Saturday night.
---
NEW - design a logo for HabsAddict.com and win Habs tickets!
http://www.habsaddict.com/2010/02/habsaddictcom-logo-design-contest.html

Sign your email up now for HabsAddict.com Daily Digest!
http://links.HabsAddict.com/ - Daily Habs Links
http://www.HabsAddict.com - Habs Addict blog
http://www.facebook.com/pages/Habs-Addict/293450486615 - Facebook
http://twitter.com/HabsAddict - Habs Addict on Twitter
This article is
What is the duplicate article?
Why is this article offensive?
Where is this article plagiarized from?
Why is this article poorly edited?

Montreal Canadiens: Like this team?