Yankees-Pirates: Impressions of New York's First Spring Training Game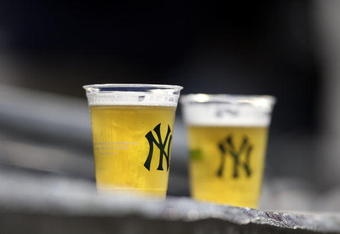 Ezra Shaw/Getty Images
The New York Yankees played their first spring training game at George M. Steinbrenner Field in Tampa on Wednesday.
Their opponent was the lowly Pittsburgh Pirates, who have remade their team hoping to have their first winning season in 18 years.
The remarks here are just some impressions from watching the game.
The Yankees saved Jorge Posada's legs by playing Francisco Cervelli as catcher. Cervelli had his usual energy behind the plate and was the first baserunner on for the Yankees when he was hit by a pitch in the bottom of the third.
It was notable that Curtis Granderson started in center and Brett Gardner in left. Joe Girardi was quoted by announcer Michael Kay as saying that Gardner would not start in center this year unless he could prove that he could play every day.
Granderson hit in the two hole behind Derek Jeter to begin this game, but it was made clear by the announcers that Nick Johnson was going to be the two hitter unless Granderson could improve against left-handed pitchers.
Granderson had his first at-bat against Pirates lefty Paul Maholm and looked very weak on the second strike, flailing at a low and outside pitch. Granderson grounded out weakly to second.
Gardner grounded out on a close play at first in his first at-bat. In the bottom of the fifth inning Gardner hit a looping line drive to the shortstop for the second out.
On a wind-driven fly to deep left field, Gardner had trouble but made the out on a rolling dive almost at the wall in the top of the fifth.
The other outfield starter was Jamie Hoffmann, the Rule 5 player obtained from the Dodger organization in the deal that sent Brian Bruney to Washington. The first impression of Hoffmann is that he is really big.
Hoffmann made one very good play on a ball hit to right center in the fifth, and he received praise from Girardi in that inning as Girardi was being interviewed by the YES TV crew. He spoke of Hoffmann's superior defensive ability.
Chad Gaudin pitched the first two innings and did not give up a hit or even a hard-hit ball.
Gaudin was succeeded by Sergio Mitre, who was equal to Gaudin in that he also gave up no hits.
Mitre was followed on the mound by Alfredo Aceves, who gave up two long fly ball outs in the fifth inning.
Two regulars who did not start were second baseman Robinson Cano and DH Nick Johnson.
Ramiro Pena started at second base and showed his skill with the leather on a couple of balls in the infield. With the very first hitter, Pena made a good play on a ball dribbled back toward second base. Pena fielded the ball cleanly and made a good throw to Mark Teixeira at first but could not get the speedy leadoff hitter for the Bucs, Andrew McCutchen.
In the bottom of the sixth inning, Pena hit a home run over the right field wall off former Yankee pitcher Steven Jackson.
Marcus Thames started as the DH. He did not get a hit in his first at-bat and was hit by a pitch in his second at-bat.
Johnson did see action beginning in the top of the sixth when he subbed for Tex at first base. Nick still has a good glove as he made a good backhand scoop on a low throw.
In his first at-bat, Johnson showed his patience taking the first pitch. Then he took a called strike. On the third pitch, Nick turned on an inside pitch and hit a laser shot over the right fielder's head for a double, driving in the second Yankee run.
Alex Rodriguez and Jeter both started. A-Rod got a sharp single to right center in the fifth inning. Jeter did not have a hit in his two times at bat.
Another impression for this writer was that at least one person came to Tampa not in midseason form. Announcer Michael Kay was horrible in calling this game. He seemed unable even to read text on the monitor.
Kay referred to the Pirates as the Tigers; could not get the dates and opponents correct for upcoming YES games; and talked about Jeter winning the Gold Glove and Silver Slugger as the best player in the "DIVISION."
Maybe Kay had a bad night last night or is just not ready to start the season, but he was not in form today.
By the sixth inning most of the regulars were out of the game, and we were getting a look at some younger Yankees. Eduardo Nunez took over for the Captain at short and beat out a ground ball in his first at-bat. Nunez then stole second base.
Greg Golson replaced Granderson in center. When he grounded out to the shortstop in his first at-bat, he advanced Nunez to third and showed some real speed as he almost beat the throw to first.
Brandon Laird replaced A-Rod at third to hit in the sixth. With one out and Johnson on second, Laird struck out on three pitches.
Left-handed hitter Jon Weber, another of many outfield prospects, replaced Thames as the DH. Weber hit a seeing-eye single up the middle that the Bucs' shortstop should have fetched easily. Johnson scored on the weak single.
David Winfree came in to replace Hoffmann in right field, and Colin Curtis took Gardner's place in left.
Winfree came over from the Twins' minor league system. In 2009 he hit .273 for the Rochester Triple-A farm team. Winfree struck out in his first at-bat in the sixth.
Thirty-three-year-old Mike Rivera replaced Cervelli behind the plate in the seventh inning.
Reegie Corona replaced Pena at second base for the Yanks in the seventh inning.
Jonathan Albaladejo became the Yankees' fourth pitcher in the top of the seventh. He showed some of the same control issues that bothered him last year and hit the first batter he faced.
After Jose Tabata got a hit for the Pirates, Albaladejo gave up a long drive off the bat of catcher Eric Kratz and two runs scored. Albaladejo was removed without being able to get anyone out.
One interesting note was that there were nine former Yankees in the Pirates camp. Among them were Jose Tabata, Steven Jackson, Octavio Dotel, Ross Ohlendorf, and Jeff Karstens. Tabata was a Yankee prospect who had once been called "can't miss" but could never crack the Yankee major league roster.
This article is
What is the duplicate article?
Why is this article offensive?
Where is this article plagiarized from?
Why is this article poorly edited?

New York Yankees: Like this team?