Winter Olympics: Destiny on Ice Fulfilled, as Team Canada Wins 3-2 over Team USA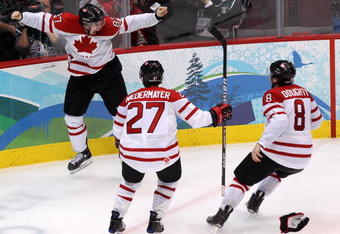 Alex Livesey/Getty Images
As I sit here sipping my third glass of wine and watching Sidney Crosby skate around the ice surface of GM Place waving an oversized Canadian flag from a pole, I am reminded of how proud I am to be Canadian.

The emotion that surrounded Canada's dramatic overtime win today was palpable over the course of the weekend.
Every person I talked to, every store I went into and everything I read was all pointing towards today's gold medal match and with Crosby's overtime heroics, I can say that I am as happy and relieved as any in this great country!

Tonight's game, unlike some of the other 2010 Olympic hockey games to date, lived up to all of the hype and provided one of the most entertaining spectacles of the last 50 years of hockey.

The game was close right from the start of the game as the crowd's intensity seemed to buoy both teams. Canada's Toews made it 1-0 at 12:50 of this first, when he picked up the rebound off of a Mike Richards shot from in close and roofed it from a tight angle.

The scoring continued in the second period, as Corey Perry made it 2-0 for Canada by rifling a shot from the high slot past Miller at 7:13.

Despite being down by two, the U.S. wasn't ready to quit when Ryan Kesler scored at 12:44 to pull them to within one.

The score stayed at 2-1 for Canada with both teams having their chances through the rest of the second and most of the third.

The status quo disappeared, however, as Canada, leading by one, went into a defensive shell about half way through the third period. As soon as I saw them playing the 1-2-2 trapping style, I could feel the potential for disaster.

Have you ever been watching a hockey game when your team was leading by one and started to sit back too early? And when they did so, did you ever get that ominous foreboding feeling that the opposition would tie the game? Well Canada, unfortunately, fell into that classic trap.

The result of Canada's passive play was that with time winding down, Ryan Miller on the bench and the U.S. pressing for the tie, Parise's second effort tied the game with 25 seconds to play.

Picking up the rebound off of a Langenbrunner deflection in front, Parise whipped the puck past a falling Luongo to silence the rumbling crowd and send the game to overtime.

Now if you didn't know, overtime is a little different in international hockey than it is in the NHL. In international hockey, overtime is one twenty minute, four-on-four, sudden death period before going to a shootout to decide things.
So for tonight's game, this meant a show case of some of the best hockey talent in the world, with a lot of extra skating room. Yummy.

Despite this delicious prospect, both teams were very tentative to start the overtime period. To a man, they looked more interested in avoiding a costly mistake rather than in pressing for the win. Things changed, however, about five minutes in as Canada started to relax and take the play to the U.S.

After a few nervous moments on both sides of the ice, Canada, led by Crosby, streaked down the ice. Crosby, carrying the puck over the offensive blue line, tried to split the U.S. defense and charge the net. Crosby was stopped and Miller deflected the puck into the corner.

Jerome Iginla picked up the puck in the corner and shuttled a soft, back door pass to Crosby, who quickly fired the winner through Miller's five-hole. Miller, who had extended his stick in a poke-check attempt, was caught by surprise by Crosby's quick release.

Crosby threw off his gloves and helmet in celebration, as the Canadian team players swarmed him in the U.S. zone to celebrate their golden win.

With that goal, Crosby said goodbye to the rapidly mounting criticism for his lack of production in this tournament and said hello to joining Paul Henderson and Mario Lemieux in Canadian hockey history.

Final score: Canada 3—USA 2 (OT).

Lost in the shadow of Canada's win is the fact that their gold medal gives Canada, as a nation, 14 gold medals in this Vancouver 2010 Olympics. Those 14 medals break the record for the most gold medals won by a host nation at the Olympics.

So, congratulations Canada on your ice hockey gold, your gold medal record and for hosting one of the most memorable Winter Olympics in Olympic history.

Oh Canada, indeed!
---

Sign your email up now for HabsAddict.com Daily Digest!
http://links.HabsAddict.com/ - Daily Habs Links
http://www.HabsAddict.com - Habs Addict blog
http://www.facebook.com/pages/Habs-Addict/293450486615 - Facebook
http://twitter.com/HabsAddict - Habs Addict on Twitter
This article is
What is the duplicate article?
Why is this article offensive?
Where is this article plagiarized from?
Why is this article poorly edited?