Niagara-Manhattan: Jaspers' Comeback Falls Short On Senior Night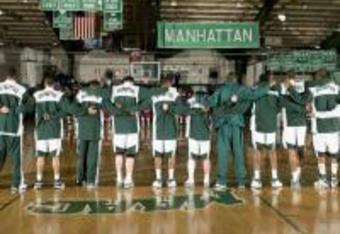 Manhattan (10-18, 4-13 MAAC) held an embarrassingly small crowd on its 2010 senior night. The Jaspers hosted the Niagara Purple Eagles (17-13, 9-8 MAAC), who clinched fifth place in the MAAC.
Entering the game, Barry Rohrssen and every player on this Jasper team had never beaten Niagara (0-7).  
It looked like it would be yet another blowout. Niagara opened on a 12-5 run in the first 2:46. Manhattan fought its way back to take what would be its largest lead of the game at 19-14. 
Manhattan would quickly blow the slim lead and Niagara went up 35-28 with 2:48 remaining. The Jaspers were back in danger of falling way behind. 
A three-pointer by Rico Pickett sparked the Jasper offense. Brandon Adams made a two-point jumper with 29 seconds left to bring the halftime score to 35-33.
In the first meeting of the year between Manhattan and Niagara, Manhattan was close in the first half. Niagara went on a big run early in the second half to put the game out of reach.
This time, the Jaspers needed to come out strong in the second half.
Niagara got out to a comfortable 47-39 lead with 15:01 remaining, although the game was not out of reach. The Jaspers and the Purple Eagles continued to trade baskets after that point. 
With 7:37 left, Niagara made its big move. The Purple Eagles went on a 7-0 run in 1:07 to take a 73-58 lead. The run was capped by Tyrone Lewis' sixth three-pointer of the night. 
Manhattan looked drain and the game looked over.
Antoine Pearson responded to the three-pointer with a layup on the other end. After Lewis missed a three-pointer on the next possession, Andrew Gabriel was found wide-open underneath the basket—he missed the layup. 
Although the missed layup took even more energy out of the Jaspers, Niagara remained cold and sloppy, leading to the Jaspers getting back into the game. 
Following a Lewis turnover, Darryl Crawford made an and-one layup. Crawford converted the free throw and the Jaspers trailed 73-69 with 2:10 left. 
On the following possession, Crawford was fouled and went back to the line for two free throws. Crawford has had trouble all year hitting the big free throws to cut into leads late in the game.
Crawford missed them both. 
Andrew Gabriel came up with a big block on the defensive end and Manhattan came up the floor trailing by two possessions. Dumbly, the Jaspers took 28 seconds off the shot clock and Antoine Pearson was forced to put up a contested layup, which he missed. Although there could have been a foul, it was still not the shot the Jaspers should have looked for.
Manhattan needed to foul down 73-69 with 46 seconds left. The Jaspers wasted 16 seconds before fouling Lewis, who is a 77.1 percent free throw shooter. 
Amazingly, Lewis missed the front end of the one-and-one. Manhattan ran up the floor and Rico Pickett scored to cut the lead to 73-71 with 21.9 left. 
Patrick Bouli quickly fouled Lewis after the inbound pass. Lewis made the first to end a 6:10 minute scoring drought, but then missed the second. Manhattan trailed by three points with 20 seconds left.
In every close game that Manhattan has played, Rohrssen has decided not to draw up a play to get a basket. Instead, he just puts the ball in Rico Pickett's hands and hopes that Pickett can do something productive on his own. 
Pickett came up the floor and with nine seconds left put up a contested three-pointer. Pickett got stripped on his way up and Bilal Benn came away with the loose ball. Brandon Adams fouled Benn, a 75.6 percent free throw shooter, with 5.4 seconds left. 
Benn's first free throw fell on the front rim and came out. After Niagara took a timeout, Benn's second free throw bounced off the rim again. Pickett grabbed the defensive rebound and threw the ball ahead to Pearson, who was around halfcourt. 
It did not look like Niagara was doing it intentionally, but Pearson was fouled with 2.3 seconds left. 
Manhattan had the chance to make the first free throw and then go for an offensive rebound on a miss, or it could try to make both free throws and then foul and hope that the Niagara player would miss at least one free throw.
Unfortunately, the Jaspers would not be able to use either of these strategies as Pearson completely missed the first free throw. Pearson had to miss the second and hope for the best. 
Pearson got a perfect miss that bounced straight to Brandon Adams. Pearson streaked the left wing and caught a pass from Adams. As Pearson went up for a fadeaway shot, he was fouled by Lewis. 
It was hard to tell if Pearson's foot was on the line, or behind it. Regardless, the referee called Pearson's shot a two-pointer and he would shoot two free throws with 0.3 seconds left. 
Pearson sank the first free throw and had to miss the second and hope for a tip-in to tie the game. Again, Pearson got a perfect missed and the ball bounced straight off the rim to a streaking Rico Pickett who got a good look at the basket. Pickett's tip-in bounced against the backboard and then rolled off the rim.
Pickett collapsed to the ground lifelessly as Manhattan's comeback was officially over. 
Manhattan had its chance once again, but failed.
Tyrone Lewis led all scorers with 21 points. Lewis shot 6-of-10 from beyond the arc and 1-of-3 from the charity stripe. Niagara shot 10-of-17 (58.8 percent) on free throws, including 1-of-6 in the final two minutes. In tonight's game, Lewis became the first MAAC player to score 1,500 points, grab 500 rebounds, swipe 200 steals, and dish out 200 assists in his career. 
Kashief Edwards, Anthony Nelson, and Scooter Gillette all scored in double digits. Edwards had 14 points on 6-of-7 shooting. Most of his points came due to horrible Jasper defense. Nelson had 12 points, six rebonds, and eight assists. Gillette had 11 points on 5-of-5 shooting, including two monstrous dunks in the second half. 
Niagara lost the rebounding battle 43-30.
Darryl Crawford led Manhattan in his final game at Draddy Gymnasium with 18 points. Crawford shot 8-of-14 from the field and a poor 2-of-6 on free throws, including two big misses late in the game. Crawford also had four rebounds and five assists.
Rico Pickett scored 17 points, 11 of them in the second half. Pickett shot 6-of-15 from the field and grabbed six rebounds.
Brandon Adams recorded the third double-double of his career and the first of the season with 15 points and 10 rebounds. This was the first time Adams had a double-double against a team besides Hofstra.
Antoine Pearson scored 13 points and had two assists. One of the assists came on a pretty pass following a spin move that lead to a Brandon Adams dunk. Pearson shot 5-of-8 from the line. Two of the misses were intentional. 
Mohamed Koita and Andrew Gabriel each had horrible games. They combined for zero points on 0-of-6 shooting. Together, they missed five layups. Koita played horrible defense and was responsible for at least a couple of Lewis' open three-pointers. 
Patrick Bouli had nine points on three three-pointers. Bouli also grabbed seven rebounds in his final game at Draddy.
The leaving of the five Jasper seniors is definite, and at this point, so should the leaving of head coach Barry Rohrssen. Rorhssen is 51-68 to this point in his four years with the Jaspers. He has had only one winning season. This better have been Rohrssen's farewell, as well as the seniors'.
Niagara finishes the regular season season at Fairfield (19-9, 12-5).
Manhattan goes back on the road to play Loyola (12-16, 5-12). The Jaspers will play Loyola again the in the first round of the MAAC tournament.
For more college basketball, follow Jesse Kramer on Twitter by clicking here.
This article is
What is the duplicate article?
Why is this article offensive?
Where is this article plagiarized from?
Why is this article poorly edited?