NHL: ROI Should Be "Center" Of Attention For Dan Bylsma, Pens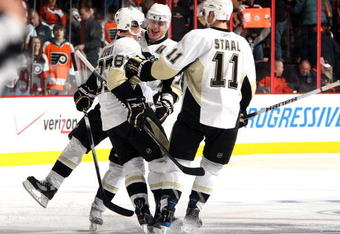 Jim McIsaac/Getty Images
Famed American investing wunderkind Warren Edward Buffett once said, "Price is what you pay. Value is what you get."
In the salary cap world of the NHL, this sentiment rings very true, especially for a team like the Pittsburgh Penguins.
With more than a third of the Penguins cap space tied up in three players—Sidney Crosby, Evgeni Malkin, and Jordan Staal—the team needs their "Big 3" to be at their very best night in and night out.
As the defending Stanley Cup Champions, it's safe to say the team has certainly received a good return on its investment so far. However, as I've watched the team play over the last few seasons, I often find myself wondering if the Penguins are getting the full bang for their buck.
Now don't get me wrong, I firmly believe all three of these young men are elite talents and have played exceptionally well. Heck, I'd easily wager a healthy bet that any one of the other 29 other GMs in the league would love to have any of the three suiting up as their top centerman.
But there's the rub.
With all three playing the middle and often centering different lines, has the team been able to fully unlock the value of each? Could maximizing the parts provide an even greater sum?
My answer is an assertive: yes.
Unfortunately for coach Dan Bylsma though, unlocking said value of each is much easier said than done.
You see, the Penguins don't have the luxury of throwing all three out on a regular shift together, to create an all-out power line like the San Jose Sharks trio of Joe Thornton, Dany Heatley, and Patrick Marleau or in some cases the explosive troika of Alex Ovechkin, Alexander Semin, and Nicklas Backstrom.
Doing so would cut a huge swath into their depth chart, ultimately making the other lines and in the turn the team as a whole weaker.
So what is Bylsma to do to try and fully leverage his talented threesome? Here are a few suggestions:
Watch the clock
Increasingly, Bylsma should be looking to identify key times within games when he can get Crosby, Malkin, and Staal onto the ice as a forward unit without impacting his traditional line-up rotation.
The start of each period is an option, as Crosby and/or Malkin are more than capable of double shifting to center the next set of wingers over the boards. Flipping this around, the coach should also be getting all three on the ice in the last minute of play in each stanza.
Double - down
If Bylsma can't get all three on the ice together, he should shoot for the next best thing: regularly getting two of the three out onto the ice at the same time.
He is known to throw Crosby and Malkin together when the team needs a jump or one is struggling offensively and Staal and Malkin sometimes are paired up together as well, but this doesn't happen nearly enough.
I'd also like to see Bylsma experiment more with Crosby and Staal as a duo, especially given the instant chemistry Crosby has established with Eric Staal, Jordan's older brother, at the Olympic Games in Vancouver.

Power-up the power-play
I'm not one for spreading out your offensive weapons when it comes to having the man advantage. Loading up all three on the PP would create an explosive forward line and would keep Makin from roaming the blue line with the extra man—a spot where he struggles in my opinion.
Although this would weaken the second PP unit—having a stronger first unit—that would hopefully put the puck in the net more frequently and it would negate the need to try and create a balanced attack in this area.
Also, it's not like this would be a risk for the Penguins to try out, as they currently sit 26th in the league in power-play efficiency.
With the parity amongst teams in today's NHL, teams need to be more creative in the on-ice use of their top talents if they want to be successful.
Could these little tweaks in how all three players are deployed add additional value and contribute to more offensive for the Penguins?
I think so.
Have an idea of how you think Bylsma and the Penguins should use Crosby, Malkin and Staal? I'd love to hear them.
This article is
What is the duplicate article?
Why is this article offensive?
Where is this article plagiarized from?
Why is this article poorly edited?

Pittsburgh Penguins: Like this team?