The 2010 NCAA Tournament: A Looming Disappointment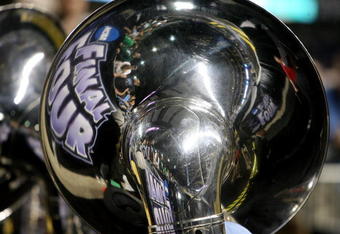 Andy Lyons/Getty Images
For those of you like myself who enjoy an upset-filled tournament, this year looks like a year of disappointment for us. Its sad to see the lack of parody in this year's college basketball season. If you look outside the Big East and maybe the Big 12, there are little to no contenders for the title. Kansas looks to complete and deep of a team to beat in the tournament as of right now, and Kentucky has way to many close games for me to consider them a contender. To me, the likelihood of the championship being won by a 1 seed is even greater than it was last year. If we take the top four teams as they stand right now (Kansas, Kentucky, Syracuse, and Purdue) and the teams behind them, I can't see a legitimate title contender from number 5 on. Duke is way too inconsistent and lacking real size inside to contend for a title. Kansas State looks like they could make a run more likely than Duke could but their inability to win the big game against Kansas makes me shy away from picking them. Villanova looked to be a 1 seed before their loss to Pittsburgh, but finding a go-to scorer outside of Scottie Reynolds is a challenge. If you were to ask me to pick one team out of the top 4 to win it, it would be Villanova, but that's only if you make me pick one. West Virginia can be easily broken with the proof being a loss to the ever-falling Connecticut squad. To me, West Virginia is more a product of good coaching instead of good players. I know that coaching is very important in basketball, but being a coach myself has shown me that it ultimately comes down to the players on the court. Due to this, West Virginia can't win the title in my opinion. Ohio State comes in at number 9 and is the team that is the hardest for me to discredit. Ohio State has losses to West Virginia, Michigan, Minnesota, Butler, and North Carolina to name most of them. Some of these losses, like Michigan and North Carolina, just scream bad news at me when talking about how they will do in the tournament. I mean, Michigan, really?! However, OSU is coming on strong as of late by beating a very talented Michigan State team and have a pretty easy remaining schedule including Michigan, Penn State, and Illinois. Illinois will be the only challenge for them before the Big Ten tournament. As they say, its all about how hot you are going into the tournament and it looks like OSU can be one of the hottest teams to go into the tournament which should be a good sign for Buckeye fans. Unfortunately, I can't picture OSU winning it all because of their ability to look very average against teams they should blow out (Michigan). The last team in the top ten is New Mexico. The lobos have put together an impressive 25-3 record, but being out of the major conferences and their biggest game being a win over a barely-above-average Texas A and M team, makes them far from a contender. Other teams outside the top ten that I could see making a run would be Pittsburgh, Michigan State, and Gonzaga. Pittsburgh is getting hot and everyone knows the way they can turn it on when it comes to big games (talking to you West Virginia). Michigan State is reeling right now, but Tom Izzo knows how to put a team together mentally for the tournament, which I believe he will also do this year. Gonzaga has made the tournament for quite a while now and with Bouldin and new and improved big men, they can make a serious run this year. If you ask me to predict who I think will win it all, I have to say Kansas. It pains me to say it because I am not a fan of Kansas at all, but you can't deny the fact that they are just the best team this year just as North Carolina was last year. Do I hope that a 1 seed won't win it all? Of course. But let's not kid ourselves, it doesn't look that likely this year. I would never be more happier to be wrong on this, but unfortunately I think that I will just be right. I'm gonna call it here by saying that my sleeper for this years tournament will be Texas. They looked unbeatable about a month ago, and even though they lost another guard due to injury, Dexter Pittman and Damion James can carry them deep into the tournament if they enter with a lower seed.
This article is
What is the duplicate article?
Why is this article offensive?
Where is this article plagiarized from?
Why is this article poorly edited?