2010 NFL Mock Draft: Pre-Combine Edition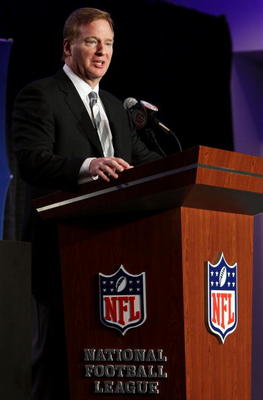 The 2010 NFL Draft comes with many questions. What is going on with all these quarterbacks not participating in the combine? Is Suh or McCoy the better overall defensive tackle? Are the offensive lineman in this draft that great, or is there just a huge need for them? Obviously with all these questions come every football fans opinion.
I have a passion for the NFL and spend way to much time analyzing free agency and the draft, especially when I don't get paid for it! Aside from all that, I hope you enjoy my take on the draft and I will enjoy hearing your responses.
No. 1: St. Louis Rams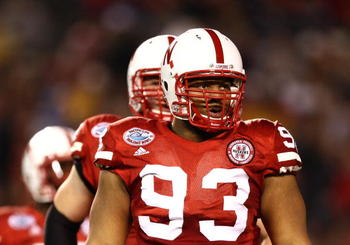 The St. Louis Rams unfortunately cannot narrow down their needs, not even to 2-3 different positions. One thing we do know, Steven Jackson is the running back of the future for them, so we can mark CJ Spiller off the list. Defensively, the Rams were ranked 29th in the league, 25th in passing, and 27th in rushing allowed. Their offense matched their defense at 29th in the league as well, 28th in passing, and 20th in rushing. So where should they focus their attention? Good question!
The Rams will focus their attention on the defense with this pick. They have a defensive minded coach in Steve Spagnuolo, who came over from the Giants two years ago. Spagnuolo led the Giants defense in their Super Bowl run in 2008, and that is what landed him in St. Louis. With many questions swirling around about the future of Marc Bulger, some may speculate the Rams using the No. 1 overall pick on Jimmy Clausen or Sam Bradford. I do not see that happening. I believe Bulger will get another shot in St. Louis, and if he doesn't work out, well Jake Locker will be ready for the Rams next year! I also see the possibility of them bringing in Michael Vick from the Eagles.
The big name player in this draft is one that, ironically, may be hard to spell, Ndamukong Suh from Nebraska. Never in my life have I seen a defensive player take over games like he did. He shut down Colt McCoy in the Big 12 Championship and almost pulled off the biggest upset in Big 12 history. Suh had 82 tackles, 12 sacks, and 1 interception his senior year. Yes, I said 82 tackles, and he is an interior lineman!
The Rams will choose Suh, and will have an outstanding player to build their defense around.
St. Louis Rams select Ndamukong Suh, DT, from the University of Nebraska.
No. 2: Detroit Lions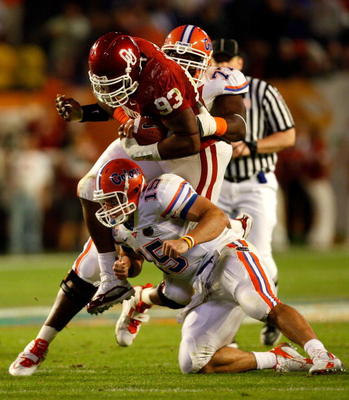 The departure of Matt Milen was the best personel change anyone in Detroit could wish for. The team was horrid under Millen, and with him gone, they will finally make strides to get better. The Lions have alot of young talent; Matthew Stafford, Kevin Smith, Calvin Johnson, Brandon Pettigrew, players that continue to grow and shine.
Jim Schwartz came over from Tennessee and is a defensive minded coach, just like Spagnuolo from the Rams. The Lions major needs come on the line of scrimmage, offense and defense. I believe they will address the defense side of the ball with this pick. Ideally, Suh would be the pick for the Lions, but with the Rams taking him No. 1, I believe that the Lions will choose Gerald McCoy from Oklahoma. McCoy showed a little inconsistency throughout his career, but has enormous potential. Some actually have him as the No. 1 defensive tackle in the draft. McCoy had 32 tackles and 6 sacks his final year at OU. Not the numbers Suh had, but still impressive.
Detroit Lions select Gerald McCoy, DT, from the University of Oklahoma.
No. 3: Tampa Bay Buccaneers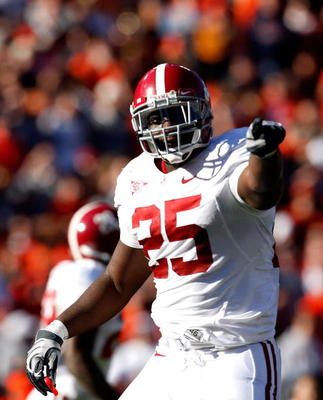 Tampa Bay showed strides last year, with big wins over Green Bay and New Orleans, but failed to show consistency. Once rookie Josh Freeman took over at quarterback, the offense improved and they seemed to be in almost every game they played.
The Tampa Bay bright spot was their passing defense. They ranked 10th in the league in that category, but were 32nd in rush defense.
Injuries plagued their running game, but with a healthy Cadillac Williams and Derrick Ward, their running attack is looking to be much improved in 2010.
Eric Berry seems to be the favorite in this spot. His playmaking ability make him hard to pass up, but I believe they will pass on him.
The staple of the Tampa Bay defense the last 10 years was Derrick Brooks. The hard nosed linebacker was the leader of the team, and made everyone around him better. I believe they will take Rolando McClain with this pick. McClain totaled 105 tackles, with 4 sacks, and 2 interceptions his senior season. Rolando led the best defense in the country, in the toughest conference. McClain will be the staple of that defense, as well as a team leader.
Tampa Bay Buccaneers select Rolando McClain, ILB, University of Alabama.
No. 4: Washington Redskins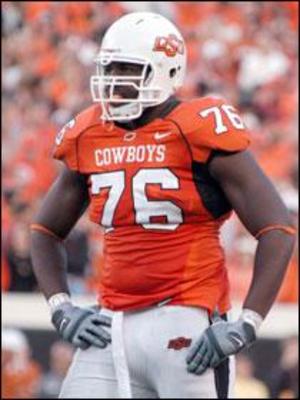 Mike Shannahan was the most sought after free agent coach in the market. Congratulations Redskins for convincing him to come to the nations capital.
I am going to get right down to it. The Skins need a quarterback of the future. Is Jason Campbell it? I think he might be. I believe Shannahan will give him a shot this year. The Skins will select someone who can protect him and keep him on his feet. Okung is the best tackle in the draft, and he will be a bright spot on the offensive line for years to come.
Washington Redskins select, Russell Okung, OT, from Oklahoma State University.
No. 5: Kansas City Chiefs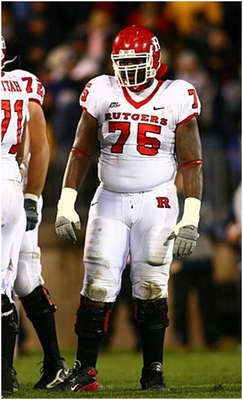 The Kansas City Chiefs struggles were in their receiving corps. The Chiefs receivers dropped more passes than any other team in the NFL. The offensive line is another need for them. So this is a tough pick for me. I feel like the Chiefs still believe in Bowe to be their No. 1 receiver, and Chambers had a good season with them after being traded over from the Chargers. With Russell Okung gone to the Redskins, it would be easy for them to take Dez Bryant. Bryants character issues may be the deciding factor.
The Kansas City Chiefs select Anthony Davis, OT, from Rutgers University.
No. 6: Seattle Seahawks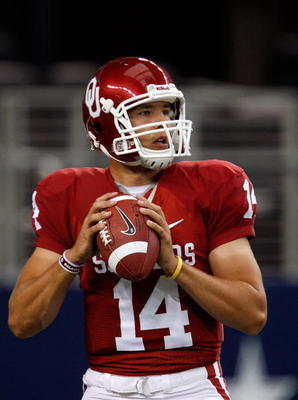 The recent move to fire Jim Mora and bring in Pete Carroll makes this an easy pick for me. Pete Carroll has always had great QBs at USC. He will start his career in Seattle the same way.
Matt Hasslebeck is aging, and showed last year that its not the good aging like Brett Favre is experiencing! Seneca Wallace is a good change of pace QB and can be a passing threat in a wildcat formation, but he will never be a franchise starter. The Seahawks addressed their defensive captain last year, and this year its time for the offensive captain.
Seattle Seahawks select Sam Bradford, QB, from the University of Oklahoma.
No. 7: Cleveland Browns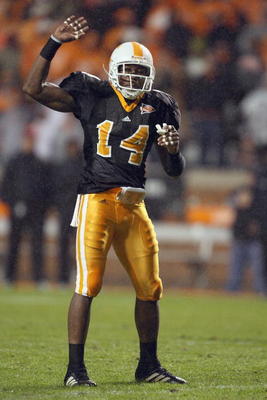 Eric Mangini got a big sigh of relief when Mike Holmgren decided to give him another year to right the ship in Cleveland. Jamaal Lewis' injury turned out to be a blessing in disguise for Cleveland, in the name of Jerome Harrison. Harrison finished off the season with just under 1000 yards, and looks to be the back of the future.
The QB situation is still a mess, but it looks like Brady Quinn is going to have another shot.
Cleveland's defense was horrid last season, 31st in the NFL. With Tampa Bay passing on Eric Berry, I see this as a no-brainer pick for Cleveland. He will bring the energy and athleticism to help the Browns contend in a tough division.
Cleveland Browns select Eric Berry, S, from the University of Tennessee.
No. 8: Oakland Raiders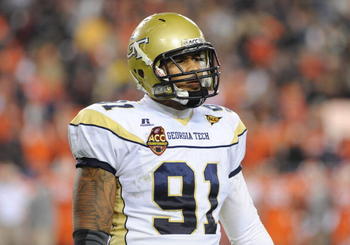 The Oakland Raiders are known for their horrid draft choices; Jamarcus Russell, Heyward-Bey, Robert Gallery. I believe Derrick Morgan will compliment Richard Seymour, that is if the Raiders can keep him around. Morgan will actually be a solid pick, a pass rusher that is consistent and will produce game in and game out.
Oakland Raiders select Derrick Morgan, DE, from Georgia Tech.
No. 9: Buffalo Bills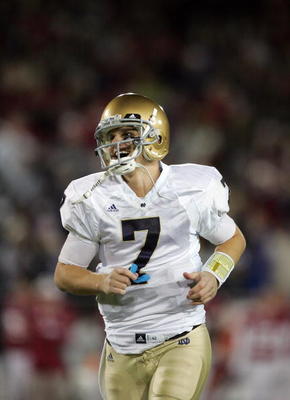 The Buffalo Bills haven't had a decent QB since Jim Kelly. Kelly himself has been promoting for the team to go get Tim Tebow. I don't believe they will take Tebow, but they will take Clausen.
Jimmy Clausen is a pro-style QB coming out of college. He will make an immediate impact and will be the starter the first week of the preseason.
The Buffalo Bills select Jimmy Clausen, QB, from Notre Dame.
No. 10: Denver Broncos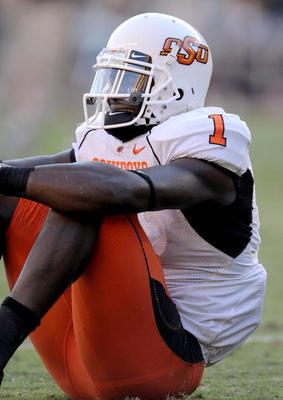 The Denver Broncos are likely to be without Brandon Marshall next season. Some may believe that Eddie Royal can step in and be the No. 1 receiver for the Broncos, I disagree. Brandon Marshall fueled that offense, and they will want to find a playmaking receiver to replace him.
The Denver Broncos select Dez Bryant, WR, from Oklahoma State University.
No. 11: Jacksonville Jaguars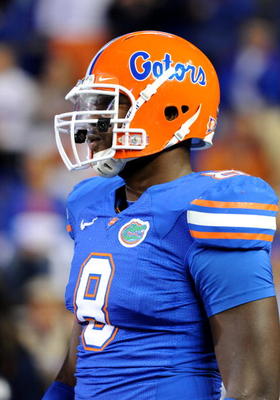 Many have speculated the Jaguars taking Tim Tebow here, but there is no way that is happening. David Garrard was a pro bowl QB last season, and he has plenty of years left. The Jaguars need to focus on their defense and here is three reasons why; Peyton Manning, Matt Schaub, and Vince Young. They need an athletic pass rusher to get to these talented QBs. Carlos Dunlap has some character issues, but I believe they will look past that and focus on his abundance of talent.
The Jacksonville Jaguars select Carlos Dunlap, DE, from the University of Florida.
No. 12: Miami Dolphins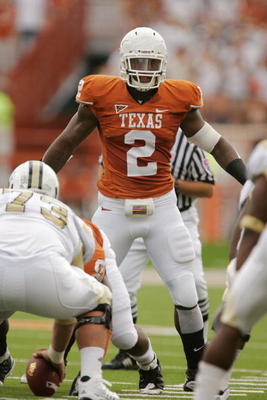 The Miami Dolphins and Joey Porter look to be parting ways soon. They already released him once, but then were forced to take him back because of salary cap issues. The Dolphins could use an athletic playmaker on defense.
Sergio Kindle really impressed me in the BCS National Championship game. I believe he had a couple sacks and was in the backfield all night long. Not only is he a great pass rusher, but he can stop the run as well. That will be hard for the Dolphins to pass up.
The Miami Dolphins select Sergio Kindle, OLB/DE, from the University of Texas.
No. 13: San Francisco 49ers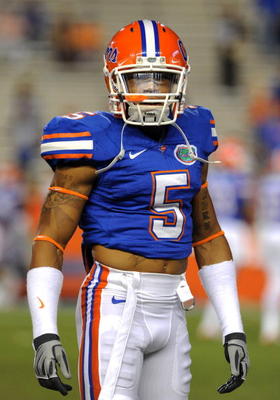 The 49ers are a team on the edge. They were a couple plays away from making the playoffs last season and are missing just a few key pieces. The major needs are the offensive line and secondary. With Haden slipping out of the top 10, the 49ers are ecstatic. Haden will be a shut down corner in his rookie season, and may eventually get the nickname "Haden Island"! Seriously though, Haden is a terrific playmaker and will immediately improve the 49ers secondary that ranked 26th in the league last season.
The San Francisco 49ers select Joe Haden, CB, from the University of Florida.
No. 14: Seatlle Seahawks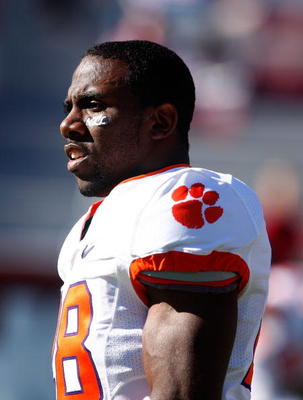 The Seahawks already made a great pick, Sam Bradford. With Spiller still on the board, they will address the other need at RB. Spiller will be a playmaker for years to come and make Sam Bradford's job alot easier.
The Seattle Seahawks select CJ Spiller, HB, from Clemson University.
No. 15: New York Giants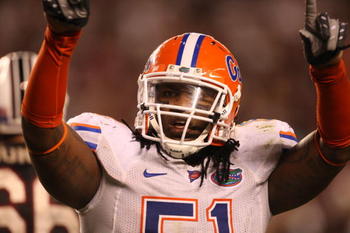 The Giants need to replace Antonio Pierce, the vocal leader and staple of their defense. Brandon Spikes was exactly that at Florida, but has more athleticism than Pierce. A no-brainer here for the Giants.
The New York Giants select Brandon Spikes, ILB, from the University of Florida.
No. 16: Tennessee Titans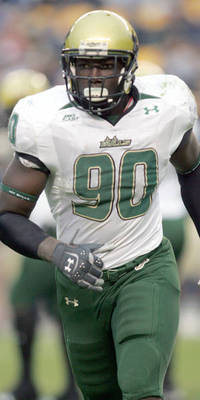 The Tennessee Titans are a strong team with Vince Young at the helm. The offense is looking strong with Chris Johnson and Lendale White, but the receivers might be the weak spot. Kenny Britt made some impressive plays and will continue to improve.
The Titans were struck by tough injuries last season in the secondary, but with Finnegan and Harper heathly, they could be a tough defense to throw against. I believe the Titans select an intense pass rusher at this pick, to compliment the cornerbacks.
The Tennessee Titans select, Jason Pierre-Paul, DE, from the University of South Florida.
No. 17: San Francisco 49ers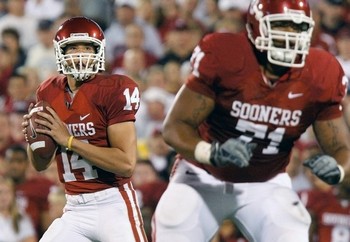 The 49ers addressed their need at CB by selecting Joe Haden at the No. 13 pick. Now they address their need on the offensive line. Trent Williams will be the best available tacke. Williams can play either side, right or left, and that makes him attractive to the 49ers, with Joe Staleys future still unknown.
The San Francisco 49ers select, Trent Williams, OT, from the University of Oklahoma.
No. 18: Pittsburgh Steelers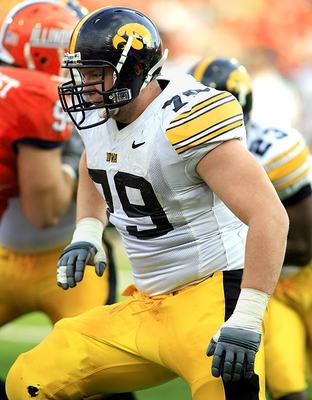 What a disappointment the Steelers were last season, losing to the Chiefs, Raiders, and Browns. Roethlisberger is a top 10 QB, with his biggest downfall being how long he holds on to the ball. The defense is still tough, and with Polamalu back healthy, they will return to a top 10 defense. With that being said, the Steelers will add some much needed depth to their offensive line.
The Pittsburgh Steelers select Bryan Bulaga, OT, from Iowa University.
No. 19: Atlanta Falcons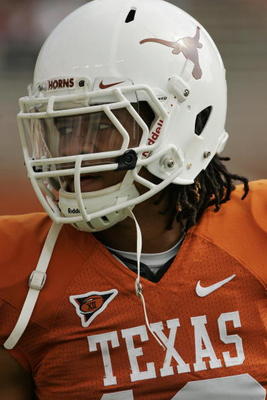 The Falcons defense struggled last season. Their rush defense was horrid at the beginning of the season, but came around towards the end. I believe they fix their secondary issues with this pick. They struggled to force the turnovers last season and with Thomas slipping down to No. 20, they won't be able to pass on him.
The Atlanta Falcons select Earl Thomas, S, from the University of Texas.
No. 20: Houston Texans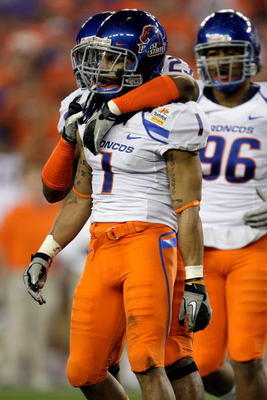 The Houston Texans have alot of talent, on both sides of the ball. I believe Steve Slaton will get over his fumbling problems and become a top 10-15 HB in the NFL. The Texans will address their needs in the secondary with this pick. Dunta Robinson is a good corner, and Kyle Wilson will compliment him very well.
The Houston Texans select Kyle Wilson, CB, from Boise State University.
No. 21: Cincinatti Bengals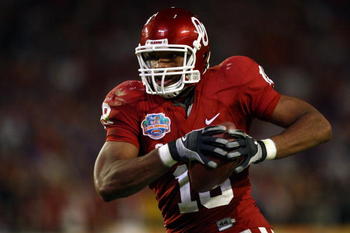 The Cincinatti Bengals are a couple of playmakers away from being a title contender. Their defense is tough, and with Cedric Benson finally living up to his expectations, watch out for the Bengals the next couple of seasons. Chad Ochocinco made the pro bowl last year, and Carson Palmer needs some more weapons. Gresham is the pick here.
The Cincinatti Bengals select Jermaine Gresham, TE, from the University of Oklahoma.
No. 22: New England Patriots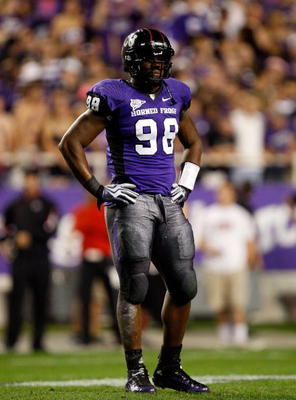 The departure of Richard Seymour had a lasting effect on the Patriots last season. They need to vill the void. Not only can Hughes play the DE in the Patriots 3-4 scheme, but he can stand and play the hybrid type if needed. He is a versatile player that will have an immediate imapct for the Patriots.
The New England Patriots select Jerry Hughes, DE, from Texas Christian University.
No. 23: Green Bay Packers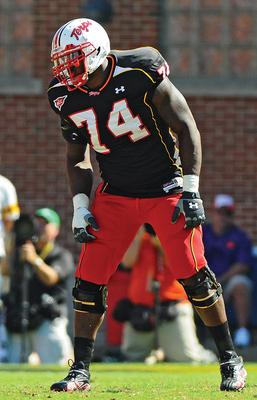 The Green Bay Packers gave up way to many sacks last season. Aaron Rodgers has a tendency to hold on to the ball longer than he should, but that is also how the Packers get most of their big plays. Rodgers is a pro bowl QB and no one can tell him to change anything he does. They need better protection for him and that is what they get with this pick.
The Green Bay Packers select Bruce Campbell, OT, from the University of Maryland.
No. 24: Philadelphia Eagles
This is one of the harder picks for me. The Eagles defense struggled to match up against Dallas the last two games they played. Trotter is getting old and and Fokou hasn't proven that he deserves to be the starter. Weatherspoon will add some much needed depth to their front seven, and take some pressure off of Trent Cole.
The Philadelphia Eagles select Sean Weatherspoon, OLB, University of Missouri.
No. 25: Baltimore Ravens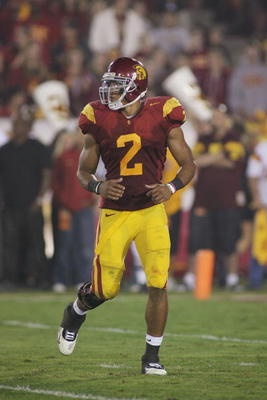 With Ed Reed on the brink of retirement, the Ravens have to be thinking of how they can try and replace him. What better way than to bring in a playmaking safety like Taylor Mays. He matches up perfectly to what the Baltimore defense is all about, hard hitting! He will learn from Ray Lewis and Ed Reed and when Reed decides to call it quits, Mays will be ready. A no-brainer pick for me here.
The Baltimore Ravens select Taylor Mays, S, from University of Southern California.
No. 26: Arizona Cardinals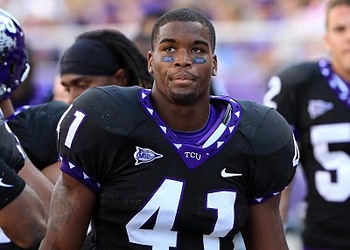 Karlos Dansby is going to be out of Arizona. They will need to find a playmaker to replace him. Daryl Washingtons stock has been rising of late, and I believe he can fill the void left by Dansby's departure. Washington has the versatility to do the things that you expect from an ILB in a 3-4 scheme. He is a 3 down linebacker that will be a difference maker for years to come.
The Arizona Cardinals select Daryl Washington, ILB, from Texas Christian University.
No. 27: Dallas Cowboys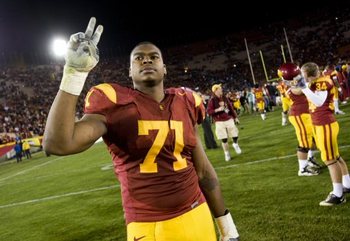 The biggest problem with the Cowboys is Tony Romo. There is not one person that can convince me otherwise. They have a running game that is probably the best in the league, and a defense that I would rank in the top 5. Everyone is blaming their loss to Minnesota on the offensive line, but its on Tony Romo. No one in Dallas is smart enough to get rid of him, so I see them taking the best offensive tackle available to protect him, and that is Charles Brown from USC.
The Dallas Cowboys select Charles Brown, OT, from the University of Southern California.
No. 28: San Diego Chargers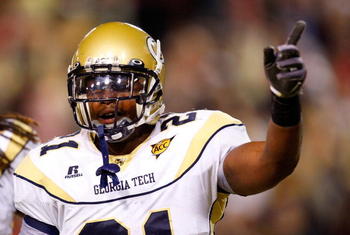 As sad as it is for me to say, Ladanian Tomlinson is out of San Diego. I am a HUGE fan of Darren Sproles, but he doesn't have the size to be an every down back. Jonathan Dwyer is a pound it out runner and will match up great with what Darren Sproles brings, and will allow Sproles to stick with what he does best, return kicks and catch passes out of the backfield.
The San Diego Chargers select Jonathan Dwyer, RB, from Georgia Tech University.
No. 29: New York Jets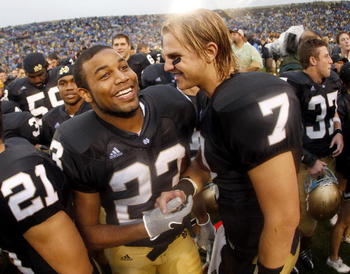 The New York Jets are a boring team to watch, but they win, and that's all that matters. Adding an extra playmaker will make the development of Mark Sanchez go that much smoother. There are a couple options here, but I believe they take the talented playmaker from Notre Dame, Golden Tate.
The New York Jets select Golden Tate, WR, from the University of Notre Dame.
No. 30: Minnesota Vikings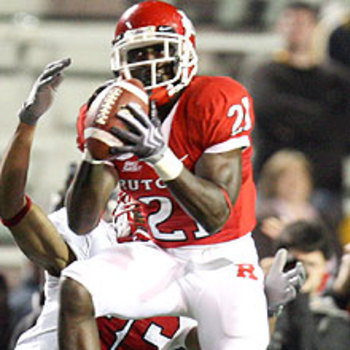 The Vikings needed depth at cornerback before Griffin went down with a torn ACL in the NFC Championship game. McCourtys stock has risen of late, and he will be a good corner in the NFL. I also believe the Vikings may pick up a HB in later rounds to replace Chester Taylor.
The Minnesota Vikings select Devin McCourty, CB, from Rutgers University.
No. 31: Indianapolis Colts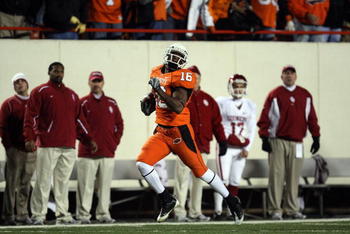 Drew Brees made the Colts secondary look like a bunch of high schoolers in the Super Bowl. The Colts will focus their attention on picking up a talented corner back. Perrish Cox has good speed and instincts and will fit in well with the type of defense the Colts play.
Indianapolis Colts select Perrish Cox, CB, from Oklahoma State University.
No. 32: New Orleans Saints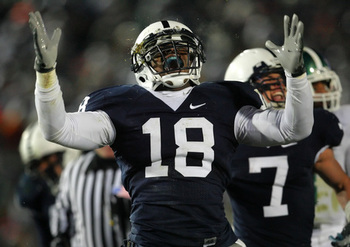 I think everyone would agree with me that the Saints offense doesn't need much work. The defense on the other hand, could definately use some talent. Bowman has alot of potential, their are just a few character issues that are keeping him from being a top 15 pick. I believe that Saints take a chance on him, and he repays them in a big way.
To end the first round, the New Orleans Saints select Navorro Bowman, OLB, from Penn State University.
Wrap Up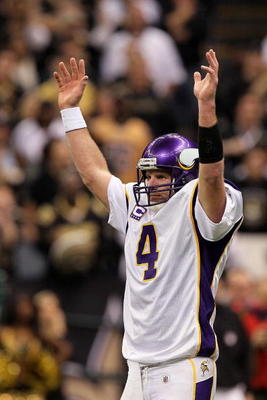 Brett Favre's decision to return or not return to the Vikings has the biggest impact of any decision in free agency or the draft this next season. If Favre returns, the Vikings are a title contender. If Favre calls it quits, the Vikings may not even make the playoffs. I love watching him play and hope he comes back.
Thanks for taking the time to read and comment. I am looking forward to seeing how close my picks are come draft day.
Keep Reading