FAITHFUL IS MORE THAN JUST A WORD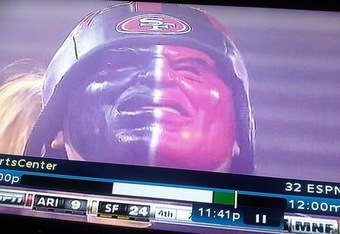 I truly wonder sometimes if people really believe what Faithful really means. Im not only talking about the 49ers but take any football team or even any sport. If you are truly a real die hard football fan that doesn't mean you only jump on the band wagon when the team is doing good. Hell that is when the team needs you the most when they are in their time of need. I have had a lot of ups and downs in my life and my team has had the same. For some reason if my life isn't doing good at a certain time or just really having a bad day all that is forgotten as soon as that game comes on even if it is just for a little while. I have been a 49ers fan my whole life. I don't even live in San Fran I live in Ga. My grandfather got me started on the 49ers when I was about 6 years old. He died when I was very young. I don't really remember a lot about him except a couple of Sunday's when I happen to be over there and he would be watching a game. No matter what game he would be watching he would always bring up Joe Montana. He would say it doesn't get any better than that man right there. He will change the way the game is played. He died shortly after that. That was what got me involved in football some years later. Wasn't sure what to look for in the game to get me interested in it so I went with what I knew. That was my grandfather and a couple of words that I remembered coming from him. Joe Montana was about all I knew when it came to football thats why the 49ers was my first choice. I dont think I have ever told anyone this before. I never really thought about it all that much. My family is all about some football. I have twin boys that are now 12 that have been playing for 8 years and a 14 year old daughter that has cheered for 9. I played a little football in high school but never really had the chance to futher it. I hope my boys have the chance to go a lot futher with it. Its kinda funny being a fan of a team for 25 years because of a couple conversations with my grandfather, but i feel that it gives me a connection with him and gives me a satisfaction to keep it going because I didnt know him that well. I am glad that the 49ers was team I have choosen to take this ride with. They gave me 17 years of some of the best football ever played. They have had some really rough years the past 7 or 8 but they are still my team. My wife and I spend our anniversary ever year traveling around to see the 49ers play. It was alot easier when they came to Atlanta but now we just travel from stadium to stadium watching them play. We finally had the chance to go to San Fran to watch a game 3 years ago and it was like no experience I had ever had. We only go there now to see the games. I am fortunate to have a wife that is willing to give up her anniversary every year so that we can watch them play. We have been together for 18 years and started going to one game a year for about 8 years now. The time that we had in San Fran was life changing, I thought I was the most faithful fan they had. The fans in San Fran are unbelievable. They are out at the crack of dawn getting ready for the games and everyone there has such a great time. Everyone gets along with everyone and we haven't ever seen any problems out there. Can't say that here in Atlanta. I have been a 49ers fan my whole life and will continue to be until the day I die. FAITHFUL, it is a lot more to it than just saying it. It is a way of life. No such thing as being a true fan part time.
This article is
What is the duplicate article?
Why is this article offensive?
Where is this article plagiarized from?
Why is this article poorly edited?

San Francisco 49ers: Like this team?