2010 Winter Olympics: My Shaun White Interview, The Olympic Experience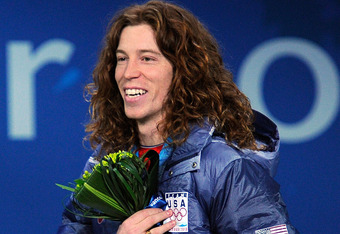 Kevork Djansezian/Getty Images
Recently, I had the privilege of interviewing two-time gold medalist Shaun White.
AT&T and the U.S. Olympic Committee sponsored the interview. AT&T is one of the official sponsors of the U.S. Olympic team and is responsible for the Team USA soundtrack, which is available on iTunes.
During the interview, White discussed a variety of topics including the appearance on Oprah he had filmed only hours earlier to his plans for topping his current trademark trick, the double McTwist 1260.
However, there was one topic Shaun White talked extensively and more enthusiastically about, the amazing experiences he had during his time in Vancouver.
________________________________________________________________________
Shaun White described his experience at the 2006 Winter Olympic Games in Torino, Italy as being "a blur."
He didn't even get the opportunity to savor the moment after winning his first gold medal. Immediately following the competition, Shaun was rushed by police escort to the bottom of the mountain, led to the podium, and had the gold medal placed around his neck. The next day he left Torino.
In 2006, Shaun missed out on what he calls the "whole Olympic vibe."
This time around things were much different.
Shaun had the opportunity to see the beautiful city of Vancouver. He visited the U.S. Team house in the Olympic village, and got to know some of his fellow Olympians. He took the time to see some of the other events, including the women's halfpipe and men's figure skating. He did get to experience the "whole Olympic vibe."
During his time in Vancouver, White also found some time to have fun hanging around with friends and family.
On the day before his gold medal performance, White and some family friends who live in the Vancouver area went on a kayaking trip around Horseshoe Bay.
Looking for something to do that would keep him off his feet, and prevent him from thinking too much about the next day's competition, a friend suggested taking out the kayaks. After initially being hesitant, White agreed to take the trip.
Always the showman, White said, "I had to be the guy who stood up on the kayak, obviously, and tried to pet the giant seal that came by and wanted to hang."
White also shared with us what he did immediately after his historic gold medal run.
He said there was no time at all to unwind. He went straight from the competition to conduct two major press conferences, during which he was starving since he doesn't eat prior to his event. In his words, "I wish I had one [a cheeseburger]. I would have destroyed it!"
Instead of running to the nearest McDonald's, official sponsor of the U.S. Olympic team, to indulge in a cheeseburger after completing his press conferences, Shaun enjoyed dinner with his family. He described the family time as being his "big release from everything."
White shared another insight into his Olympic experience when he discussed a close encounter his new gold medal had with a glob of ketchup.
Shaun said, "It's a dangerous place out there! We were eating last night [Thursday] and my friend was eating a burger and literally ketchup flew inches from the ribbon, and I made a vow not to wear it at dinner anymore."
Shaun White's time in Vancouver was magical. Describing the experience he said, "I didn't really know what that meant to be on the U.S. Team. Obviously, I competed in Torino, but I popped in, did four days of practice, one event, and left. I didn't get the chance to take in the whole vibe down in the city and do everything. This time around was just unreal. I was proud to run around with the U.S.A. gear on and do the whole [Olympic] thing."
Shaun White will always remember the Winter Olympic Games in Torino as the time he first became an Olympic gold medalist, but he will remember Vancouver as the time he became a true Olympian.
Click here to read more about my interview with Shaun White.
This article is
What is the duplicate article?
Why is this article offensive?
Where is this article plagiarized from?
Why is this article poorly edited?