With The 183rd Pick In the 2010 NFL Draft, The Chicago Bears Select...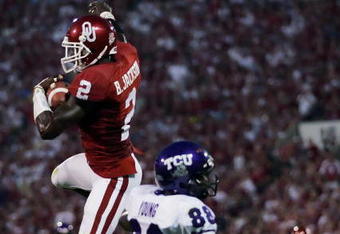 Ronald Martinez/Getty Images
...Brian Jackson, CB, Oklahoma.
The thing I like best about Jackson is that he is a big, physical cornerback. I am convinced he is the type of cornerback that can be drafted at that position and stay at that position, and not be transitioned into a safety (although that may not be a bad thing for the Bears, either).
He stands at 6'1" tall and weighs 203 lbs. Teaming him with Peanut Tillman would give the Bears two big, physical type corners, which could end up being the staple of the Bears defense.
If the Bears new-look defense is going to rely on press, man-to-man coverage, Jackson would be the perfect selection with this pick, seeing as how his best features are his physical play and press style coverage.
Jackson likes to attack the receiver at the line of scrimmage and overpower his man so that his timing is thrown off, making it almost impossible for the quarterback to get the ball to his receiver. With timing being the number one variable on pass plays, this being his biggest strength is a very good thing.
The knock on Jackson is his footwork after the receiver gets into his route or makes a double move. He needs to work on his cuts and turns, which is why he is regarded as the 20th-to-22nd best cornerback in the 2010 draft, and will fall to the fifth round.
But, footwork is something that pro coaches can work on with him. And like I said before, if the Bears are going to rely more on press coverage (just a speculation at this point), he will have help over the top with the safeties, so his footwork mistakes may never be taken advantage of.
He has 4.4-4.5 speed, which is another great asset of his. His recovery speed is something that is talked about, as well. In games, he has made mistakes but has been able to break on the ball and break up the pass. He led his team in passes broken up and had two interceptions on the season.
Most notably, he is known for his sure tackling. Not only is he physical with the receivers when they begin their routes, but he has been known to hit extremely hard. He has been known to force fumbles (another trait the Bears look for) and is also prone to recovering fumbles, as well. He had three recoveries this past season.
He was nominated All Big 12 Second Team by the coaches in the conference, which I regard as a higher nomination than that of the writers and other media, who had him as an honorable mention for the same Second Team honor.
And, to make matters even better, he's also known as a phenomenal special teams player. He has a knack for getting down the field quick and making tackles, pinning opponents deep in their own territory. Bears fans know how important special teams are, so this is only another positive notch on his "draft belt."
I will be unavaibable this weekend (duties of a new parent), so my seventh round draft pick won't be able to be posted until Monday.
If you missed my choice for the Bears third round selection, click here:
http://bleacherreport.com/articles/346705-with-the-75th-pick-in-the-2010-nfl-draft-the-chicago-bears-select
If you missed my fourth round selection, click here:
http://bleacherreport.com/articles/347282-with-the-106th-pick-in-the-2010-nfl-draft-the-chicago-bears-select
And, if you missed my fifth round selection, click here:
http://bleacherreport.com/articles/347994-with-the-145th-pick-in-the-2010-nfl-draft-the-chicago-bears-select
This article is
What is the duplicate article?
Why is this article offensive?
Where is this article plagiarized from?
Why is this article poorly edited?

Chicago Bears: Like this team?