So Where Is The Golden Sky? Why We Cant Be in The Europa League 2011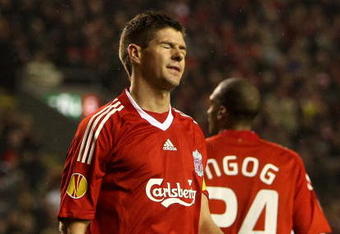 Clive Brunskill/Getty Images
It just didn't seem right from the start. Yet another frustrating morning where everything from the theme music as the players entered the pitch, to the sponsor hoardings around Anfield and the unfamiliar yellow trimmings on both sets of players kits, enough to dampen the hearts of even the most ardent of Liverpool supports.
The harsh, sunken reality had really set in, that the proudest club in English football history had been relegated to a second tier of European football, and despite the opening minute being a bright flurry with Gerrard nearly scoring, the game on a whole, as has been most of the season, was pensive, tense and hard to take.
With so many fingers being pointed in the media, as to who is to blame for the situation the 5 time European Cup winners find themselves in, the questions will continue to be asked after this lacklustre showing... Rafa? The players? Injuries? Luck?
Admittedly, this was a Unirea team who defended deeply, effectively and compactly, and while offering little forward, played the gritty, hard and tactical football that was to be expected of them, in particular after the long break in the Romanian league and given the nature and size of the fixture for their club.
But this does not change the reality that Liverpool, despite some brief glimpses (the highlight being Carra's little turn early in the second half) are still lacking the type of attacking flair, that would have warranted us remaining in the Champions League.
And surely when Rafa turned to his bench after a largely disappointing and lack-less 60 mins, to be met by the faces of Degen, Kyriagos and Lucas, he surely must have thought the same.
Alberto Aquilani, unfairly labelled a flop given his big money move, again flattered to deceive. But for a player that has yet to really get going, if Alberto is to truly settle in he is going to need not only matches, but when he does get a run, the flashy passes, the laziness (think when he half-heartedly touched the ball back to Carragher just outside the 18 yard box) and willingness to get stuck in need to improve.
I however, remain an ardent supporter and believe he will come good and has the quality to be something special. In my opinion he is much better than Lucas Leiva, who Rafa did well in not selecting for this fixture. Much has been said about the maligned midfielder, but in all honesty as much as he has improved on previous seasons form, this is still not a world class or even top class midfielder. If he was lining up in the middle of the park for West Ham or Hull, then perhaps he would earn more credit, but he does not offer enough to the Liverpool first team to warrant his continuous starting.
But perhaps the most frustrating and worrying sign from last night for any supporter is the anguish and desperation on Steven Gerrard's face (see above picture). While I have absolutely no doubt, that our beloved Captain would NEVER leave his Reds in particular in the current state the club is embroiled in, it almost seems so unjust that he has to continuously lift the team and find himself in this position, of another season of 'what could have been.'
The figure he cut, through his body language and even expressions towards ineffectual players ,giving the ball away needlessly, said enough about how much this team has changed from this time last year.
Bar Alonso, this is the team that came second in the Premier League last year, a team that out-played, out-classed Real Madrid and Manchester United in a week of one another and has shown with the full starting 11 can match the best in Europe, without it however, it looks better suited to beating teams such as Unirea.
The argument still remains, and on last nights showing is again debatable, that our squad is just not strong enough.
All the talk of investment, and whether there will be money available or not at the end of the current season is anybody's guess, but the reality is, whatever money becomes available MUST be invested into the area's necessary (namely a quality LB and ST) before next season, and any deadwood that is not of the quality needed, must be shipped out.
Steven Gerrard, Jamie Carragher and even Fernando Torres deserve better. (Torres in particular, given the loyalty he is showing to the club despite the prospect of not playing CL football next year)
Rafa has shown the nous to move on dead wood at the right time, think Keane, Voronin, Biscan etc and there is perhaps hope that he will now turn to some of the youth chomping at the bit, Pacheco, Eccleston, Darby etc, to hopefully play their part in salvaging this horrid season (as shown by Pacheco's knock down to N'Gog) and lift spirits in the squad, with their endeavour, passion and desire.
I would personally love to see Scouser Jay Spearing get a run, despite looking shaky earlier in the year against Sunderland. Remember Stevie and Jamie came through the ranks, and look how much the club means to them.
Despite the negative undertone of this article, the positive of this foray into the Europa League, is that there is still a chance of winning some silverware, and it was another clean sheet and winning result. The  performance of Pacheco and Babel (who I believe should have started up front in place of Ngog from the start) were also massive positives.
I have yet to lose faith in Rafa, and like most fans blame the ownership for the problems on and off the pitch, but the reality is there has been a dark cloud hanging over Anfield for a while now, and last night's match did little for it to subside.
But as we walk on with hope in our hearts, I just hope that this is our only slip into this competition. Yes, Juve, Atletico, Hamburg and Werder Bremen are all here too, but we belong with the best and the elite, as do players such as Gerrard and Torres.
After all "at the end of the storm, there is a golden sky..." and I for one am looking forward to that day, where LFC can be back were it belongs.
YNWA.
This article is
What is the duplicate article?
Why is this article offensive?
Where is this article plagiarized from?
Why is this article poorly edited?

Liverpool: Like this team?