Is Oklahoma Sooners' 2010 Non-Conference Lineup Crafty or Crazy?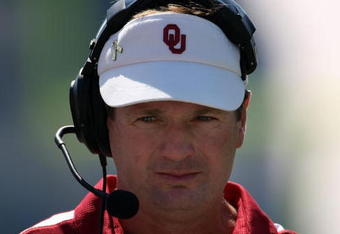 Ronald Martinez/Getty Images
Bob Stoops has never been afraid to schedule top tier, BCS caliber teams in Oklahoma's non-conference games since he first arrived in Norman.
From Alabama to UCLA, many of the NCAA's most storied programs have traded blows with Big Red under Stoops' tenure, while creating a great debate among the Sooner Nation.
Is it a clever move, designed to both impress the pollsters and toughen the grit of the players? Or a waste of time, causing unnecessary injuries and allowing Big 12 (south) opponents an edge in the conference title race?
Those in favor site the prestige of being on the national stage, where OU can be seen by recruits and BCS voters alike. Helping to keep OU at that elite level. Many kids have famously said the line, "That's why you come to Oklahoma, to play in games like this." Referring to the tough non-conference battles.
While those that dislike the hard-nosed scheduling point to the fact that Texas' usual weak non-conference has little to no ill effects on them. Then they point to Sam Bradford's X-rays following an injury sustained during a non-conference bout with BYU, which may have cost the Sooners another BCS run, or more.
Each new year always delivers different sets of arguements for both sides, and with the upcoming 2010 slate now officially released (http://soonersports.com ), this year will be no exception.
                 2010 Oklahoma Sooner Football Non-Conference Schedule
Sept. 4    Utah State
Sept. 11  Florida State
Sept. 18  Air Force
Sept. 25  at Cincinnati
The 2008 schedule for the Sooners was ranked as the most difficult in the nation, and in 2009 ranked third in college football. The 2010 non-conference schedule rivals, and may even prove more challenging than the two previous seasons.
The Aggies of Utah State kick off the season and will serve as a solid "tune-up" game for OU. USU has previously traveled to Norman in 2007 (54-3 trouncing by OU), and had a disappointing 4-8 year in 2009, so this contest should be a good chance for the coaching staff to nail down any loose ends. 
Next up is the Florida State Seminoles in a re-match of the 2000 national championship game. Even the fans opposed to Stoops scheduling welcome this game, payback for tattling on former OU LB Mike Balogun is high on the collective minds of the Sooner nation.
Newly anointed HC Jimbo Fisher is making all the right moves, snagging a top ten recruiting class, and even tapping Bob's little brother Mark Stoops for his defensive coordinator position. But the 'Noles seem to be at least another year from making a real splash, though with the bad blood between these programs it will have a rivalry feel.
Air Force could easily be the most challenging of all the non-conference games. The Falcons are very well coached by Troy Calhoun, and coming off an impressive 47-20 win over 2009's surprise power Houston (who beat OSU in Stillwater) in the Armed Forces bowl, going 8-5 overall. The option style attack that Air Force impliments will give Brent Venables (OU DC) a lot to worry about.
The last of the bunch is coming off of a 2009 BCS appearance (Sugar bowl loss to UF) and has also been to Norman recently. In 2008, Cincinnati came in to the contest without stand-out QB Ben Mauck, who lost an appeal for another year of eligibilty. So Tony Pike got the start, but wasn't enough for the Bearcats, who lost 52-26.
The Sooners get another break with this time Pike not starting for the Bearcats, though his reason for the no-show is the NFL, and head coach Chip Kelly leaving for Notre Dame (see you soon enough), but with this game being the first test away from home, they may need it. 
With new head coach Butch Jones (former CMU HC) at the helm the Bearcats look to be a solid bunch. Jones took Central Michigan to a MAC title in his first year and seeing that Cincinnati is the Big East champ two years running, he will look to continue both trends. But unless the next Dan LeFevour is waiting in line at Cinci, they may not have the horses to compete with the likes of Oklahoma. 
The Sooners will have to prove that they can win on the road, a past problem. Paul Brown stadium will be rockin' and the Bearcat players will be pumped to make a statement. So that alone makes this a "trap game" of sorts. 
OU will most likely open the season in the No.10-No.15 rank of the top 25, and could be in the top five or unranked for the Red River Rivalry, depending on how many wins and losses sustained during the gauntlet that is the 2010 non-conference schedule.
So where does the 2010 schedule land? Phony tough or crazy brave?
Is that even a question that can be answered now? Does the real "Litmus test" lie in the outcome?
That's the way it always seems, just like play-calling, if it works, then it was a great call. If it fails, well you know the rest.  
While the 2010 slate will be added to the argument of "right and wrong" in non-conference scheduling, the debate will surely rage on as long as Bob Stoops continues his run at Oklahoma. 
Although, if the Sooners can somehow manage to come through the other side intact, with no losses, it will at least quiet the critics.
Well, until next year. 
This article is
What is the duplicate article?
Why is this article offensive?
Where is this article plagiarized from?
Why is this article poorly edited?

Oklahoma Sooners Football: Like this team?