The Big 14: Preserving Tradition And Academics While Increasing Revenue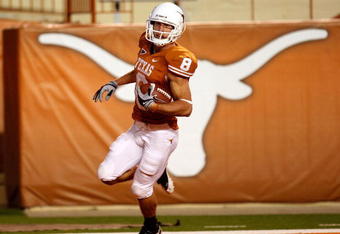 Ronald Martinez/Getty Images
For fans of Big Ten teams and other NCAA college football fans, this offseason has been rife with speculation about a potential expansion of the Big Ten.
The last several years have brought concerns that the Big Ten, as currently configured, loses out on revenue from a conference championship game.
The traditionalist argument holds that the Saturday before Thanksgiving should always belong to clashes like Ohio State-Michigan and Purdue-Indiana.
All Big Ten universities are well-regarded research schools, and members of the prestigious American Association of Universities.
The latest speculation has the University of Texas joining the conference, accompanied by hand-wringing over the Longhorns' loss of traditional rivals, such as Oklahoma and Texas A&M.
But, despite the geographic challenge the Longhorns would deal with as part of the Big Ten, Texas could well be better off financially, and Texas would be a great fit academically.
So, who else would be a great fit for the Big Ten in terms of expanding its markets and preserving the conference's academic status?
Pittsburgh and Rutgers, anyone? Both have great academic reputations, and would add one medium market and one huge market to the—to be former—Big Ten.
All three potential additions should fit academically, and traditional rivalries could be preserved in a divisional format. Here's how the Big 14 could work, first in terms of the divisions:
Big 14 East:
Rutgers
Penn State
Pitt
Ohio State
Michigan
Michigan State
Indiana
On the sacred Saturday before Thanksgiving, Indiana would cross divisions to play its traditional rival Purdue, Penn State would battle Pitt, Rutgers and Michigan State would have at it, and of course, The Game between Ohio State and Michigan would be preserved.
Big 14 West:
Texas
Minnesota
Wisconsin
Iowa
Purdue
Northwestern
Illinois
In this division, traditional rivalries could also be preserved, with newcomer Texas drawing Wisconsin in the last regular-season game.
The Championship Game:
This contest, between the winners of the Big 14 East and West, would be played at a neutral site, with cities competing for the privilege of hosting the contest.
With the variety of suitable venues in the expanded conference's reach, from Reliant Stadium to Ford Field to whatever they will call the replacement for the Meadowlands, Big 14 divisional champions would get not only a championship game, but a de facto extra bowl game, along with the cities that host the Big 14 Championship.
The Scheduling:
Each Big 14 team would play all the teams in its own division. It would also face the out-of-division team that finished in the same position the previous year within its division, and home field would rotate by even and odd-numbered seasons.
For example, if the Big 14 East held home field in 2015, and Texas won the West in 2014 with Ohio State winning the East, the Longhorns would travel to Columbus.
These "rematch" games could draw huge ratings.
That obligates each Big 14 team to play seven conference games in a 12-game schedule, freeing the schools to schedule traditional rivals in the remaining five contests.
Texas could still face off against A&M and Oklahoma, Pitt could still have its "Backyard Brawl" with West Virginia, and Michigan, Purdue and Michigan State could maintain their annual tilts against Notre Dame.
In some cases, these old rivalries, having gained the status of out-of-conference games, may give member schools higher ratings and more revenue. Big 14 members could also schedule cross-division games if they desired.
While this writer, among others, prefers the Big Ten as it is, the only constant is change.
This might be the way to expand the Big Ten while maintaining what makes it unique in college football.
Now, for a better name than Big 14.
.
This article is
What is the duplicate article?
Why is this article offensive?
Where is this article plagiarized from?
Why is this article poorly edited?