5 Reasons Why Stallworth To The Lions Isn't Such a Bad Idea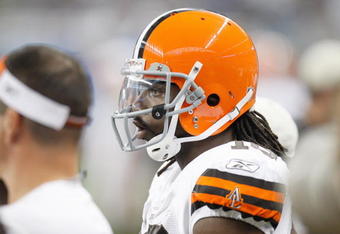 Gregory Shamus/Getty Images
Wide receiver Donte Stallworth was promised reinstatement by NFL Commissioner Roger Goodell after the Superbowl. Stallworth was suspended for the entire 09' season after pleading guilty to a felony manslaughter case.
Well the Superbowl is over and Stallworth is now reinstated. Soon after the reinstatement of Stallworth the Browns cut ties with the trouble receiver. As a Cleveland Brown, Donte only appeared in a total of 11 games, accumulated 17 receptions for 170 yards and a TD.
Donte Stallworth has played for 3 other teams over his 7 year career; New Orleans, Philly, and New England. We may be adding another team to that list pretty soon. Donte Stallworth is reportedly working out for the Detroit Lions according to Profootballtalk.
Lions' nation may worry about the physical shape of Stallworth but that isn't the case according to his agent Rosenhaus "he is in the best shape he's been in since I've been representing him."
So he is in shape, he's a free agent, but what else is a positive?
Veteran Receiver
Donte Stallworth has been in the league for 7 years now. Donte has developed the reputation as a dangerous receiver as well as maturing after playing aside of some NFL veterans.
If signed Stallworth would get the chance to work with both Calvin and Bryant Johnson two young receivers that are in need of some veteran leadership.
Decoy
Take a look at Stallworth's stats over the past three years. Donte's numbers have dropped drastically but that's no big deal. Over the past three years, every team's No. 1 receiver has blossomed playing beside Stallworth.
As an Eagle Stallworth was definitely more productive but it was also the coming out party for Reggie Brown. The then-second year player caught 46 passes for 816 yards and 8 touchdowns.
New England
Randy Moss and Wes Welker both eclipsed the 1,000 yards mark; while at least 8 different players had a touchdown. The Patriots had an (18-0) record this season before losing to the Giants in the Superbowl.
Cleveland
Stallworth was the No. 2 receiver for the Browns; the No. 1 receiver was Braylon Edwards. Braylon had one of the best years in his career. Braylon accumulated 55 receptions, 873 yards, and 3 touchdowns. On top of that Steve Heiden, and Kellen Winslow all had breakout seasons as well.
You always want your receivers to produce but over the career of Stallworth he has become a successful decoy. He influences the defensive secondary just by running a route.
Cheap Tag
Donte is still a very good receiver with a lot left in the tank. The speed is still there, and so are the hands, he definitely has the skills to still play receiver in the league.
After the reinstatement in the NFL, Donte Stallworth is looking for a chance to prove himself. The Lions can nab a pretty good receiver for cheap with this pick-up.
The confidence of Matthew Stafford
During the rookie year of Matthew Stafford he was able to work with Calvin Johnson, Bryant Johnson and Dennis Northcutt. None of which are NFL veterans. The Lions receivers made it hard on the rookie Stafford, by dropping easy passes.
Signing Stallworth adds a receiver with a lot of experience.
When Stafford is under center and looks to his left, he'll feel confident that he can get Stallworth the ball and in return he'll catch it.
What do you have to lose?
The odds of the Lions winning the Superbowl are one in a hundred.
The franchise hasn't had a winning season since this decade started. The Lions is the only team in NFL History to end the season without a win. All of their offensive statistics rank towards the end of the league, so signing Donte Stallworth to a contract wouldn't be such a bad idea after all.
This article is
What is the duplicate article?
Why is this article offensive?
Where is this article plagiarized from?
Why is this article poorly edited?

Detroit Lions: Like this team?