First Hand Experience as Portland Trailblazer Media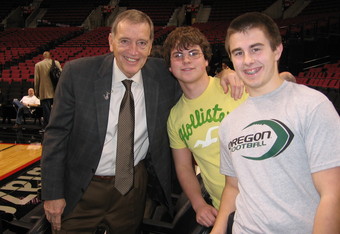 (I am in the yellow with Mike Rice on my right)
Tuesday, February 9 I had the opportunity to attend a Portland Trailblazer game as a member of the media, and the experience was breathtaking to say the least. I decided as Community Leader for the Portland Trailblazers that I would share my experience with the trailblazer faithful.
We were first introduced to Brain Wheeler, the radio play by play announcer, and he took us with him to meet and interview coach Nate McMillan. McMillan was a very nice guy, a great coach and human being. During the interview he pointed out some brilliant thoughts. He was on the dime. He said that if Portland allowed Kevin Durant to get the basket and draw fouls, that the Blazers would lose, which did in fact happen.
After the radio interview we followed Nate McMillan into the press conference room and watched the TV interview, a fantastic experience.
Before and after the interviews we were able to watch the Blazers and the Thunder shoot around and play one-on-one. We had some nice conversations with a few of the assistant coaches.
We were then sent on a tour of the Rose Garden facilities. The facilities are arguably the best in the NBA. We were shown a lot of production rooms and the Trailblazers production truck; we were shown how the TV and the in game TV shows were run. We were introduced to Mike Rice and Mike Barrett; we also were able to see Maurice Cheeks.
After we were introduced to a good amount of people, we were shown to the media lounge; a free buffet with gourmet food is set up for the media. Very excellent food, I was quite pleased.
After we ate our fantastic meal, we were escorted to our media seats in section 207. We were sat in front of a counter with a TV in front of us where we could keep track of stats or watch other games from around the league. Although, as media you cannot cheer, clap, or chant for your team of preference. But the benefits are quite worth it.
The game itself was very boring. No ball movement or team play and I almost fell asleep (but I still love my Blazers). Portland went 3-20 beyond the three point line. Fantastic!
For me, the highlight of the night was after the game. We were given an opportunity to listen to the post game conference with coach Scott Brooks of the Thunder. After the press conference we went into the Thunder locker room for about five minute, and then made our way to Portland's locker room.
We listened to many interviews with the media, including Andre Miller, LaMarcus Aldridge, Rudy Fernandez, Martell Webster, and my favorite interview of the night, Juwan Howard.
I gave Juwan Howard my full attention and took what he said to heart. The reporter tried to make him sound "old," but Howard shut him down. He said that he feels great and is in the best shape of his life. He also mentioned that he wants to return to Portland next year. Juwan Howard has heart and will admit if he did not play his hardest. I truly respect Howard and hope to see him return next season.
The atmosphere in the Rose Garden is fantastic and the Blazers have a bright future.
Thank you for reading about my experience as a reporter. I hope to bring great articles to the Trailblazer community, and I as many fans love Portland and will stick around no matter what.
If you have any questions, or maybe I might have left something out, please feel free to ask me questions in the comment section.
This article is
What is the duplicate article?
Why is this article offensive?
Where is this article plagiarized from?
Why is this article poorly edited?

Portland Trail Blazers: Like this team?