2010 NFL Mock Draft: Round One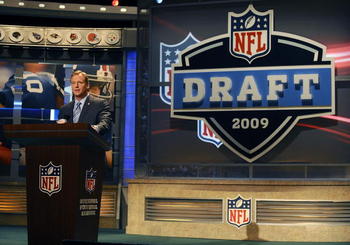 With the Lombardi Trophy resting safely in Sean Payton's bed, NFL fans get to spend the next 10 weeks trying to guess who will take who in April's draft.
St. Louis is on the clock, and the consensus No. 1 overall pick is a boy named Suh.
After Suh, it gets interesting. Nine of the top 11 picks are held by teams with coaches in their first or second seasons at the helm.
The first draft of the last decade gave us Brian Urlacher, Shaun Alexander, and some guy in the 6th Round named Brady. We can only hope this year's draft give us more of the same.
1. St. Louis Rams - Ndamukong Suh, DT, Nebraska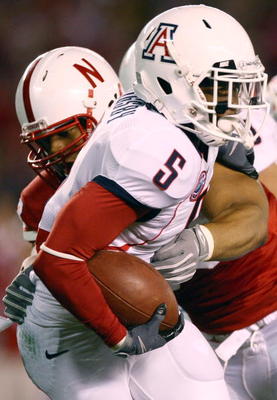 All signs point to the Rams taking Suh, the can't-miss defensive tackle from Nebraska.
2. Detroit Lions - Anthony Davis, OT, Rutgers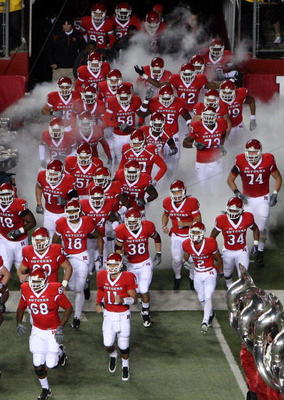 This is where I believe the first surprise of the draft will be. They invested too much in Matt Stafford to let him get beat up like he did last year.
3. Tampa Bay Buccaneers - Gerald McCoy, DT, Oklahoma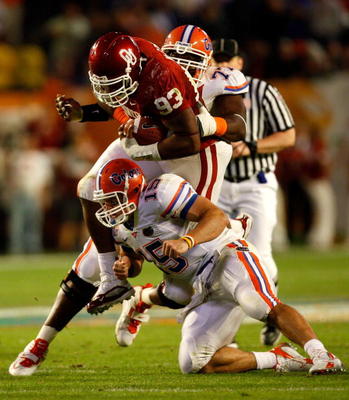 Despite the improvement needed in the secondary, Tampa will pass up Eric Berry to take a guy who can help this defense in both pass and run situations.
4. Washington Redskins - Sam Bradford, QB, Oklahoma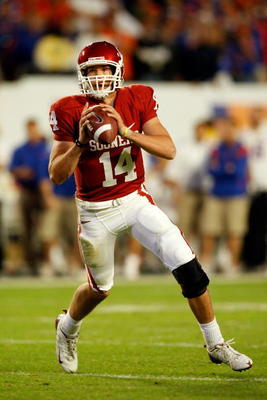 Dan Snyder lost the Jay Cutler sweepstakes last year, so he and Mike Shanahan will likely take Sam Bradford this year and build the team around him.
5. Kansas City Chiefs - Eric Berry, S, Tennessee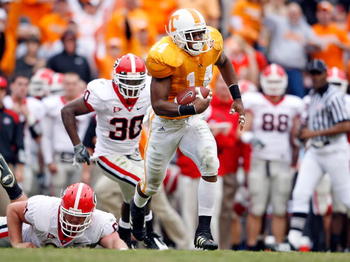 If Berry gets past Tampa Bay, Kansas City seems like a lock to take arguably the second best player in the draft.
6. Seattle Seahawks - Derrick Morgan, DE, Georgia Tech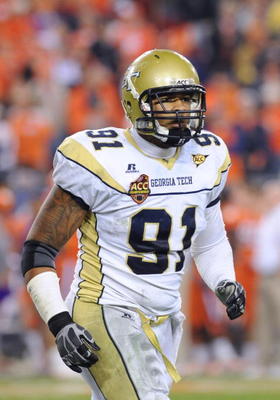 Seattle needs a premier pass rusher to go along with its superb young linebacking corps.
7. Cleveland Browns - Joe Haden, CB, Florida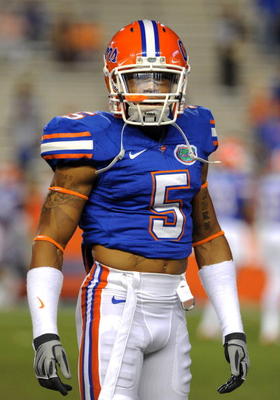 Haden to Cleveland may be the most certain pick of the 1st Round.
Haden and current Cleveland cornerbacker Eric Wright could eventually become one of the best cornerback tandems in the league.
8. Oakland Raiders - Russell Okung, OT, Oklahoma St.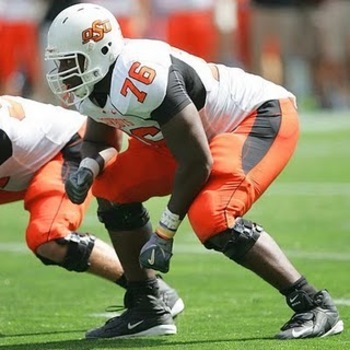 Regardless of whether it's JaMarcus Russell or Bruce Gradkowski taking snaps, the Raiders need someone to protect their quarterback.
9. Buffalo Bills - Jimmy Clausen, QB, Notre Dame
Buffalo is still trying to replace another quarterback named Jim. Clausen is likely the man Chan Gailey tries to build his new team around.
10. Jacksonville Jaguars - Rolando McClain, LB, Alabama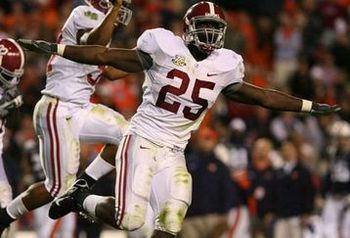 Look for Jacksonville to go defense for the most part in the draft. McClain has the potential to be one of the premier inside linebackers in the league.
11. Denver Broncos - Dez Bryant, WR, Oklahoma St.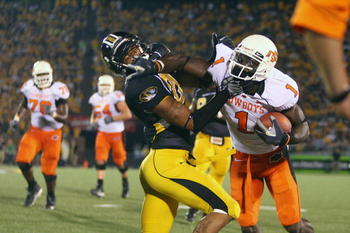 Despite being suspended for much of the season for hanging out with Deion Sanders, Bryant is the consensus top receiver. With Brandon Marshall unlikely back in Denver next year, Bryant seems like the obvious choice for Josh McDaniels.
12. Miami Dolphins - Jason Pierre-Paul, DE, USF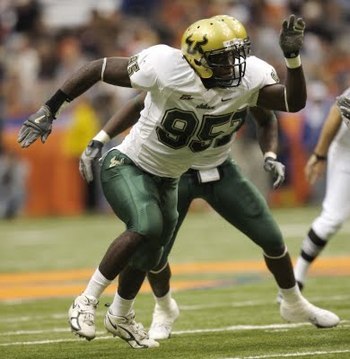 Pierre-Paul is a guy whose stock will rise as the Combine and draft get closer. A freak athlete, look for JPP to play outside linebacker in Miami, where Joey Porter doesn't seem likely to be back.
13. San Francisco 49ers - Sergio Kindle, OLB, Texas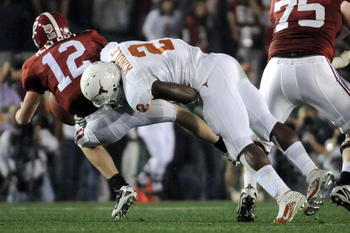 Kindle is an explosive player who will fit well in the Niners 3-4 defense. Mike Singletary is looking for attitude and effort as much as anything, and Kindle supplies plenty of both.
14. Seattle Seahawks - C.J. Spiller, RB, Clemson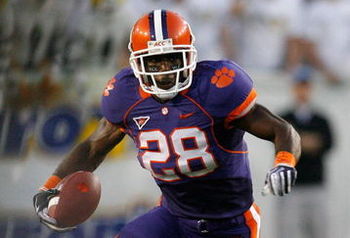 Seattle needs an explosive back to help a struggling offense. The Seahawks haven't had a threatening runner in the backfield since Shaun Alexander.
15. New York Giants - Brian Price, DT, UCLA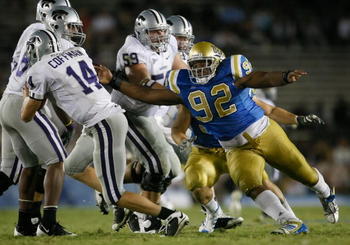 Penetration up the middle will help Justin Tuck and Osi Umenyiora return to the elite pass rushers they were in 2007.
16. Tennessee Titans - Carlos Dunlap, DE, Florida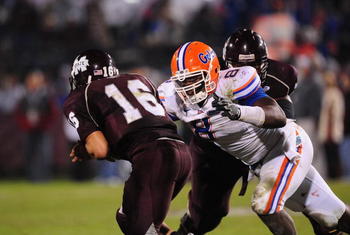 The Tennessee defense struggled last year, much of which was due to the departure of Albert Haynesworth. With Jevon Kearse likely done, Dunlap will have a chance to make an immediate impact for the Titans.
17. San Francisco 49ers - Earl Thomas, S, Texas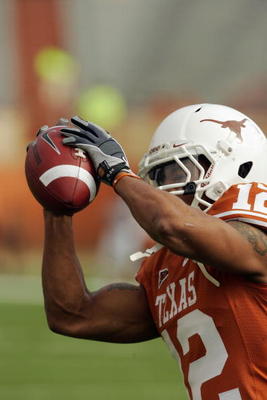 The Niners will continue to build their defense around Patrick Willis, potentially taking two talented defenders from Texas in the first round.
18. Pittsburgh Steelers - Bruce Campbell, OT, Maryland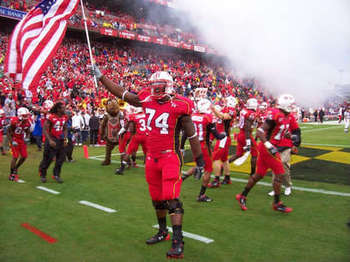 Many people see Pittsburgh taking a defensive back here, but Troy Polamalu will vastly improve the secondary when he returns. Campbell will likely replace Willie Colon, who Pittsburgh is unlikely to re-sign in the offseason.
19. Atlanta Falcons - Donovan Warren, CB, Michigan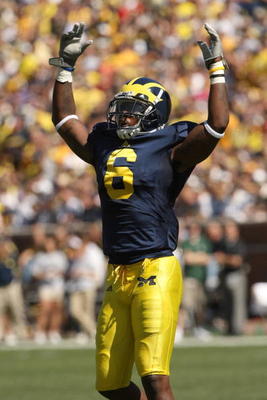 If Atlanta wants to challenge New Orleans for the NFC South title, they're going to need someone to slow down Drew Brees. Warren's stock will rise after the Combine.
20. Houston Texans - Jonathan Dwyer, RB, Georgia Tech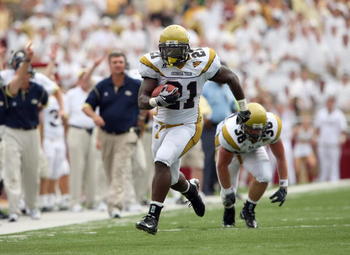 Houston likely missed out on the playoffs last year because of their backfield failing to hang onto the ball in key situations. In over 500 carries at Georgia Tech, Jonathan Dwyer never fumbled.
21. Cincinnati Bengals - Jermaine Gresham, TE, Oklahoma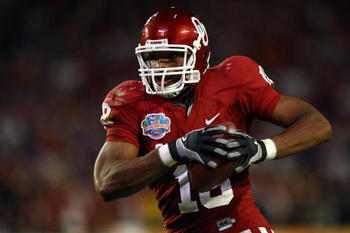 Despite missing the entire season due to injury, Gresham is still the best pure tight end in the draft. Carson Palmer needed a tight end all season long, and he now needs a tall target to find in the red zone following the unfortunate passing of Chris Henry.
22. New England Patriots - Brandon Graham, OLB, Michigan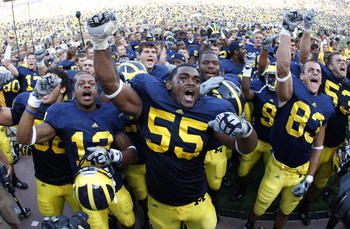 New England is expected to get rid of Adalius Thomas and continue building its linebacking core post-Bruschi and Vrabel.
23. Green Bay Packers - Trent Williams, OT, Oklahoma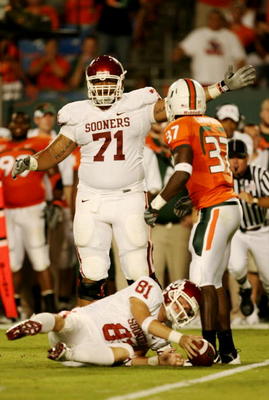 Mark Tauscher and Chad Clifton are toward the end of their careers, and it showed this year. The Packers need to protect their franchise quarterback.
24. Philadelphia Eagles - Everson Griffen, DE, USC
Philly could go a lot of ways, but I have them taking the best defensive player on the board when they select. Griffen and Trent Cole could combine to be a ridiculously good pass rushing tandem.
25. Baltimore Ravens - Golden Tate, WR, Notre Dame
If the Ravens want Joe Flacco to be a premier quarterback in the league, they need to give him something better to work with than Derrick Mason and Mark Clayton.
26. Arizona Cardinals - Bryan Bulaga, OT, Iowa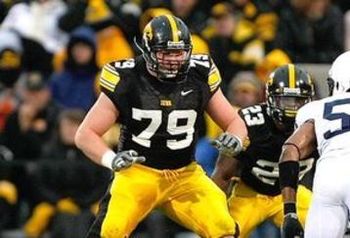 Arizona needs a franchise offensive tackle to protect Matt Leinart—or whoever ends up under center—and to help improve their underachieving running game.
27. Dallas Cowboys - Taylor Mays, S, USC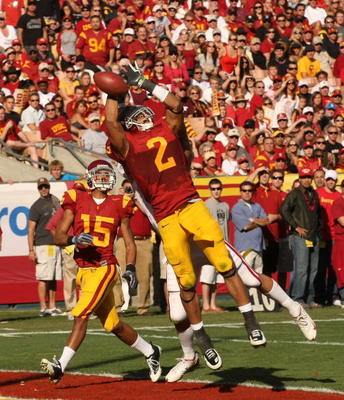 Mays stock has fallen drastically, but the athleticism and versatility he shows at the Combine will keep him in the first round. Dallas is another team with no glaring needs, and Wade Phillips will be able to utilize Mays, perhaps making him the player he was once projected to be.
28. San Diego Chargers - Jahvid Best, RB, California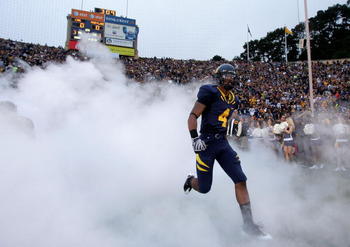 With Ladainian Tomlinson's career in San Diego likely over, the Chargers need a young back to replace to the future Hall of Famer.
29. New York Jets - Damian Williams, WR, USC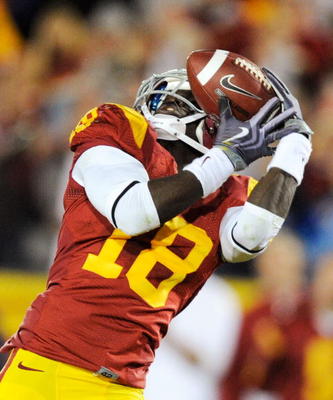 Williams may finally get to play with Mark Sanchez. Regardless of whether or not the Jets decide to retain Braylon Edwards—and they've expressed that they would like to—they still need another weapon for their young quarterback.
30. Minnesota Vikings - Patrick Robsinson, CB, FSU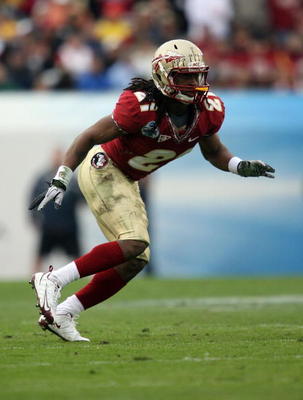 Given Antoine Winfield's age and injury problems last season, the Vikings need some help at the corner position. Don't look for Robinson to take Winfield's spot unless necessary, but he will play in the Nickel and see significant playing time.
31. Indianapolis Colts - Dan Williams, DT, Tennessee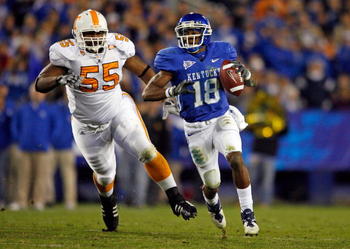 Indy's biggest weakness this year was their ability to stop the run. In a division that features Chris Johnson and Maurice Jones-Drew, they will look into fixing their rush defense in the first round.
32. New Orleans Saints - Sean Weatherspoon, LB, Missouri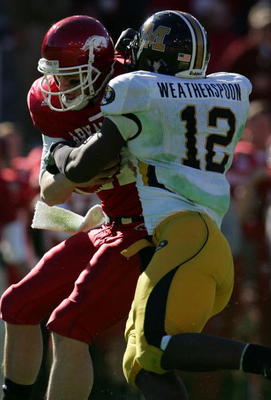 It's all but certain that NOLA will go defense, and the defending champs could be getting a steal with Weatherspoon.
Keep Reading