Enough Is Enough: Bulls Out of Pacifiers for Tyrus Thomas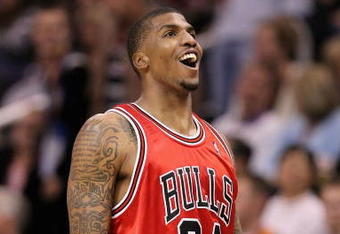 Christian Petersen/Getty Images
The Bulls have run out of excuses to keep Tyrus Thomas.
That's it—case closed—the Blazers duped the Bulls, and the "unlimited" potential of Thomas seems hard to notice when he's spending his nights suspended by his own team on the sidelines. Game over—pull the plug.
Chris Richard crashed the boards relentlessly against the Miami Heat, and, when asked if Thomas would have his spot in the rotation back (not necessarily the starting lineup), coach Vinny Del Negro said, "Chris gave us a nice boost. He's physical inside. He's a big, strong body. He's pretty familiar with our staff. He got us some offensive rebounds and we converted on them, which was nice."
I'm not sure if Del Negro actually believes Richard to be the better player, but one thing is for sure—he doesn't think much of Thomas.
On paper, Thomas probably has a much greater skill set, but at what point do you trade that skill set in for a guy that understands his role? Thomas thinks he can do no wrong on the court. He demands the ball, chucks up wild shots, complains constantly, doesn't abide to set plays, and is a locker room distraction.
He is becoming the Terrell Owens of the Chicago Bulls.
It might not be long until we are referring to Thomas as an ex-Bull. Even when Thomas does play bigger minutes, it isn't noticeable on the court. Other than Thomas' name being halfway down the box score when the game ends, it's hard to notice the difference of having him in or out of the lineup.
If the Bulls do find a taker in the trade market, they should feel comfortable trading to anyone and everyone—even within their division.
I can guarantee you the Bulls' management is not going to stay up nights thinking like Green Bay Packers GM Ted Thompson did about Brett Favre and worry that Tyrus Thomas is going to make them look bad. The options are wide open.
Even if the Bulls gain nothing, as they did with Ben Gordon, they at the very worst lose a bunch of unwanted baggage and distractions. Plus they have Taj Gibson, who is a very solid rookie with great fundamentals and gets the game.
Many forget that Gibson is actually Thomas' senior by over a year in age. Taj has flipped and flopped in and out of the starting lineup and seen his minutes fluctuate this year, but you didn't see his jaw flapping, and, most importantly, you didn't see it impact Gibson's performance on the court or the team's as a whole.
Even if Thomas was injected into the starting lineup, given his personality, who is to say he doesn't find something new and exciting to complain about after that?
It's time to throw the crib in the dumpster, throw the pacifiers out, and take the high chair off the Bulls bench. It's time to remove Thomas from the lineup completely.
Thomas needs the Larry Hughes treatment. Keep him off the plane, out of the locker room, and out of our minds.
This article is
What is the duplicate article?
Why is this article offensive?
Where is this article plagiarized from?
Why is this article poorly edited?

Chicago Bulls: Like this team?