Rumor Mill: NFL on Its Way to Los Angeles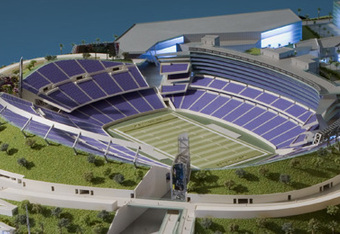 This article is also featured at NFL Soup.
Although it is still a rumor until a team actually commits to relocating, the design plans for a new stadium virtually solidifies the notion that football will soon be returning to the greater Los Angeles area.
At the outset, the building of a new complex was slowed by environmental fundamentalists who felt that the area of land targeted for construction was inappropriate, but California Governor Arnold Schwarzenegger signed a bill last October that eradicated the lawsuit, clearing the way politically for construction to continue.
The stadium is being designed by Dan Meis of Meis Architects, formerly of NBBJ, the firm that designed the Staples Center. It is being financed by real estate developer Ed Roski, chairman of Majestic Realty.
Because Roski is claiming 100 percent of the financial responsibility, no public tax dollars will be needed to complete the project.
The site is located in the city of Industry, an outlying suburb in close proximity to the city. As per current blueprints, the entire complex will cover 592 acres, 271 of which will be open, green space.
It will seat 75,000 fans, including 11,000 club seats and 175 suites. The entire project will cost roughly $800 million and will provide up to 18,000 jobs for those living in or near L.A.
Initially, environmentally-minded locals of Industry were not on board but now that the project is moving forward, NFL fans and supporters of Industry's local economy are getting excited.
John Semcken of Majestic Realty said they've already received over 100,000 requests for tickets. He believes there is a 50/50 chance an NFL team will be playing in L.A. by the 2010 season. If that notion does indeed gel, the team will play at the Rose Bowl Stadium until the new stadium is completed.
The sentiment of Los Angeles playing host to an NFL team is nothing new. Although the city hasn't had a team since 1994, the surrounding population is one of the largest markets available (second only to New York).
Roski's intentions are to build a stadium that could potentially house two teams, much like the Staples Center does for the Lakers and the Clippers. A new stadium can't be built, though, until a current team commits.
The only way that will happen is if a current team owner decides to sell, but Roski has made it abundantly clear he is ready and willing to make a generous offer to interested clubs. If one does come forward this offseason, Roski believes a new stadium can be ready by the 2013 season.
Majestic Realty has declined to divulge the teams they are currently speaking with, but it's clear who is on the line. All three California teams are experiencing difficulty with their current stadium contracts and Oakland's fanbase, while large, isn't economically geared to keep their team's profit margins in the black.
Jacksonville, Buffalo, and St. Louis are the three teams most likely to make the change. The Jaguars' fanbase is dwindling and investors are struggling to keep their club afloat. St. Louis' interest in the Rams has also tapered off recently and the organization's history in Los Angeles may be the deciding catalyst to send them back.
The Bills are the epitome of a small-market team and, while the front office is struggling, I believe the fanbase in Buffalo is too strong to allow their team to leave.
Either way, Los Angeles' enormous market has all the necessary incentives to bring in two NFL teams within a span of five years, or less.
One out of 19 people living in the U.S. live within reasonable driving distances from L.A. The city alone has a population three times that of Dallas and 12 million people live within 30 miles of the center of the city.
Even the location of the new stadium was chosen with the surrounding population in mind. It is 22 miles east of downtown, 15 miles from Anaheim, 25 miles from Newport Beach, 15 miles from Ontario Airport, 16 miles from Pasadena, and 25 miles from Riverside County.
When the Raiders and the Rams left Los Angeles, the NFL made it abundantly clear that the city would not play host to another team until conditions were perfect, and this stadium has been their biggest step toward meeting those conditions.
For more NFL news, rumors, and feature articles, go here.
This article is
What is the duplicate article?
Why is this article offensive?
Where is this article plagiarized from?
Why is this article poorly edited?