Atlanta Beat: Building a Team Up from the Bottom Up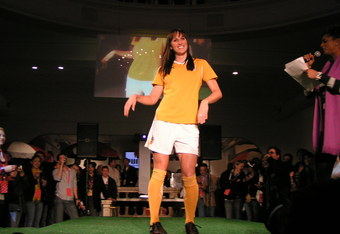 Going into the 2010 season, six of the league's eight teams knew what had and hadn't gone right for them in 2009.  They knew what areas they needed to improve on going into the league's sophomore season.  But the Atlanta Beat had a whole different approach in the off-season as an expansion team.  They would have the challenge of building their entire roster up from the start.  A new group of players to work with and a group that has yet to gel.
"Existing teams have an advantage over us, " Atlanta head coach Gareth O'Sullivan said.  "It's not a new roster for them."
Three quarters of the league may boast that advantage, but O'Sullivan has put together a roster full of talent – players with last season under their belt, a group of top quality international players, and of course, the newest draftees.
There were three steps to building the team:  the expansion draft, the international draft and the 2010 college draft.
The expansion draft in October allowed the Beat to begin piece together their roster by selecting players who had varying amounts of experience in the league last year.  The Beat selected six players in the draft, taking FC Gold Pride defender Leigh Ann Robinson with their first selection.  They went on to select Amanda Cinalli (St. Louis Athletica), Noelle Keselica (Sky Blue FC), Katie Larkin (LA Sol), Sharolta Nonen (LA Sol), and Sara Larsson (St. Louis Athletica) with the remainder of their picks.
Robinson played in 18 games for FC Gold Pride in 2009, starting 15.  O'Sullivan was very impressed with her play when he saw her play in just the second match of FC Gold Pride's season last year.  With the system that the Beat plan to play, they are going to want to see her get forward from the outside back position. 
O'Sullivan was also impressed with the play of Amanda Cinalli.  Cinalli started and played the first 12 games of the season before suffering a shoulder injury that ended her season.  The expansion draft also yielded three players with championship game experience in Noelle Keselica, Katie Larkin, and Sharolta Nonen.
The international draft provided some great attacking players for the Beat which was ultimately O'Sullivan's goal.  They signed Umea teammates Ramona Bachmann (Switzerland), Mami Yamaguchi (Japan), and Johanna Rassmussen (Denmark) as well as Mexican forward Monica Ocampo.  Yamaguchi and Rassmussen are both versatile players allowing O'Sullivan to have several options for them on the field.
The college draft took place in mid January with the Beat holding the number one selection.  Several names had been mentioned to Head Coach Gareth O'Sullivan in the months leading up to the draft.  Rather than even hinting at who was their choice for that selection, the Beat took a different approach.
"We're keeping it quiet for now."  O'Sullivan stated a week before the draft.  "It's only fair because it takes away the excitement from picks 2 and 3."
All was finally revealed on January 15 when O'Sullivan and his staff selected University of North Carolina midfielder Tobin Heath as the no. 1 overall pick.  It was a pick that was set before the 2009 College Cup took place.  After Heath, the focus turned to picking up a couple of defensive minded players in South Carolina defender Blakely Mattern and University of West Florida defender Shameka Gordon.
Under normal circumstances, that would have been where the drafting of players stopped.   But upon the LA Sol suspending operations, the Beat got one final shot to draft a couple of players.  Before the draft began, the Beat received midfielders Angie Kerr and Amanda Poach and defender Kia McNeil (along with a draft pick) from St. Louis in exchange for the number one overall pick. 
With the ninth pick in the draft, the Beat picked up midfielder/defender Manya Makowski and the 16th pick allowed them to select Czech forward Pavlina Scasna.
Now, the Beat are looking to finalize a roster that may be young, but is going to be competitive in the league.  They're going to make "rookie mistakes" that the other teams may not be making having already had experience in the league.  Nonetheless, expectations are high from the fans, but especially from the coaching staff.
"We expect a lot out of them!" O'Sullivan exclaimed of his young team.
With a talented and deep roster, the Atlanta Beat undoubtedly will be competitive as their season kicks off in Philadelphia on April 11, 2010.
Photo courtsey of Laine Schmid
This article is
What is the duplicate article?
Why is this article offensive?
Where is this article plagiarized from?
Why is this article poorly edited?