Mercer Falters in Rivalry Game With Kennesaw State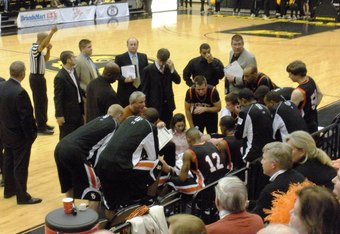 Like the old saying goes, "Trick me once, shame on you. But trick me twice, shame on me."  Twice in the same week the Mercer men couldn't seem to figure out their pesky in-state A-Sun rivals, the Kennesaw State Owls.
After falling to the hottest team in the conference 71-69 on a last second shot that clanked off the rim, all bets were on the Bears to return the favor when they traveled 100 miles up I-75 to the Convocation Center.
Ultimately, Mercer would fall just short, 66-63, in a well-fought game by both teams.  In front of a nearly sold out arena of 2,378 fans, the crowd was relentless and boisterous all night long in an almost neutral fashion. 
Nearly one-third of the crowd sported Mercer orange and black, but just as the crowd outnumbered the Bear's fan base, a quick start by Mercer was overcome by a long, lanky, and athletic KSU bunch.
For the opening eight minutes of the game, Mercer jumped out to a 17-6 lead that largely silenced the crowd stemming from baskets near the goal and a pair of three pointers from E.J. Kusnyer and Jeff Smith. Then, Kennesaw clawed its way back into the game by controlling the boards on both ends of the court. 
The Owls would out-rebound the Bears by a final margin of 44 to 35, with 25 of the 44 rebounds coming on offense. Simply put, one shot possessions weren't enough for Mercer on offensive.
"We can't win games when we give up 25 offensive rebounds," said Mercer head coach Bob Hoffman after Thursday night's game. "And we couldn't get to the free throw line, but we still had opportunities to win the game," he added. 
Despite boasting the nation's No. 2 rebounder in Daniel Emerson, the big man could only do so much in grabbing 14 of his team's 35 rebounds on the night. Emerson would finish with another double-double with 16 points, including a perfect eight-for-eight night from the free throw line.
The game also saw Mercer guard James Florence break out of a scoring slump as he finished the game with a team-high 19 points. Florence's 42 game streak of double-digit point totals was snapped the weekend before, and his offensive troubles had started nearly two weeks prior to his nine point game against Florida Gulf Coast. 
Additional bright spots on offense were Jeff Smith's 10 points and E.J. Kusnyer's three three-point field goals throughout the night.
For the Owls, only one player, Spencer Dixon, would finish in double-digits, as he turned in a 16 point effort. Kennesaw's team effort was aided by Zadrian Gibson, Kurtis Woods, Jon-Michael Nickerson, and LaDaris McConnell, as they accounted for 34 points. 
Despite the low score, the Owl's win was a testament to their bench, as they outscored the Bears 24-6.
With the loss, Mercer falls below the .500 mark, but maintains a 7-6 record in the Atlantic Sun standings. Future home dates against North Florida and Jacksonville will prove to be important games for Mercer as their road schedule includes Campbell, ETSU, Belmont, and Lipscomb in the month of February.
This article is
What is the duplicate article?
Why is this article offensive?
Where is this article plagiarized from?
Why is this article poorly edited?