Keys To The Wolf Den: 3 Games In a Row, a Long Way To Go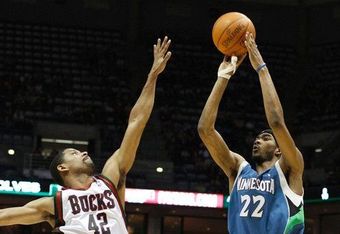 Minnesota Timberwolves fans have a reason to celebrate right?
The Wolves have defeated the New York Knicks, the Los Angeles Clippers and most recently, the Dallas Mavericks on their home court.
I argue the Wolves fans have nothing to celebrate other than the fact that the Wolves have opened a few eyes, and have proved that they are better than their record would suggest, however, it's not by a large margin.
One thing that is incredibly apparent in the Wolves' last three games is the future is seriously starting to take place, metaphorically anyways. As in, a seven-foot shot blocker that's finally starting to average 16 PPG in his last three games, and has been throwing shots off, drawing charges and blocking shots.
As in, a wing player starting to show potential, scoring the ball on the fast break and shooting from long range.
As in, the point guards are starting to rack up more assists game by game.
As in, "The Twin Cities" are both double-double machines.
But even with all that positivity, one cannot realistically be optimistic.
As I've watched the last three games, despite the wins, I've noticed that the lack of talent on this roster is weaker than originally thought, which is why the Wolves need the triangle offense.
Within the offense, the Wolves are getting open shots, and finally knocking them down, and with that same roster of players being able to run on the fast break, the Wolves are playing better on the offensive end of the floor. The Timberwolves are also playing better defense, using high energetic rotations to cover their man, and the addition of Ryan Hollins has seriously helped.
Yes the Wolves have won thre in a row, and as a Wolves fan, you have to be happy, but you have to be extremely happy that the Wolves have compiled plenty of assets going forward.
Head coach Kurt Rambis has lowered his rotations to nine players: Jonny Flynn, Corey Brewer, Ryan Gomes, Al Jefferson, Ryan Hollins, Kevin Love, Ramon Sessions, Wayne Ellington and Damien Wilkins. A typical strong rotation likely requires 10-11 strong key contributors, and while the Wolves as of late have had nine key contributors half of them are inconsistent.
The whole point of this is simply this for example, the Wolves last season won 10-12 games in the month of January, but that in NO WAY was a playoff roster at all, especially in the Western Conference. That was simply put, a SG having a HOT month, two post players that could not be stopped and a optimistic coaching change.
Looking forward, there's probably 4-6 key players on the Wolves roster that are part of the Wolves' serious future plans.
If you watch the Wolves run the triangle offense, when they do run it, it's run to get an open man a shot, but when you barely have shooters, the offense is null and void.
In the 2010 NBA draft, I truly expect the Wolves to draft on need, but making sure that those respective players are able to do more than one thing on the court, because the Wolves need everything. We'll give them a nod on rebounding.
Thanks for reading!
This article is
What is the duplicate article?
Why is this article offensive?
Where is this article plagiarized from?
Why is this article poorly edited?

Minnesota Timberwolves: Like this team?