Montreal Canadiens-Boston Bruins: Gionta's Shootout Winner Extends Bruins' Skid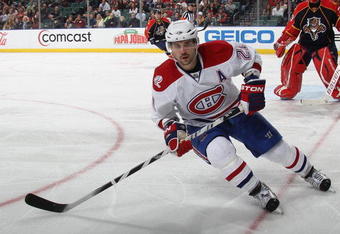 Bruce Bennett/Getty Images
Montreal 3 Boston 2 SO (TD Garden)

Since the Vancouver game, exuberant Canadiens' fans and media alike have been crowing that the team had turned the corner with their five-on-five scoring, were finally carving out an identity, and had hands-down selected their number one goaltender.

As has occurred many times this season, many of the conclusions had to be thrown out after the first period of tonight's game against Boston. Once again we were reminded that the season continues to be a roller-coaster ride.

If coach Jacques Martin was truly upset at the free-flowing second period of the Vancouver game, he would have been thrilled with the first period in Boston. The Canadiens were at their passive best, managing only five shots on goal.

Jaroslav Halak looked awkward, and seemed to lose his positioning in front of the net several times. Puck-handling nightmares in the period left him scrambling to clean up the messes he made.

When Halak gave up a weak goal early in the second period after allowing a bad rebound, it seemed that the Bruins were on the way to ending their losing streak with a 2-0 lead. Habs' fans gasped later in the game when Halak bobbled an 80 foot shot from Zdeno Chara barely managing to steer it aside.

But as the Canadiens have done so many times this season, they found a way to claw back. The Habs' power-play, so deadly on the road at 34 percent efficiency, was the catalyst with a goal before the end of the second period. Less than 40 seconds later, Roman Hamrlik scored and the Habs, while being badly outshot, were back in the game.
Halak righted his ship, and in the process, made 45 saves. The Habs' goaltender was called upon to make several big stops in third period, and blanked the Bruins in the shootout.

"As long as we win, it doesn't matter how many shots they have and we have," Halak said. "It would be nice to get more shots on net, but we have to find our game."

At the other end, Tuukka Rask has not won in his last five starts.

For their part, Boston didn't play like a shadow of their former selves, but an apparition. Despite their lofty shot totals, the Bruins were not getting traffic in front of Halak. In the past two games, Boston has 89 shots on goal, and only scored three times.

The Bruins are simply having trouble putting the puck in the net with a total of 14 goals in their nine-game losing streak. They continue to be the lowest scoring team in the NHL. There is a lack of finish on the current roster.

"I think we were the better team out there again," said Claude Julien. "But the bottom line is that you've got to win. You've got score those goals. We're not doing that."

Perhaps the most surprising statistic of the night was that the Canadiens outhit the Bruins 29-17. Boston was expected to try to intimidate the Habs. Milan Lucic had a quiet night with only two hits in just over 13 minutes of ice-time.

It was a mistake-filled game by both teams with the Canadiens being guilty of bad line changes and undisciplined play. Maxim Lapierre almost cost his team taking a dumb penalty with less than four minutes remaining in the third. Lapierre was on the ice for both Boston goals, failing to cover the point on the first Bruins marker.

Glen Metropolit made the most of his nine minutes of ice-time with a power-play goal. Metropolit now has three goals and one assist against his former team in three games this season. The Habs have wins in all three meetings.

For now, its seems safer to take this team on a game by game basis without concluding predictive patterns. Tonight's game was a solid road win by a gusty Canadiens' team. The two points gives them sole possession of sixth place but having played more games than those teams closely following in the standings.

The Canadiens return home for two weekend matinee games against Pittsburgh and Boston.


Rocket's three stars

1. Jaroslav Halak
2. Mark Recchi
3. Scott Gomez


Material from wire services was used in this report.

This article is
What is the duplicate article?
Why is this article offensive?
Where is this article plagiarized from?
Why is this article poorly edited?

Montreal Canadiens: Like this team?