National Signing Day 2010: Where the Top 50 Recruits are Headed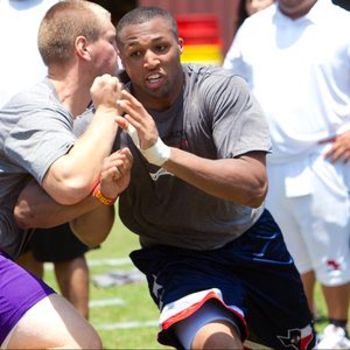 National Signing Day 2010 is finally over—maybe.
If your school is lucky, they lost no one, got everyone they expected, and picked up a few they didn't expect and had room for.
And if they're really lucky, they landed one or two (or more) prospects from this list.
Yes, here are they are, the top 50 recruits and where they decided to go on National Signing Day 2010. The rankings are mine, the usual biases apply, and for history's sake I included a bit about their recruitment, and where I see them ending up in the fall.
Because when you're this good, no one wants to wait around to see it.
No. 50: Cassius Marsh, DT, UCLA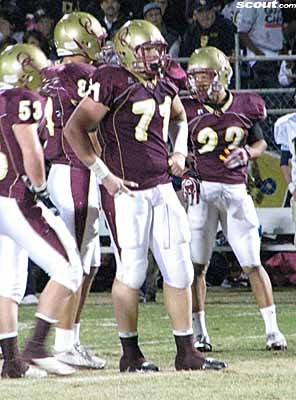 I've been rah-rah for defensive line play all year—lines are where games are won or lost—so it's encouraging to see Rick Neuheisel address obvious deficiencies on the Bruins' D-line with players like Cassius Marsh.
The 6'3", 280 lb. defensive tackle drew great reviews for his physical tools, his base, and his upside. Unfortunately, he's on pace to redshirt, but could see the field with injuries, and has the motor and work ethic to blossom into a permanent plug on the interior.
No. 49: Devin Gardner, QB, Michigan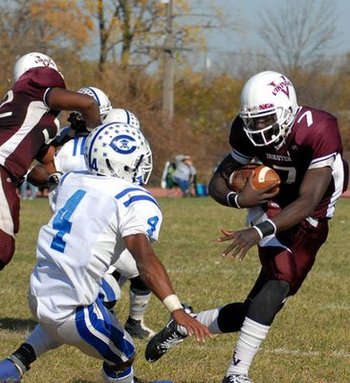 Not too long ago, Tate Forcier was the future of Michigan football. The true freshman looked as composed and confident as a three-year starter, executing game-winning drives on his way into the annals of the winningest program in college football.
But those days are over, and the fact remains: Rich Rodriguez's spread is run-based, not pass-based. Remember that the next time you see one of Forcier's passes thrown five yards over the head of a receiver who breaks the wrong way.
The Wolverines' struggles on offense will surely die down, but Rodriguez won't live up to his hotshot billing until his quarterback is as much of a threat to run as he is to throw.
That quarterback is Devin Gardner, and mark my words: he will be the most exciting quarterback in this class when all is said and done. He has It. Nothing more need be said.
That is, unless Michigan's athletic department decides to nuke the program and fire one of the most brilliant offensive minds in college football. Perish the thought.
No. 48: Jaylen Watkins, DB, Florida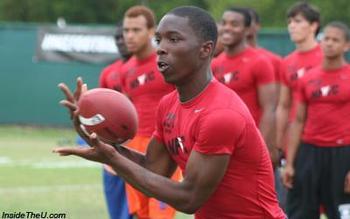 Florida did an outstanding job addressing defensive losses on the line and in the secondary (in the LB corps, they were so-so).
The first, but certainly not least, of those commits was Watkins, a good-sized cornerback with great speed and plays well in off-coverage, breaking on the ball well.
Rivals leaves the option open that he will end up at wide receiver, and considering Florida's minimal gains at wideout, I'd say it's a possibility.
In either position, Watkins' speed will keep him close to the play, and a redshirt year would go a long way to getting him ready for long career at defensive back.
No. 47: Silas Redd, RB, Penn State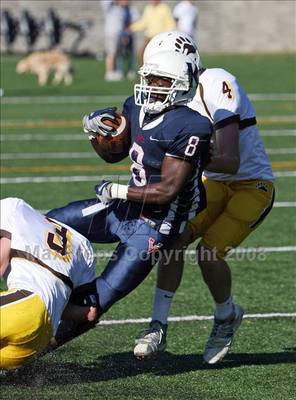 Though they whiffed on Lattimore, the Nittany Lions cleaned up in Connecticut, landing the top defensive prospect and the top offensive prospect in the same class.
What's more, they provided continuity in the backfield with the fourth-best running back recruit in the nation. The small, speedy Redd could get spot duty immediately, filling in for senior RB Evan Royster and junior RB Stephfon Green.
Redd combines the attributes of both. He has Green's ability to accelerate in the open field, and Royster's knack for popping defenders and picking up yards after contact.
To my surprise Rivals likes him as the most complete back in the nation over Lattimore (though they do ding him for his poor pass-catching ability).
It's alright; Penn State doesn't call that kind of stuff anyway.
No. 46: Cecil Whiteside, OLB, Cal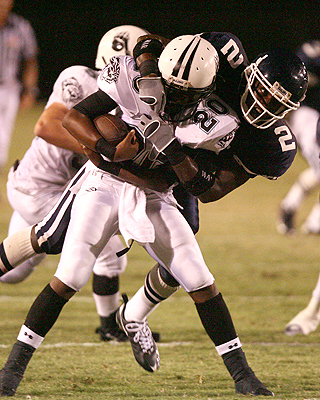 An impressive defensive haul for the Golden Bears starts with OLB Cecil Whiteside, a Golden State native who makes quick strides to the ballcarrier and is built like five-star OLB Jordan Hicks.
He's played most of his life as a defensive end, and the switch to the linebacking corps could be troublesome as far as recognizing and reacting to WR patterns, blocking developments, screens and draws goes.
He'll take a redshirt year if he can get it, or bring his reckless abandon to Cal's special teams unit as a true freshman.
No. 45: Alec Ogletree, S, Georgia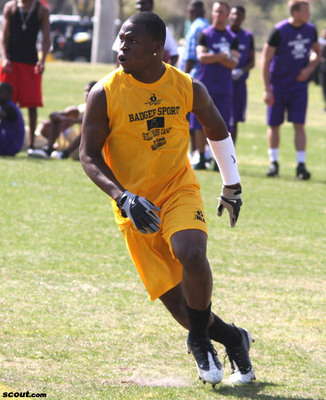 As a safety, Ogletree's run support skills could be the best in the nation. He waylays backs and cuts in front and of behind blocks deftly.
But some trouble in coverage and stiffness in his hips might prevent him from remaining in the defensive backfield for his career, and he could wind up as a hybridized LB.
I'm sure the Bulldogs will take him any way they can get him. He'll be a reliable tackler on a defense losing its top two players next year.
But he's on the radar only as an athlete for now. Until the Bulldogs show better coaching in the secondary, those potential problems in coverage and on the deep ball could be exacerbated down the road.
No. 44: Khairi Fortt, ILB, Penn State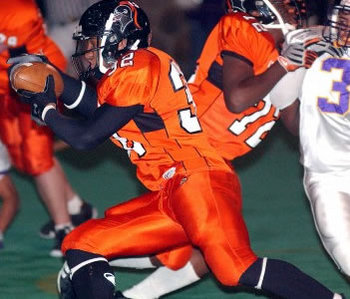 Some recruits are innately good, and some are made better by their choice of school.
When Khairi Fortt committed to Penn State, he also chose to become the next great inside backer at Linebacker U.
In Tom Bradley's defense, and with consistency, strength, and faith in the program on his side, the Nittany Lions will forge Fortt, raw but on the verge, into the most improved defensive prospect in the class.
No. 43: Dillon Baxter, ATH, USC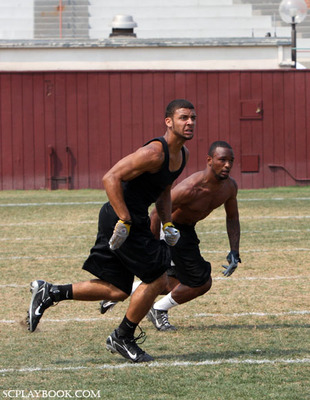 Baxter was one of the recruits on the fence after Pete Carroll's departure to USC. But within a week of reopening his recruitment, Baxter recommitted to the Trojans, placated, and even excited, by Lane Kiffin.
For a 5-star ATH at Running Back U, Baxter's career at USC is somewhat difficult to predict. He's got the stout build to be an every down back, but lacks elite speed. He's got great hands and runs good routes, but isn't tall enough to be a true WR.
It will be interesting to see how Kiffin deploys Baxter and in what amount, since so much of his talent lies in the gray area. Unless Kiffin runs him right up the gut three times before punting. Then it will be uninteresting.
No. 42: James Hurst, OT, UNC
I'm wary of thinking too highly of offensive lineman—they have the highest bust rate of any position in college football—so I tried to lay off including too many on this list.
But UNC's James Hurst is a monster, and he distinguishes himself with a punishing attitude and some stellar play with his hands.
If he reminds Rivals of Michigan's Jake Long, I'm sold.
No. 41: Anthony Barr, ATH, UCLA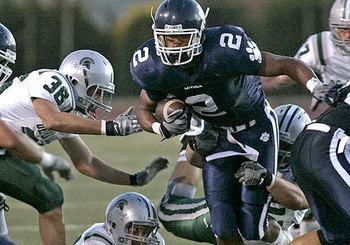 Notre Dame missed out on their chance at landing a top 50 talent when ATH Anthony Barr chose the UCLA Bruins over his lifelong favorites, the Irish. It goes to show how important personal ties to coaches really are.
That said, I'm not sure where Barr fits into the Bruins' equation. Like Marcus Lattimore at South Carolina, Barr will be Neuheisel's first big-time skill player. Luckily, Neuheisel is also recruiting an offensive line and a defense that will put the offense in position to succeed.
The question remains, what role will Barr play? The Bruins might end up putting him at outside linebacker or weakside end, but that would be wasting his hands and his knack for getting yards after contact.
He doesn't have elite speed, but at 6'4", he could be the Bruins' best target in the red-zone, mismatched as he'd be against the lesser corners.
OC Norm Chow finally has a chance to earn his keep. His should be an interesting career to watch.
No. 40: Ivan McCartney, WR, West Virginia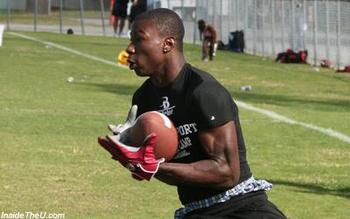 For a class that suffered a wave of decommitments to close the season, Ivan McCartney's letter of intent had to be welcome news for the Mountaineers.
The wide receiver was torn between Miami and West Virginia, but said in an interview that he wanted to bring the swagger up to the Mountaineers, and believed they had the talent for a national championship.
In truth, the offensive side of the ball is young and extremely talented. Barry Brunetti, a true freshman, joins Geno Jones and senior running back Noel Devine.
Hopefully, the Eers defense puts the gamebreaking wide receiver and his swagger in a position to succeed.
No. 39: Lache Seastrunk, RB, Oregon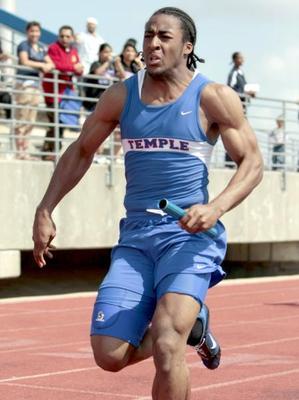 I was probably going to leave Seastrunk off this list due to reservations about his size and some unexplained dropoff in his senior year production.
But he chose Oregon, where the ball fake wizardry and explosiveness of Chip Kelly's spread n'shred will surely spring Seastrunk into the open field. He's not a between-the-tackles guy, so he wisely chose to go where he's deadliest.
With that in mind, he could well leave the Pac-10 in the dust as a true freshman if he can grab some carries from starter LaMichael James. A great end to an intriguing recruitment cycle.
No. 38: Demar Dorsey, S, Michigan
In an instant, Demar Dorsey's commitment to the Wolverines drew a collective sigh of relief from the Michigan fanbase.
The Maize and Blue had whiffed on two of their three candidates at safety on national signing day, and Dorsey's announcement was pushed back for a too-long period of time. Some outlets were even reporting he was a Florida State lock.
His enrollment at Michigan means the Wolverines will be bringing the heat again at safety; Dorsey joins fellow Wolverine commit Marvin Robinson, who just missed the top 50 (wink wink), in the defensive backfield.
The recruitniks are split on Dorsey. ESPN likes him as one of their top athletes, but he's raw, and Rivals and Scout wouldn't project him as part of their top ten positionally.
Fact is, he hits people really hard, and that's something Michigan should be doing more of. Amen.
No. 37: Spencer Ware, ATH, LSU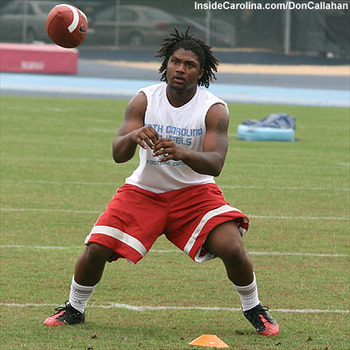 I really liked Ware's output in the Army All-American game—not flashy, not game-breaking; but steady, unselfish, and durable. His statline was indicative, as well. He ended up being the leading rusher in the game, yet didn't stir up a lot of buzz.
That's probably the kind of output he'll have with the Tigers, who need to replace the steady but unspectacular Charles Scott with a durable back of similar build.
Though the Tigers could use a little more flash on offense considering their moribund last few years under OC Gary Crowton, Ware doesn't have the speed of the rest of this class' elite backs.
But if the Tigers are poised to break out on offense next year like many are projecting, Ware is the kind of back they'll need to wear down a defense and set things up for the big play.
No. 36: Gabe King, DE, Cal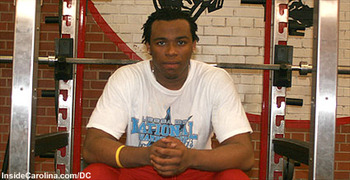 With Chris Martin, strongside DE Gabe King will provide a spark to the Bears' defensive line that's been lacking throughout most of Jeff Tedford's head coaching gig in Berkeley.
Though tall, he could slide in and play defensive tackle or move outside and play opposite Martin; whatever gets them both on the field is top priority.
That said, King is much rawer than Martin and hits the point of attack too high, but his raw talent and upside are encouraging. His production will benefit if Martin proves dangerous and draws double-teams.
No. 35: Darius White, WR, Texas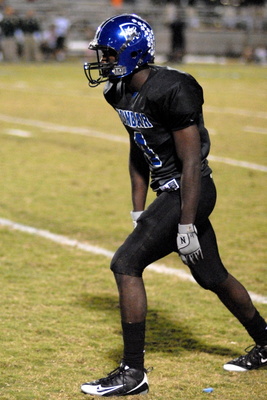 The Army All-American chose in-state Texas, where he'll aim to match, or hopefully surpass, his idol, Roy Williams, who left Texas with almost every significant Longhorns receiving record.
His game-breaking speed are what separate him from the other large wide-receivers in the class.
But to be fair, plain old speed wasn't what was missing from the Longhorns this year; it was a reliable second WR option besides Jordan Shipley.
Hopefully, Garrett Gilbert plays no favorites and the Longhorns get back to spreading the ball around without bias, which, in the end, is still the most dangerous way to do it.
No. 34: William Gholston, DE/OLB, Michigan State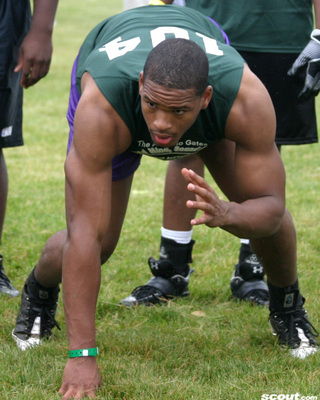 Pardon me if I sound terrified, but memories of Vernon Gholston, William's cousin, still haunt me the former's stellar senior year.
William could be as good or better than his Buckeye counterpart if he can keep his production more consistent in college. Also, he's a tad tall and thin for a defensive end, but that shouldn't prevent him from providing an immediate pass-rush as a hybrid DE/OLB.
The Spartans' best prospect in years could be the Big Ten's most fearsome end with a few more pounds and some practice time with hand on ground.
Oh, and don't go storming any dorms while you're at it.
No. 33: Christian Jones, OLB, Florida State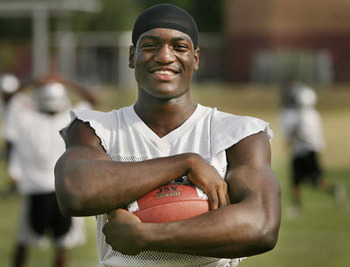 With solid commits in the defensive backfield and the linebacking corps, Jones, a fringe five-star talent, will bridge the gap between the backers and the D-line.
He has the intelligence to drop back in coverage and the strength and size to attack quarterbacks. Sounds like a true OLB in a 3-4 in the making.
Rivals thinks he'll make a big splash as a freshman, and he's only a few pounds away from being one of the most ready players in the class.
No. 32: Joshua Shaw, CB, Florida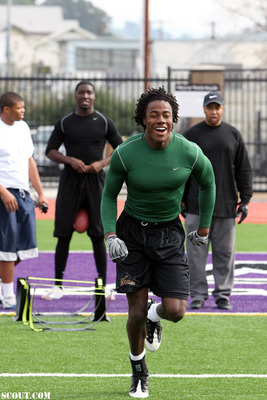 His size and speed are beyond reproach, but the scouts take issue with his reaction time and his quickness to break on the ball.
Aside from that, the Gators at least have a reliable nickelback and possibly a stud future cover corner. That should almost make up for their losses in the defensive backfield. A solid prospect.
No. 31: Michael Dyer, RB, Auburn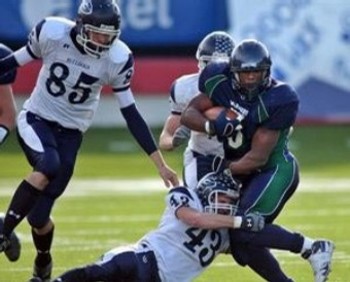 I'll trust the other recruitniks that the undersized but speedy Dyer will be able to showcase the jets without getting swallowed up by monster SEC defenses.
Dyer committed to Auburn in November and got the ball rolling on their stunning recruiting class, which should compete for best in the SEC.
In Gus Malzahn's offense, open space is possible. Dyer's just got to get out there and shake some people.
No. 30: Mike Davis, WR, Texas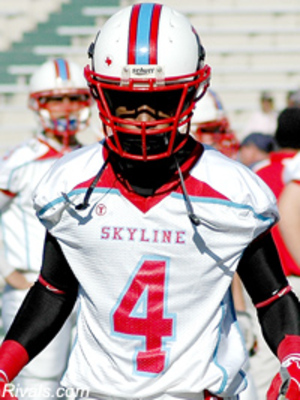 Davis is another under-the-radar Texas recruit sure to make an impact for the Longhorns.
While fellow Texas commit Darius White is the outside burner, Davis draws praise for his intelligent route-running and ability to make clutch grabs in traffic.
Sounds like the kind of player who will excel in Texas' blend-route packages; he could end up an 80-reception-season kind of player, a la Jordan Shipley.
No. 29: Corey Lemonier, DE, Auburn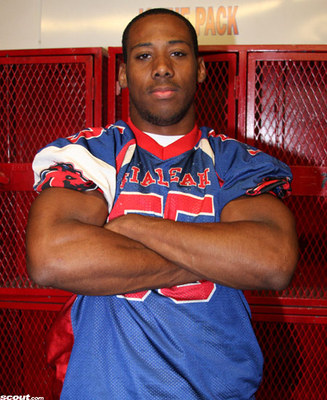 Auburn added an impact freshman to their D-line when they bested Florida State for Corey Lemonier.
The no. 6 defensive end in the country, Lemonier is in posiition to contribute immediately and should bring some swagger back to Auburn's traditionally stout D-line.
Gene Chizik can recruit a little bit.
No. 28: LaMarcus Joyner, DB, Florida State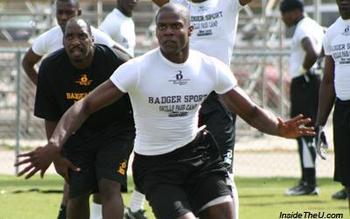 This speedy defensive back just needs some polish on his technique. He cannot be outrun, and his recovery burst drew the highest praise from ESPN scouts, who thought it best in class. Plus, he compensates for his smaller stature with an explosive hit-and-drive move.
The first of Florida State's commitments to really turn heads, Joyner is a crucial element in rebuilding the Seminoles' decimated defense, which got beat deep over the top a few too many times in DC Mickey Andrews' final season.
No. 27: Chaz Green, OT, Florida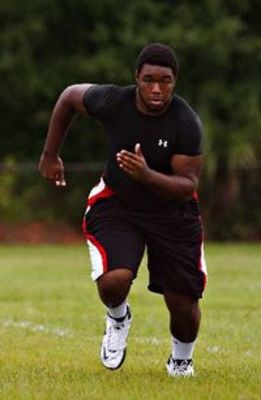 Ahead of the Gators' other commitment on the offensive line, Ian Silberman, I like Chaz Green's finesse and superior athleticism, and think he could contribute almost immediately.
Silberman may be a better prospect down the road, but Florida will need help next year rotating in talent and raising the competition level in-practice.
Green's talents with the subtler aspects of blocking are better suited to get that immediate production.
No. 26: Trovon Reed, ATH, Auburn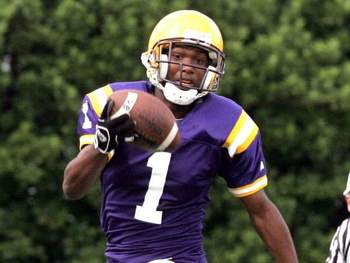 Auburn enters the new millenium of college football courtesy of players like Trovon Reed.
Reed, the top prospect in the state or Louisiana, is an absolute speed demon with the ball, and he'll be unstoppable if Gus Malzahn can get him open and get some SEC corners beat over the top.
For you NFL/Cal fans, Rivals likens him to DeSean Jackson, which should be an indication of the kind of threat he poses on special teams and in the secondary.
Hell, he had to drive all the way to Mississippi just to find a fax machine to send in his letter of intent. That kind of determination will get you far in this world, kid.
No. 25: Xavier Grimble, TE, USC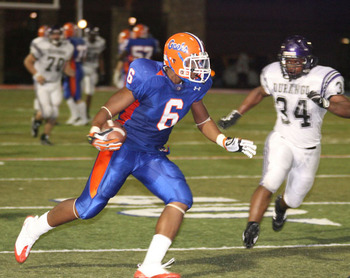 At 6'6", 245, Grimble is a monster prospect at tight end who has the base of an offensive lineman and the hands and speed of a wide receiver.
Terrified? So am I. Grimble is ideally suited for USC's offense, assuming Kiffin will run some offshoot of Carroll's traditional play-action heavy passing game.
WIth his size and mismatch opportunities, Grimble will be Barkley's favorite red-zone target in two years. And his name is pretty cool, too.
No. 24: Ego Ferguson, DE, LSU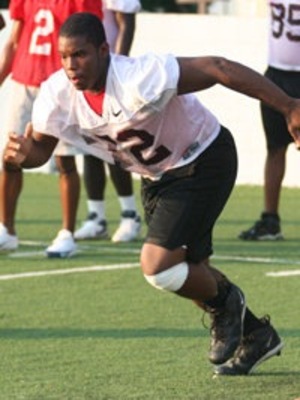 Ego Ferguson added to teh good feelings in Baton Rouge by selecting the Tigers over offers from Notre Dame, Cal, UCLA and Oklahoma.
The fringe five-star defensive end will bolster LSU's line and has the size to play a hybrid DT/DE. He fits the mold of the huge, quick SEC defensive lineman to a T.
He could make an impact as a freshman rushing off the edge, particularly if the Tigers struggle to make plays in the defensive backfield after losing All-American Chad Jones.
No. 23: Robert Woods, WR, USC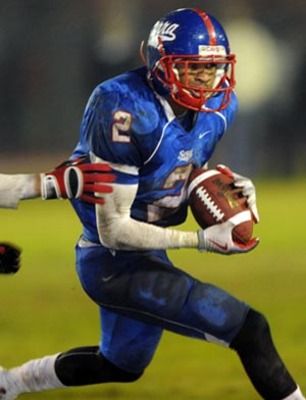 I'm pretty sure Woods is headed to USC as a wide receiver, though he's listed as an athlete and is drawing comparisons to Charles Woodson.
Either way, Lane Kiffin is inheriting an absurdly talented prospect whose speed in the open field is among the best in show.
He doesn't fit the prototypical USC WR mold (see Kyle Prater), and that might mean he'll wait to see the field for a year behind Y-receiver Ronald Johnson.
But that doesn't mean he won't catch 40 passes and 10 touchdowns off square-ins as a sophomore. There's got to be more written on Kiffin's laminated sheet than power off-tackle runs, right?
No. 22: Kyle Prater, WR, USC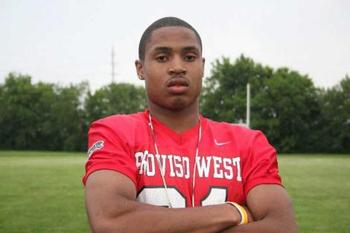 Since the days of Keyshawn Johnson, tall, questionably fast wide receivers have beat a path to Southern California to catch touchdowns for the Trojans.
Kyle Prater lost the plot for a brief period while the Trojans' head coaching vacancy, but Lane Kiffin's hiring reassured that USC was still the right school. He had one foot in the door anyway, as he'd planned to enroll early after the Army All-American bowl.
His recruitment aside, Prater could become the next great USC receiver with a little more bulk and a little smoother shifting to reach the top gear. He'll outmuscle defensive backs at the line of scrimmage, and woe to any undersized corner who tries to undercut him.
At 6'5", Prater will be the most dangerous receiver running the smash route in all of college football in a few years or less.
No. 21: Jordan Hicks, OLB, Texas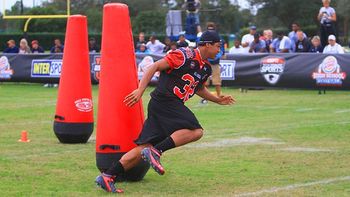 Along with locking down the state's four- and five-star talent and stealing one or two from Oklahoma, the Longhorns added a new notch to their recruiting bedpost this year.
5-star OLB Jordan Hicks', an out-of-state kid who waffled and waited until the eve of National Signing Day to announce his commitment, is the kind of player who was beyond Mack Brown's patience a few years ago.
But the infusion of young, competitive spirit (and the unbroken succession plan) Will Muschamp brings as Texas' defensive coordinator allows the Longhorns to land kids that didn't necessarily grow up making the Hook 'Em sign out their car windows all day.
Hicks could see time on special teams next year, but he's more likely a project for Will Muschamp physically and tactically, and will redshirt and grow if time allows.
Patience is a virtue, Mack. Didn't they mention that in the Bible?
No. 20: Jeff Luc, ILB, Florida State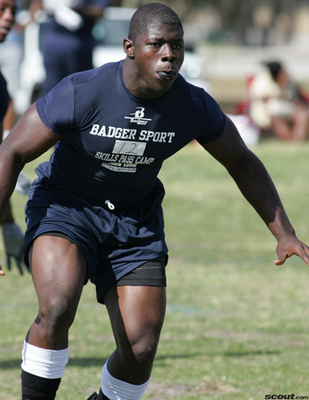 The monster middle linebacker chose the Florida State Seminoles in the midst of Bobby Bowden's protracted exit, when the Seminoles were without a replacement at defensive coordinator.
Yet his faith was rewarded. The 2010 'Noles defense promise some of the brightest and youngest talent next year, under an up-and-coming coordinator, at a school with a tradition of fielding smothering defenses.
Luc himself is perhaps the most physically and mentally ready linebacker in the class, and he enrolled early to take advantage of the opportunity for immediate play.
His ferocity, particularly in run support, is intimidating. His durability will be tested next year when he hits the field early and makes a bid for Freshman All-American.
No. 19: Demarco Cobbs, ATH/S, Texas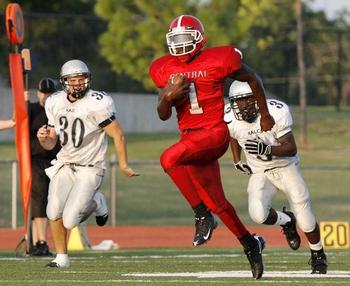 Some sites list Cobbs as an athlete—ESPN evaluates him extensively as a single-wing/Wildcat quarterback—but the Longhorns are probably looking for him to fill in at defensive back now that Earl Thomas departed early to the NFL.
Rivals vouches for his skills at defensive back, listing him as the third best safety.
All of the scouts think that the learning curve at any position won't be steep based on Cobbs' natural instincts and playing ability. Texas could mix him in at return duties as well, now that Jordan Shipley is gone.
At any rate, he's another UT recruit who will make an immediate impact as a freshman. If the Longhorns are aiming for another Big 12 title soon, players like Cobbs could help them avoid down-time.
No. 18: George Uko, DT, USC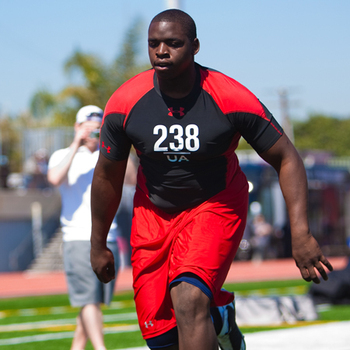 Nothing groundbreaking here (at least, not literally).
Just a raw, explosive defensive tackle just growing into his own who will have one of the best D-line coaches and the best defensive coordinator in the country to mold him into a monster.
No. 17: Matt Elam, DB, Florida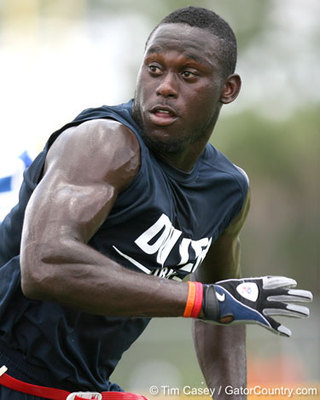 Elam's recruitment would have taken home the award for most dramatic had it happened a little later in the season.
He was wavering on the Gators even before Urban Meyer swooned, once Charlie Strong left for Louisville. In the wake of Meyer's retire-in-statement, Elam decommitted for rival Florida State, only to recommit to the Gators at the Army Bowl. That last one stuck until signing day, despite rumors that all still wasn't well.
The Gators like him at safety, but where he should really excel is on special teams. Brandon Jacobs departs as the Gators all-time greatest special teams player, but his loss could be forgotten if Elam is as good as advertised in the open field.
No. 16: Owamagbe Odighizuwa, DE, UCLA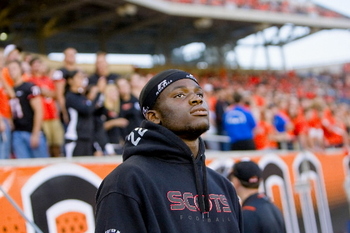 "Owa" as he will formally be known, seemed to be leaning towards the Huskers, but was not impressed with their academics (sorry, Big Red, his words, not mine) and chose the Bruins at the eleven-and-a-halfth hour.
The high-motored DE prospect joins Cassius Marsh on the Bruins' interior line, and will hopefully be of assistance in aiding UCLA's ailing rush defense.
Another great 2010 get for Rick Neuheisel—Owa's commitment was really UCLA capitalizing on USC's struggles in one way or another.
No. 15: Markeith Ambles, WR, USC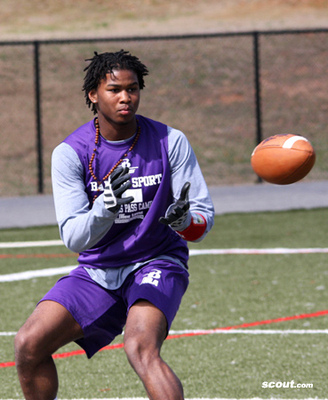 Ambles followed Lane Kiffin to sunnier (or at least beachier) shores, pledging to Southern Cal early on National Signing Day and ending a whirlwind recruitment for the touted wide receiver.
If Florida's Unholy Three are the Fab Five of defensive linemen, surely Robert Woods, Kyle Prater and Ambles make up one of the most fearsome X-Y-Z combo freshmen in the country.
Where Prater has size and Woods speed, Ambles makes the difficult catches over the middle and has versatility to spare.
No. 14: Shon Coleman, OT, Auburn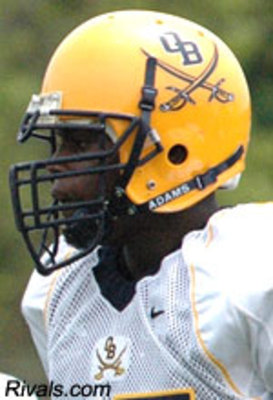 No one will get close to Cameron Newton once Shon Coleman gets a little technique in his memory banks and a little more strength in his legs.
The 6'7" 285-lb mammoth OT drew raves from Rivals for his attitude, and is the top prospect in the state of Mississippi, making him a major steal for Gene Chizik and co.
Did you know: Mississippi prospects, for whatever reason, have the highest rate of becoming NFL successes. Chances are Chizik and Gus Malzahn will expedite that process with outstanding coaching. An amazing get.
No. 13: DeMarcus Milliner, CB, Alabama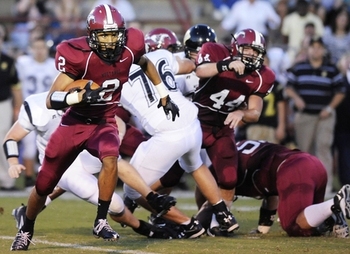 Alabama replaces the irreplaceable Javier Arenas with a larger beta version. Milliner draws praise for his straightaway speed on special teams and projects as a rangy corner with elite speed.
Saban will bring the knowledge on DB technique, and since there are no issues with his size (6'1") and no chance he'll get beat over the top, he's my favorite cornerback of the class.
So what if Rivals thinks he'll make a better free safety down the road? Receivers ain't gettin' any shorter.
No. 12: Keenan Allen, DB, Cal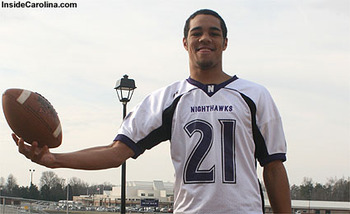 The Cal Bears closed a strong recruiting class decorated with defensive talent at end (Chris Martin, Gabe King) and linebacker (Cecil Whiteside) by adding the nation's top safety , former Alabama commitment Keenan Allen.
Allen surprised many by indicating that he would not be signing with the Tide on National Signing Day.
The Penn State Nittany Lions and the Golden Bears were sudden beneficiaries of his interest. In the end, he chose the Bears.
Allen draws praise for his smooth and able coverage in the open field, which should be welcome news to Cal fans who saw their secondary picked apart time after time last year.
He could be a candidate to start or at least see time next year.
No. 11: Robert Crisp, OL, NC State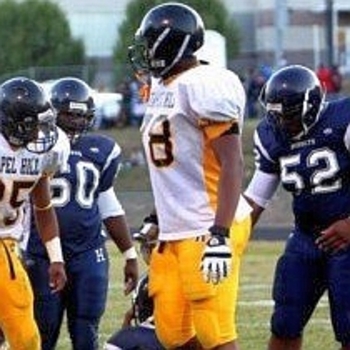 Though nowhere near him in terms of flash, NC State's Robert Crisp may be more college-ready than his mammoth OT counterpart, Seantrel Henderson.
He better be with the way things have shaken out for Tom O'Brien and the Wolf Pack. NC State missed a bowl this year despite boasting the ACC's second-best passing offense, and the Pack lose their leading tackler from a defensive unit that was already awful.
If Russell Wilson is expected to keep the Pack in every game, he'll need help on the blind-side. Crisp, who committed in mid-January, can hopefully oblige.
No. 10: Reggie Wilson, DE, Texas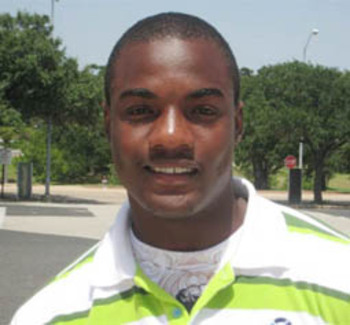 Lost in the hubbub over Jackson Jeffcoat was the fact that Texas already had their all-star bull-rushing defensive end prospect in Reggie Wilson.
Rivals thinks Wilson will end up resembling Brian Orakpo, taller, thicker, more muscular than Kindle or Jeffcoat. He and Jeffcoat will form a ruthless tandem on passing downs, and both will benefit from each other for teams that try and just block one.
And as an added bonus, his size makes him great in run support. He's a sound player and a key cog in a class that could be one of the decade's best when it's all said and done.
No. 9: Chris Martin, DE, Cal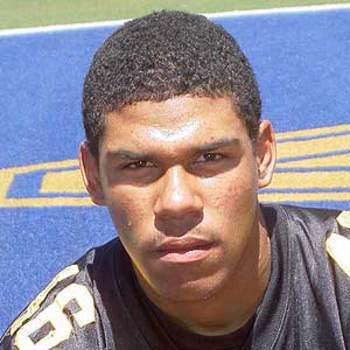 Much of Cal's woes in the secondary, including the loss of NFL talent Syd'Quan Thompson, might be solved next year via the pass-rushing talents of strongside DE Chris Martin.
The ex-Notre Dame commitment jumped ship after Charlie Weis' firing and landed with the Golden Bears.
Martin is a sturdy prospect who will require little immediate physical development, and already resembles Julius Peppers, according to Rivals. That's good news for a Cal team that wilted against its top competition and is in need of a spark on both sides of the ball.
No. 8: Jackson Jeffcoat, DE, Texas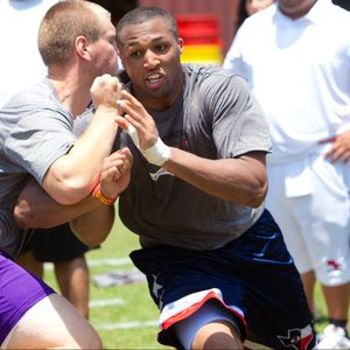 Over OLB Jordan Hicks and kicker Will Russ (hey, every team needs a kicker!), Jeffcoat is the crown jewel of the Longhorns 2010 class, the most complete and well-rounded squad in the country.
A cross between Brian Orakpo's hand-to-the-turf bullrushing ability and Sergio Kindle's slippery, unblockable inside move, Jeffcoat is the new face of the Longhorns pass rush. Texas' class was already great before he and Hicks committed on the same day, he over offers from Oklahoma and the Houston Cougars. But when he said Hook' Em, a great class became phenomenal.
No. 7: Marcus Lattimore, RB, South Carolina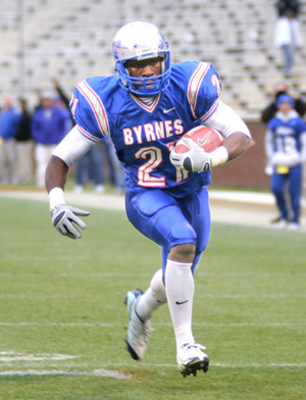 Lattimore, who committed to the Gamecocks over Auburn last night, is simply the most complete, composed and exciting running back prospect in the class.
His impact on the conference should be immediate, and that's great news for the Gamecocks, who have yet to field a dynamic rusher under the Ol' Ball Coach.
No. 6: Da'Rick Rogers, WR, Tennessee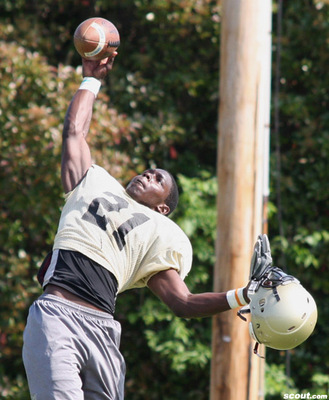 Rogers was a very late addition to the Tennessee Volunteers, joining Rocky Top as a package deal with QB Nash Nance after an eye-opening visit.
The one-time Georgia commit is drawing comparisons to current Bulldog AJ Green in terms of size, strength, and the knack for getting open in double coverage.
The question now becomes, who will throw to him? The competition between Nance, early enrollee Tyler Bray, JUCO transfer Matt Simms and junior Nick Stephens should make for improved play from a position whose only goal was to not lose games under Lane Kiffin.
No. 5: Latwan Anderson, ATH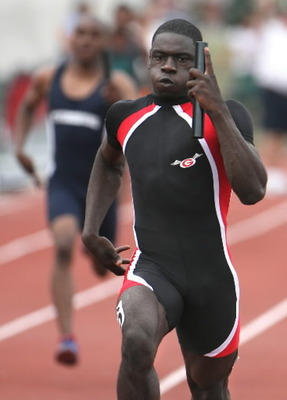 Can't let one prospect hold the whole train up.
If and when Latwan Anderson decides to commit to a university, he brings the uncommon athletic vision of a safety and the punishing speed of a running back.
His current suitors are Ohio State, West Virginia and USC. Kiffin has lured him out West to visit before he commits.
He was a foreseeable but unlikely choice to extend his recruitment past NSD, but the Mountaineers just weren't right for him (possibly because Doc Marshall is now at, well, Marshall), and Ohio State is having trouble clearing him past their compliance department.
I'd say the Trojans have the best shot, and if they land him, could really upset the balance of power in the top three.
No. 4: Seantrel Henderson, OT, USC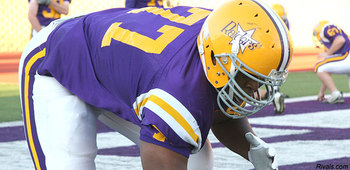 The mammoth offensive tackle who went to sleep a Buckeye and woke up a Trojan.
It's the stuff of legend, but that's how Henderson cast his future when he committed to the Trojans at the close of the day.
Since becoming the one name every recruitnik knew and perked up at, Henderson has occupied the imagination of friend and foe alike. His recruitment spanned the country east to west and north to south.
On any given day, he would be favoring Florida International and the Fellini School of Performing Arts ahead of Iowa State and the Jacksonville Jaguars.
I'm not sold on his production in the Army All-American game and have heard the rumors that he was a bust in practice, but there's no denying he brings a winning mentality to Southern Cal.
Trust college coaches over us recruitniks: everybody in the country wanted this kid, and there had to be a reason for it.
Nos. 3,2,1: Florida's Unholy Trinity—Easley, Floyd, Powell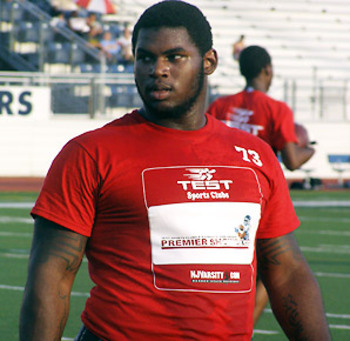 Individually, I would disperse them across a list like this.
But together, Dominique Easley, Sharrif Floyd and Ronald Powell are like the Fab Five of defensive lines. They'll be a force in the SEC for as long as they decide to play in college, but players like them are pre-professionals.
Easley was an early landing for the Penn State Nittany Lions. But he dropped JoePa's team just before playing in the Under Armour All-American Bowl, where he tore up the competition.
His announcement for the Florida Gators surprised many who felt Urban Meyer's recruiting class would go out with a whimper.
Meanwhile, monstrous DT Sharrif Floyd promised to "shock" the recruiting world with his decision.
But in retrospect, his commitment to the Florida Gators at the Army All-American game (where he absolutely destroyed good competition on the interior) was entirely foreseeable.
The mountainous five-star, a Pennsylvania native, wants to compete against the best in practice and on the field. He's only following the natural flow.
Finally, there was Ronald Powell.
The last of the unholy three to commit to the Florida Gators, Powell also put on a show at the Army All-American game, catching a pass for a touchdown and returning a blocked point ninety yards for a special teams score.
His natural speed should help him compensate for a questionable build, but he'll be beastly for the Florida Gators on the strong- or weakside. Rivals thinks he's the best end in the class, and I'm inclined to agree.
Keep Reading