Blackhawks Could Learn from Brian Burke's Gamble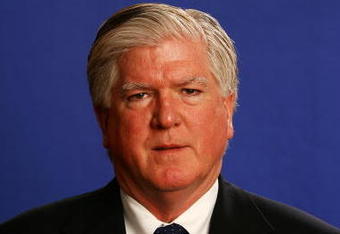 Jamie Squire/Getty Images
The opening shot of the 2009-10 Trade Deadline has been fired by a team whose record puts them in a dead heat for the dubious distinction of worst team in the NHL. 
Two shots, in fact.
As many hockey fans are already well aware, the Toronto Maple Leafs made two separate trades this past weekend and both were necessary, both were intriguing, but most of all, both were fairly sizeable gambles on the part of Leafs' Genral Manager Brian Burke.
Sending Matt Stajan, Nik Hagman, Ian White, and Jamal Mayers to Calgary for hard hitting blue-liner Dion Phaneuf and a few spare parts is pure guts on the part of Burke.  If Phaneuf, whose season has been decidedly lackluster thus far, doesn't revert back to the Norris Trophy candidate that he was last year; this move looks horrible for the Leafs. 
The second move, which involved trading Vesa Toskala and Jason Blake to the Ducks for veteran netminder J.S. Giguere, has a lower risk in terms of franchise development, but this is still the starting goalie position on one of the biggest stages in hockey that we're talking about here. 
So what do these moves have to do with the Chicago Blackhawks, and what can possibly be gleaned from Burke's most recent bids to bring the Leafs out of their seemingly permanent residence in the NHL's cellar?
Plenty.
For starters, the Blackhawks have a Stanley Cup-contending team for the first time in almost two decades. They have a rejuvinated fan base that seems to be ravenous for a return to the glory years of this once vaunted franchise. 
Yes, the Madhouse on Madison is nearly as loud as the old Chicago Stadium, and 'Hawks paraphanalia is more plentiful on the city streets now than at any other time that I can recall in my 20+ years of fandom. 
For this moment in time, there is no Ditka, there is no Jordan, there is nothing stopping the Blackhawks from not only being THE story in Chicago sports, but THE team as well.
Nothing except the Chicago Blackhawks.
One might argue that the Maple Leafs and their GM are desparate. They need to change the identity of their much maligned franchise from being one that does nothing but collect ticket money, to one that wants to win. 
Brian Burke's reputation as the supposed architect of the Anaheim Ducks' championship run a few years back is being put to the test in one of the most scrutinized sports markets in the world. 
Change had to come, especially given how poorly the Leafs had played all season. But the 'Hawks can learn something from this desparation. Brian Burke showed the NHL over the weekend that he's not afraid to make moves, to drastically alter his team, and change the entire make-up of his club.
Stan Bowman, thus far in his tenure as Blackhawks' General Manager has barely made so much as a dent in this roster since the moment he took over for Dale Tallon. 
It was Tallon that put this team together, drafted the young kids that have become today's stars, acquired many of the names both big and small on this team, and also made the moves for Patrick Sharp and Kris Versteeg that absolutely robbed the Flyers and Bruins blind.
Stan Bowman has been handed the keys to the kingdom; a young, hungry team with an amazing fan base that's believed, by most, to be on the verge of its first Stanley Cup since the 1960's. 
Make the move Stan.
While some believe that the best move is often times the ones you don't make, this is not the time for fans, players, or management to think that the 'Hawks are built for the long haul, that chemistry could be ruined, or that the team doesn't need another big name at either forward, defense, or in net.
Those people fear change and are far too risk averse to steer a team toward greatness.  Instead, Bowman should look to both put his stamp on this team (as Burke has undoubtedly done up north) as well as provide the necessary pieces for a title run. 
Whether that be trading for Anaheim's Scott Neidermayer, an experienced, skilled defensemen that's won championships on every level he's played, or sending some young talent that the 'Hawks might have to lose this offseason regardless to Atlanta for superstar sniper Ilya Kovalchuk.
Another off the wall idea might involve trading for the Dallas Stars' streaky, but talented netminder Marty Turco if the 'Hawks don't have faith in Cristobal Huet's consistency between the pipes. 
Turco has been erratic at times and his down swings can seem to go on forever, but one has to wonder what this goalie that has three sub 2.00 goals against seasons and the record for most shutouts in a playoff series on his resume could do with one of the league's stingiest defenses in front of him.
It might sound to some that I'm simply advocating for the 'Hawks to make some big, flashy, McDonnough-esque move to show the world that the 'Hawks are in the business of winning. 
That couldn't be further from the truth. 
My assertion is that as good as the 'Hawks currently are, they'll lose some pieces in the offseason and there's no guarantee as to what next year might hold. No, the 'Hawks shouldn't mortgage their future for a quick fix, but given their depth of talent, such a risk is virtually nonexistent. 
Until that cup is being held towards the rafters at the United Center, Stan Bowman needs to be doing whatever he possibly can to ensure this team has the best conceivable shot at winning the best prize in pro sports that his trading and cap management skills (and Mr. Wirtz's pocket book) can afford this team.
If not, those same people that wanted the 'Hawks to stay the course and make no moves will be calling for his head due to his paralyzing inaction and what could easily be considered his piggybacking on what should've been Dale Tallon's legacy. 
The best moves are the ones that you don't make when things go well. But if Bowman makes no moves and the team fails to gain ground from last year's Western Conference finals appearance, he'd have to be considered a failure thus far. 
Brian Burke's ability to take risks, regardless of whether it be a move to revive his foundering franchise, should be noted by both Bowman and the 'Hawks faithful. 
Change is not something to be feared, and sometimes the status quo isn't necessarily the best route to take when gunning for a championship. Especially if teams like the Flames get stronger in the next month.
Bowman must lead the charge from the front of the pack and make whatever moves are necessary to bring home a winner.
In other words:  No guts, no glory. The deadline's coming, Stan; it's time to show Chicago and the NHL what you'll bring to the table when the playoffs roll around.
This article is
What is the duplicate article?
Why is this article offensive?
Where is this article plagiarized from?
Why is this article poorly edited?

Chicago Blackhawks: Like this team?