Arsenal-Man United: Battle of the EPL Giants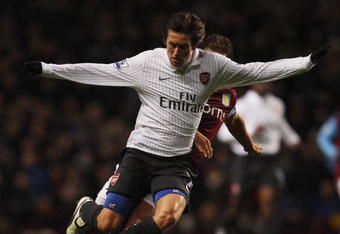 Richard Heathcote/Getty Images
I must admit, I miss the good old days when an encounter between the two most successful Premier League campaigners was a feisty affair.
Whether its Martin Keown's animal instinct dramatics against Ruud Van Nistelrooy, or Pizza's flying in the tunnel, or Wenger and Ferguson's mind games; the stage was always set for a blockbuster.
Forget this 'Super Sunday' hype that flatters to deceive with Sky Sports forcing an atmosphere of intensity with their Hollywood-style trailers laced with soundtracks of the Carmina Burana type.
No amount of TV hyperbole could spice a game up like say, Patrick Vieira and Roy Keen, the two veteran captains of the respective sides.
Here's what I'm talking about:
No wonder Graham Poll retired early from refereeing. Who would want to officiate a match between two teams led by the feistiest captains of their generation, who feel nothing about starting the fight in the tunnel?
I guess money took over and it became more fashionable for Sky Sports to claim that there's now a 'Big 2.' Or was that Phil 'Arsenal is no longer a big team' Thompson...I forget which idiots said what.
Manchester United have never won a league game at the Emirates. They came close twice, but in both cases, their hearts were broken in the dying moments of the game.
Three years ago, Walcott's pinpoint cross found Thierry Henry's head with an empty goal to direct the ball into to win the match with less than a minute to go in extra time.
Two years ago, a hawk-eyed assistant referee was the only one who understood why Gallas sprinted off celebrating after smuggling the ball across the line. Of course Van Der Sar clawed the ball back, but it had already crossed the line to guarantee a 2-2 draw at the death of the game.
Last year, it was the Samir Nasri show. The combative Frenchman gave Gary Neville a nightmare and footballing master class before using Neville to help direct the ball into the back of the net for the first in his brace.
Nasri's second goal was equally sublime with Fabregas running the show and using Walcott's run to lull Vidic into a false sense of security thinking that he had Theo covered.
Cesc simply side-footed it to an on-coming Nasri to dummy and slam the ball across the Manure keeper into the back of the net.
Some people argue that last season's encounter between Manure and Arsenal was the most entertaining football match ever played at the Emirates. I wouldn't argue with that.
It was a high-paced, end-to-end game that showed both teams displaying quality and commitment.
And as they say, the Gunners run Man United off the park.
The form guide suggests that it will be a good match tomorrow, and the home advantage suggest that Arsenal have the upper hand.
Make no mistake though, tomorrow's game is one of those games in which form goes right out of the window and the better team on the day triumphs.
You can't blame us for hoping that there'll be some drama off the pitch. It really doesn't matter whether it's from the managers or from the players. We're due some good entertainment.
Speaking of drama from managers, my most favourite Arsene Wenger quote relates to his legendary spats with Ferguson.
A journalist asked him if he'd received Ferguson's apology about one matter or the other, since Ferguson had publicly said that he has apologized to the Arsenal manager.
Wenger calmly replied saying, "I haven't received it, maybe he sent it by horse."
If you like Stone Cold Arsenal, please help tell the world about it: Digg del.icio.us Facebook email StumbleUpon Technorati Twitter


This article is
What is the duplicate article?
Why is this article offensive?
Where is this article plagiarized from?
Why is this article poorly edited?

Arsenal: Like this team?