Crimson Tide Quarterback Conundrum Might Surprise Some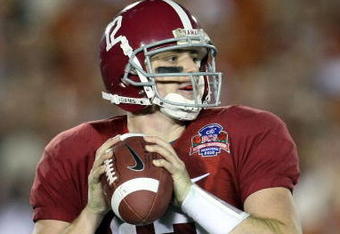 Stephen Dunn/Getty Images
The saying, "What have you done for me lately" perhaps fits the sport of college football unlike anything else in the sporting world. That college fans are fickle is no surprise. To them, players and coaches are only as good as their last game.
Alabama quarterback Greg McElroy is a prime example. I remember sitting and watching him make his first start under center for the Crimson Tide. Trivia buffs will remember that it didn't come at quarterback, but spread out as a wide receiver when Alabama opened in the wildcat formation.
The Tide went on to win that game with McElroy under center, as well as 13 more, to finish a perfect 14-0. Considering he had won all his starts in high school and all of them so far in college, to go with a SEC title and a BCS National Championship, you would think job security wouldn't be an issue.
You would likely be wrong.
Through the first third of 2009, McElroy seemed to pick up where former starter John Parker Wilson left off while showing a much better touch on the deep ball. Headed into the meat of the SEC schedule, Tide fans seemed confident that quarterback play would not be an issue.
Over the next four games, however, the Alabama passing game could only accumulate 507 passing yards and struggled mightily inside the red zone. 
At the same time McElroy was struggling, true freshman quarterback AJ McCarron was making his move. The tall, lanky freshman with the strong arm had come into fall camp no better than fourth on the Alabama depth chart.
As he picked up on the offensive play book, the young Mobile, AL native quickly passed walk on Thomas Darrah for the third spot. His strong, accurate arm and football acumen had him also pushing redshirt freshman Star Jackson for the backup role.
Meanwhile McElroy continued to struggle. Only a dominating performance by the Alabama defense and future Heisman winner Mark Ingram's 246 yard rushing prevented the Tide from losing to the South Carolina Gamecocks.
It was obvious after watching him complete only 10 passes for 92 yards and two interceptions that he had little little left in the way of confidence. That was saying a lot considering McElroy had come into the game having won 23 straight games as a starter dating all the way back to his senior year in high school.
The following weekend against rival Tennessee, things appeared to be going no better headed into the locker room at halftime. Some players made note after the game that it was during the half that Saban came down quite hard on his quarterback. After such an raw experience it was likely that McElroy would either settle down or fall completely apart.
To his credit, the junior appeared to play better in the second half even though the results didn't show up on the scoreboard. Still it was obvious going into Alabama's bye week that the Tide's offensive brain trust was more than concerned with the situation.
With two weeks to prepare for their game with LSU, the Tide chose to go back to basics in an attempt to alleviate the offensive issues. It was then that the rumors began to circulate that McCarron had passed Jackson on the depth chart. What's more, there was even speculation that the true freshman would not only have his redshirt burned should there be a injury to the starter, but that the offensive staff had also agreed that he would be brought in to replace McElroy should he continue to struggle.
You would have thought those backing that position had spoken pure blasphemy. How could you replace a unbeaten starter with an unproven true freshman three quarters of the way through the season?  How could they consider burning McCarron's redshirt this late in the season for any reason short of the remainder of quarterbacks on the Tide's roster deciding to immediately give up the sport?
The battle raged on with most believing the rumors to be completely unfounded. Most didn't seem to believe that McCarron had replaced Jackson much less was a bad first half away from stepping under center for the unbeaten Crimson Tide. They argued the point right up until Saban himself announced the change in the depth chart during his weekly press conference.
Message board fans never got the opportunity to answer the question as to whether a poor start against the Bengal Tigers would have led to McElroy being replaced. The junior magically seemed to find his stride, throwing for 276 yards with two touchdown passes quieting the crimson hordes calling for his head.
Despite leading "the drive" against Auburn and earning MVP honors in the SEC Championship game, it was his poor performance against the Longhorns in the national title game that Bama fans seemed to remember the most.
Truth is, maybe they were right in being concerned. McElroy's erratic play throughout the year was a constant source of indigestion among both the Tide faithful and apparently the Alabama coaching staff.
Even worse, it started having it's effect on recruiting. It seems the only thing that surpasses college football fans' finicky personalities is those of high school recruits. Ignoring a dominating offensive performance against a Florida Gators team that in my opinion had a more talented defensive lineup than the Longhorns, several recruits chose to focus only on Alabama's struggles throwing the ball in their finale.
Make no mistake about it, Nick Saban wants an offense that can throw the ball. No, he isn't going to go June Jones and throw the ball every down. Despite trailing very little during the season, the Tide still threw the ball 334 times. That was more than Auburn with 331, Florida with 328, Georgia with 318, and LSU with 312, all of which were considered to be more high powered offenses than Alabama.
Only Arkansas threw for significantly more yards, so the perception that the Tide couldn't or wouldn't throw the ball just wasn't true.
Still perception is reality in the world of college football. That's why it wouldn't be unreasonable to expect a battle for the starting quarterback job come spring practice, a battle that could carry on into fall camp. With the Tide's defense in a rebuilding mode, Saban knows he can't afford poor offensive output early in the season.
Whether it's McElroy, McCarron, or true freshman Phillip Sims, someone has to step under center and take charge of the Tide's passing game. You can bet that Nick Saban won't be willing to settle for anything else.
This article is
What is the duplicate article?
Why is this article offensive?
Where is this article plagiarized from?
Why is this article poorly edited?

Alabama Crimson Tide Football: Like this team?