BYU Basketball: Can Jimmer Fredette Lead BYU to a 30-2 regular season record?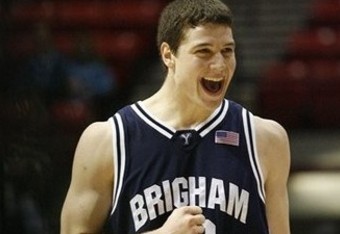 BYU is 20-1. Jimmer Fredette is a dark-horse candidate for national player of the year, and BYU is coming off the heels of their most impressive victory of the season: 71-69 at San Diego State.
They are off to a 5-1 start in Mountain West conference play and are the only team (surprisingly) that has protected their home court up to this point.
They have climbed to a top-10 ranking in the coaches' poll. That's the highest ranking a Mountain West team has ever held in either poll.
Pat Forde of ESPN.com is even pushing them as a dark-horse national title contender; one of 10 teams with a "great" chance to win it all.
Pat Forde: BYU A National Title Contender, Duke Isn't
Since Dave Rose took over, BYU is 34-1 at home in conference play.
But you have to take it one game at a time. So naturally, we should calculate the statistical odds of BYU finishing the entire regular season undefeated
So what are their chances of pushing their winning streak to 26 straight games, and finishing the regular season at 30-2, with a 15-1 conference record? And likely nabbing a top-ten ranking and possible No. 2 seed?
Jan. 27 @ New Mexico (18-3, RPI 18)
BYU is a one-point favorite in this one (according to LVSC).
New Mexico had climbed into the top 15 after starting off the season 12-0 but has faltered (slightly) with losses at Oral Roberts, SDSU, and UNLV. BYU will definitely need a similar team effort, like they had at SDSU, to pull of the victory. UNLV showed that winning in the Pit was possible, but that will make New Mexico that much more motivated to protect their home court. 
Likelihood of a BYU win: 0%
Jan. 30 vs. Utah (10-9, RPI 148)
Utah has been an up-and-down team all season—they've had puzzling losses, and boast an incredible upset at UNLV. They are a team that definitely plays up and down to their competition, and it's a rivalry game. But BYU should win this one relatively easily at home.
Likelihood of a BYU win: 95%
Feb. 2 vs. TCU (10-10, RPI 184)
TCU has been another up-and-down team this season. They've given a few pretty good teams a run for the money (Texas Tech, @ San Diego State, @ Arizona State), but have failed to come through. This one should be a BYU victory.
If BYU loses this one, it will probably be because half of their players were so zoned in on their Feb. 6 showdown with UNLV, that they didn't even realize they had a game against TCU.
Likelihood of a BYU win: 99%
Feb. 6 @ UNLV (16-4, RPI 32)
This is BYU's toughest remaining game on their schedule. UNLV had a great chance to beat BYU a month ago at the Marriot Center but squandered a second half lead. At that point, Jimmer Fredette was probably around 50 percent. By this game he (should) be back to full strength.
Regardless, BYU has not beaten UNLV at the Thomas & Mack center since Feb. 5, 2005. UNLV has beaten BYU twice at the Marriot Center since BYU's win. Overall BYU is 4-10 against UNLV since their last win at the Thomas & Mack.
But UNLV just recently lost a puzzling game to Utah at home, and this is the best BYU team in a long time, so I'll be generous to the Cougars.
Likelihood of a BYU win: 40%
Feb. 13 vs. Air Force (8-10, RPI 224)
Air Force has lost 21 straight conference games. BYU is playing at home. The only thing preventing 100 percent likelihood? The entire team comes down with sickness, and they have to make up a basketball team from the student section.
Likelihood of a BYU win: 99.99%
Feb. 17 @ Colorado State (10-8, RPI 106)
Colorado State seemed like the Cinderella story of the MWC. They were 10-5, 2-0 in league play and seemed to be really taking some positive steps forward. Then they met BYU @ the Marriot Center.
What transpired was a 91-47 complete and utter domination by BYU. Since that game, the Rams have dropped two more: to UNLV at home and to New Mexico on the road. But those are the three best teams in the conference.
Likelihood of a BYU win: 90%
Feb. 20 @ Wyoming (6-11, RPI 197)
Wyoming boasts an upset over San Diego State at home, but they lost their best player (by far), Adam Muofujeke, for the entire season. It's never a gimme on the road in the MWC, but this is probably BYU's easiest road test remaining.
Likelihood of a BYU win: 99%
Feb. 24 vs. San Diego State (12-6, RPI 42)
BYU somehow became the only team to win @ SDSU this year last Saturday. San Diego State will be looking to make up for that loss with a conference road win of their own over the Cougars. But BYU is too good at home, and SDSU has not been very good on the road so far this year.
Likelihood of a BYU win: 90%
Feb. 27 vs. New Mexico (18-3, RPI 19)
This is on a Saturday, and the Marriot center will be absolutely packed for this one. Dave Rose is 34-1 at home in MWC games since taking over as the coach. But New Mexico is capable of the upset.
Likelihood of a BYU win: 90%
Mar. 3 @ Utah (10-9, RPI 148)
Utah has not been very good at home but has had some surprisingly good showings on neutral courts and on the road against solid competition (UNLV, Illinois, Michigan). Eventually, that has to translate to some home court success. So I'll give the Utes a chance.
Likelihood of a BYU win: 90%
Mar. 6 @ TCU (10-10, RPI 184)
I will be very surprised if TCU finishes any better than seventh, or any worse than eighth, in the conference.
Likelihood of a BYU win: 95%
Now if we want to predict the probability of BYU winning the remainder of their games, all we have to do is multiply .95 x .4 x .9999 x .9 x .99 x .9 x .9 x .9 x .95
And the answer comes out to...
23.4%
So BYU only has a 23.4% chance of finishing the rest of their regular season undefeated.
This article is
What is the duplicate article?
Why is this article offensive?
Where is this article plagiarized from?
Why is this article poorly edited?