NFL Takes a Page from BCS: Top Seeds To Fight for Crown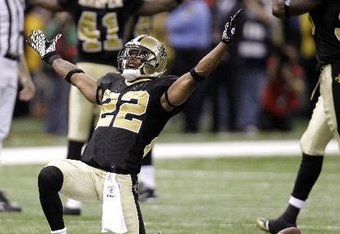 The NFL's mantra has been that anything can happen on any given Sunday. Early in the year it appeared nothing would stop powerhouses New Orleans and Indianapolis from meeting in the Super Bowl. Somewhere along the way, questions popped up.
By midseason, Minnesota and Cincinnati looked nearly as dominant as the two undefeated teams. The Vikings were 8-1, with a lone slip against the defending champion Pittsburgh Steelers. Cincinnati was 7-2, having topped those Steelers at a time when Pittsburgh was still fighting for top status in the AFC North.
The year closed with other teams stepping into the discussion, as all four suffered setbacks.
Cincinnati appeared to run out of gas, sliding to a 10-6 finish. Minnesota dropped three of its final five games, looking fallible after a string of dominance. New Orleans itself dropped three straight to close the year, after a 13-0 start, including a shocker against the Tampa Bay Buccaneers.
Indianapolis was the best positioned of the midseason's big four. They ended the year with a league-best 14-2 record. That was not without its own questions, however. The Colts had to fight concerns that they would once again face an earlier-than-expected exit, having rested their major starters for the bulk of the final two games.
All of these questions fueled a storyline in which no one was sure just who would be advancing in any given round. Green Bay, Dallas, and San Diego rode into the playoffs on dominant hot streaks, becoming trendy picks to upset their way into the championship game. History was on the side of an upset. Top seeds in each conference had not met for a Super Bowl since 1994's Buffalo Bills-Dallas Cowboys matchup.
More than a decade's history meant nothing on game day. The upstart Jets fought hard in the first half, but appeared to simply exhaust their energies early. A 17-13 advantage evaporated into a 30-17 defeat. Manning stayed true to season form, leading his team to yet another second-half comeback. Although this time the Colts did not wait for the fourth quarter to regain the lead.
The Saints and Vikings fought to a much more closely contended match. If one had only read the box score and seen the Vikings having half the penalty yards, while holding Drew Brees under 200 yards alongside the Saints' 68 total rushing yards, then the assumption would be that Minnesota had come away the victor.
Instead, the Saints outlasted Minnesota behind a five-to-one turnover advantage that negated the nearly two-to-one yardage difference (475 to 257). The Saints earned the team's first trip to the NFL's top game as Garret Hartley nailed a 40-yard kick in overtime (only his 26th NFL career attempt) to seal a 31-28 victory.
The two teams will now come together in a matchup that appeared destined from the season's outset. Now, as with college, two teams whose regular season put them at the top seed will come together for one game to determine who the nation's champion is. In one final twist, the NFL also followed suit with a southern matchup, albeit Indianapolis falling into southern status by division only.
This article is
What is the duplicate article?
Why is this article offensive?
Where is this article plagiarized from?
Why is this article poorly edited?

Indianapolis Colts: Like this team?