Chicago White Sox 2010 Season Preview Series: Starting Pitching Rotation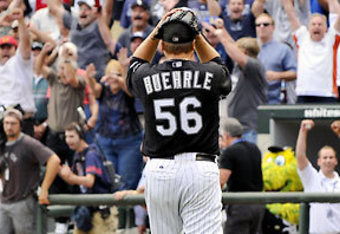 A few weeks ago, Phil Rogers of the Chicago Tribune ranked Major-League Baseball's starting rotations. you may be wondering where the White Sox are ranked on this list, the answer is 12. If this makes you scratch your head, consider that the Cubs were ranked eighth on that same list.While it is true that the Cubs were fourth in ERA, this comes against the weaker hitting of the National league. Never mind that ERA is a terrible judge of pitching talent.
Enough anger, let's get into the outlook for the 2010 pitching staff. The rotation order will probably look something like this.
1. Jake Peavy
2. Mark Buehrle
3. Gavin Floyd
4. John Danks
5. Freddy Garcia
All three of the pitchers that were on the team for the entire season were 10 game winners. Gavin Floyd finished last year with 11 wins,Buehrle won 13 games, while John Danks Finished last season with 13 wins as well. While these numbers are not as impressive as they could be, many of the losses had more to do with fielding errors and an anemic offense.
Freddy Garcia came in in the middle of the season and pitched pretty well earning a record of 3 -- 4. Those three victories were very impressive, and the losses again were not due to bad outings.
The White Sox also picked up former Cy Young winner Jake Peavy. when it was obvious that the websites were not to make the playoffs, many thought that the team should have shut Peavy down. But Jake had other ideas. Ever since his signing people have been saying that he could not pitch in a homerun hitter friendly park, and against the tougher hitters of the American League. Peavy wanted to pitch to prove the critics wrong. He finished with a 3 -- 0 record with a 1.35 ERA. in 20 innings pitched, he only allowed three runs.
Yes, I understand that 20 innings is not a very good sample size, but I think the way he came out and showed that he is a competitor, is a good sign. Having someone on the team that is this competitive will help the rotation as a whole. In the second half of the year after the perfect game, Buehrle started to break down, and there was more pressure on the rest of the staff. However with the White Sox now having a true Ace, the pressure is more evenly distributed among all five guys. This will be important especially with young pitchers.
Another important thing to remember about last season was that the young pitchers, Floyd(194) and Danks(200) both pitched close to 200 innings for the second consecutive season. this means that they know what it takes to pitch a full season. Also, they know what it feels like to win as both had amazing years in 2008. Floyd and Danks have what it takes to win 15 to 18 games. During the 2008 season Floyd and Danks combined for 29 victories. If they can repeat that, the White Sox will contend for the American League Central crown.
Look for the youngsters to perform as they did in 2008. Buehrle is due for a rebound, and with the help that Jake Peavy will bring to the pitching rotation as a whole, expect him to return to form and win 15 to 16 games. As for Peavy, if he pitches the way he did and the three late-season games last year, he could have a monster year.
In my opinion, the White Sox pitching staff is probably second behind the New York Yankees in the American League, and definitely in the top five in all of major-league baseball. Check back tomorrow when I will be previewing the White Sox bullpen.
This article is
What is the duplicate article?
Why is this article offensive?
Where is this article plagiarized from?
Why is this article poorly edited?

Chicago White Sox: Like this team?