Philadelphia Flyers Fans Demonstrate Again Why They are Second to None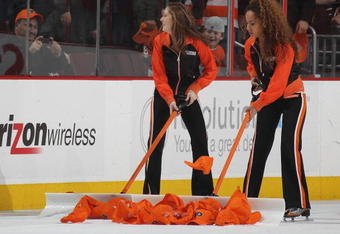 Bruce Bennett/Getty Images
While I have seen an awful lot of hockey games in my day, I saw something this week at the Wachovia Center in Philadelphia that I had never seen before, in any game, in any arena, at any level of hockey.
The Philadelphia Flyers were comfortably ahead of the Columbus Blue Jackets 5-2 late in the third period, and Columbus got a garbage goal in front of the net with about two minutes left to make it 5-3.
Columbus forward R.J. Umberger was stationed in front of the net, and it appeared as though he tipped the puck past Ray Emery. It just so happened that Umberger had scored the Jackets' prior two goals, so this seemingly gave Umberger, a former Flyer no less, the coveted hat trick.
Hats raining down from the stands onto the ice following a player's third goal of a game is one of the great traditions in sports. Yet, of course, this honor is almost always reserved for players on the home team.
Now for the cool part. In response to the apparent goal by Umberger, Flyers fans littered the ice with hundreds of bright Orange Crush hats that just happened to be the promotional giveaway that night. How convenient!
It didn't matter that the goal would end up being credited to Rick Nash and not Umberger. The point was made loud and clear.
Flyers fans certainly have fond memories of Umberger's days wearing the Orange and Black from 2005 to 2008.
Afterward, Umberger was touched by the heartfelt gesture. "I've never seen that before, where a player from an opposing team gets that response. I had great times, and it's nice to see them appreciate the effort I put in and how much it meant to be a Flyer," Umberger said.
Umberger led the Flyers on a magical playoff run in 2008. He led the team in playoff goals with 10, as the Flyers went from worst in the entire league in 2007 to the Eastern Conference Finals.
Sadly, in today's cold, hard NHL—where the salary cap dictates so many moves—on draft day in 2008, Umberger was packaged in a trade to Columbus that ultimately brought Luca Sbisa to Philly via the draft. Sbisa was dealt to Anaheim in the offseason as part of the deal that landed the Flyers Chris Pronger.
Umberger is such a class act that he wanted to be sure he let Flyers fans know that he wanted to come back onto the ice after the game to acknowledge the fans' reaction during the game and also show his appreciation for how he was treated during his time in Philly.
Unfortunately, Umberger had to attend a team meeting immediately after the game and couldn't come back out. But, rather than bolt immediately for the team bus after the meeting, he made sure he sought out a couple of Philadelphia beat writers to be sure they communicated his message to the fans.
The response to Umberger was a classy move by fans that are notoriously tough on both the opposing teams and sometimes their own Flyers (and sometimes that guy that wears the red suit from the North Pole).
I realize it is very difficult to compare fans from different cities. It becomes even more difficult to make this comparison in the NHL because of the way hockey is treated in Canada vs. the U.S.
Don't get me wrong, there are tremendous hockey fans in cities like Montreal, Toronto, Calgary, Detroit, Pittsburgh, Chicago, and Boston, but I don't know of another group of fans anywhere in North America that would have perpetrated such a move for an opposing player.
It is hard for me to believe that it has been 35 years and counting since these great fans have been able to celebrate a Stanley Cup. They deserve a much better fate.
Maybe this unusual move will bring some long-needed good karma the Flyers' way, and I can focus future articles the rest of the year on the great play of the Flyers on the ice as they look to break the long Stanley Cup drought in Philadelphia, as opposed to their great fans.
This article is
What is the duplicate article?
Why is this article offensive?
Where is this article plagiarized from?
Why is this article poorly edited?

Philadelphia Flyers: Like this team?