National Signing Day 2010: Is the Recruiting Evaluation System Flawed?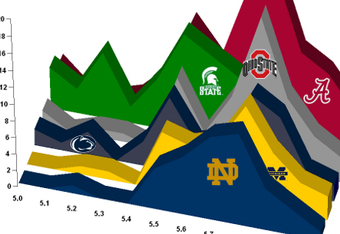 The "game" that is known as "college football recruiting" is very competitive. In fact, some may argue that the "recruiting game" has as much competition as the actual football games that are played in the fall.
There are some major differences in these two games.
One is played on the field while the other is played in the living rooms of star recruits.
The winner of the game on the field is determined by which team scores the most points, while the winner of the recruiting game is determined by the total number of "stars" each team recruits.
Stars, as in five-star players, four-star players, three-star players on down to the zero-star walk-on players.
To determine the "winners" of the recruiting wars we would add up the collective "stars" a team has recruited and divide that number by the number of recruits to arrive at an "average star per recruit" figure.
The team with the highest "average star per recruit" is the winner of the recruiting game.
It seems to be the only way college football teams, fans, and pundits have to determine how good a recruiting class each program has compiled.
But is this system flawed?
Jerry Hughes, TCU's consensus All-American defensive end was a two-star recruit out of high school, yet he developed into everybody's All-American.
Kellen Moore, Boise State's All-American quarterback, was a three-star recruit and didn't even get an offer from a single BCS conference school.
Were Hughes and Moore overlooked by the "elite" programs because they didn't have enough "stars" beside their names?
God forbid a major program have to settle for a two or three-star player and bring down their "average star per recruit!"
Those major programs might lose the "recruiting game" by offering a scholarship to some three-star player, let alone a two-star!
Over the past five years, USC has averaged 4.02 "stars per recruit" which is the best in college football.
The Trojans have recruited 20 five-star players over the past five years.
Last year, USC went 9-4 and finished as the No. 22 ranked team in the Associated Press final poll.
Boise State over the past five years has averaged 2.31 "stars per recruit" yet finished undefeated (14-0) and ranked No. 4 in the final AP poll.
BSU has had only one four-star recruit during the entire time they've been a Division I program.
Many would argue that Boise State, TCU, or Cincinnati do a far superior job of recruiting than many of the major BCS programs simply because they know how to find the "potential" talent that fits into their systems.
Boise State's starting line-up in the Fiesta Bowl had a few three-star recruits, a few two-star recruits and the majority of the offensive and defensive starters were one-star and zero star walk-on players.
BSU clearly does a lot more with far less. Boise State recruits potential, character and leadership. There is not a single four-star player on their entire roster.
When the recruiting game is played, Boise State loses simply because they don't get the four-star, and certainly not the five-star, athletes.
Here is a quick snap-shot of the BCS Bowl teams and the average number of recruiting stars over the past five years by each school:
1. Florida (3.79 "stars per recruit"), 2. Ohio St. (3.70), 3. Texas (3.66), 4. Alabama (3.46), 5. Oregon (3.00), 6. Iowa (2.77), 7. Georgia Tech (2.73), 8. TCU (2.56), 9. Boise State (2.31), 10. Cincinnati (2.20).
Yes, some of the top 10 are winners in the annual "recruiting games" but there are also some who never get close to winning.
If the recruiting evaluation system can't account for a program's ability to recognize and recruit the "diamond in the rough" type player (Jerry Hughes, Kellen Moore type), then the system is flawed.
As the recruiting results come rushing in on Feb. 3rd, don't get too excited when your favorite team appears to be winning the "recruiting game."
Remember that USC was the best recruiting team in college football but finished No. 22 last year.
This article is
What is the duplicate article?
Why is this article offensive?
Where is this article plagiarized from?
Why is this article poorly edited?

Boise State Football: Like this team?