Kurt Warner: A Role Model Decides Whether to Stay or Hang It Up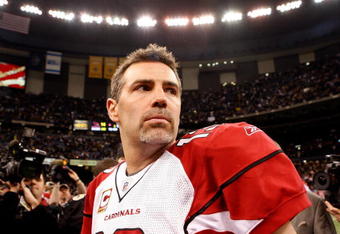 Ronald Martinez/Getty Images
It has been an up and down, emotional career for the 38 year old quarterback of the Arizona Cardinals. He began his journey in the Arena Football League, before joining the St. Louis Rams in 1998 and leading them to Super Bowl XXXIV during the 1999 season. The Rams won that day and Warner was named the Super Bowl MVP. After numerous successful years with the Rams, Warner fell on a few tumultuous seasons with the them, the New York Giants, and Arizona Cardinals. He was released, benched, benched again, and booed throughout this string of five seasons, but came back onto the scene rapidly to help the Cardinals reach their franchise's first ever Super Bowl during the 2008 season. This season, he again led the Cardinals to the postseason before the loss on Saturday evening to the New Orleans Saints. This begs the one question Warner, one of the oldest quarterbacks still playing in the NFL, has to answer: Is it time to hang it up? Warner is 38 years old, and will turn 39 before the start of training camp next year. Cardinals' fans must ask; will his body still be able to hold up? Midway through the first half the Cardinal faithful took a collective gasp as they witnessed the 38 year old Warner take a hard hit and leave the game. Although he came back after only missing a very brief part of the game, that hit laid on Warner by the Saints' Will Smith could have a lasting effect on Warner. When he woke up on Sunday there was no doubt that Warner could still feel that hit, but how much he felt it is something only Warner knows. So how often can his body take those hits, and those 24 sacks the Cardinal offensive line let through this season? It is not often quarterbacks can last as long as Warner has, especially those who have been primarily starters throughout their careers. Another factor which will probably weigh in on Warner's decision is how much time he would like to spend with his family. It is no secret that Warner is very family-oriented, along with his firm beliefs in his faith. Will these ultimately lead to his retirement? The story of Warner meeting his wife Brenda has reached national levels, including the truth about one of her two children she had before meeting Warner being a special needs child. Now the happily married couple has five children of their own, and it wouldn't be far fetched in the least bit to see Warner want to spend these precious years with his children, ages ranging from 4-19. Could they persuade him to go one way or the other? Everything the media says is speculation right now, and there is a good chance he will keep his decision rather secretive. One thing is almost certain, however, and that is the fact that his reasons for retiring or staying will likely be based primarily around his family and health. During these next few days, weeks, months, or however long it takes Warner to make his decision, all of Cardinal Nation will be holding their breath hoping he stays and leads the Cards to another postseason or even Super Bowl run. But I ask all Cardinal fans to look at his staying or going another way as well; a role model is deciding whether to stay or retire. Of course we all love wins and playoff games, but Warner seems to be one of the best people to come through the sports world in a very long time and we have been lucky enough to have our children, friends, and family watch and listen to such a leader and role model on a weekly basis. He has always had a strong belief in his faith, he helped begin the First Things First Foundation which helps events and charities on many levels including helping the developmentally disabled, and he was given the Most Caring Athlete Award in 2009. Need I go on? Warner has not only been a thrill to watch while playing on the football field, but he has also been a joy to watch off the field with everything he does for our community. So as we all wonder if a future hall-of-famer is coming back to play for the Cardinals in 2010, let us all remember that he is so much more than a quarterback for our team; he is a role model for our city.
This article is
What is the duplicate article?
Why is this article offensive?
Where is this article plagiarized from?
Why is this article poorly edited?