Rey Mysterio Went in Cage as Underdog and Came Out as Top Dog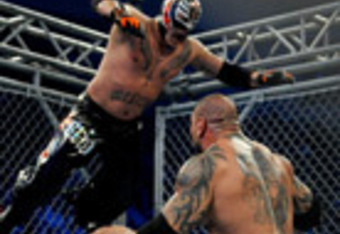 The Undertaker has finally gotten an opponent for his title at RR and it's...Rey Mysterio! He went into a caged match as an underdog and came out as the top dog.
No one thought that he had even a remote chance of winning, and the size of the animal Dave Batista, didn't help his chances either.
Batista thought that he had the this match in the bag. In his mind, he had already won. But he never counted on Rey not staying down. Never thought that Rey could win this because of his speed, his ability to wrestle, and having the heart to keep going, no matter what.
Batista has power, size advantage, and the anger of a penned up animal. Rey told him that he would make sure that Batista would never get to be number one contender or the belt.
This match didn't last that long, in and out again. You could say that Mysterio made short work of things, although at first it seemed that Batista would be the one to be be the number one contender and he did have a few chances to walk out the cage door but didn't. Why?
Rey tried to get the 6:19 on Batista but there wasn't enough space between the cage and the ropes.
Batista gave his smaller opponent a few Batista bombs, threw him into the cage fence, but, Rey stood his grounds and fought back.
Rey attempted to escape over the top of the cage and was brought back down by the brawn strength of the animal.
Batista let Rey go just so far out the door and pulled him back in, taunting him and smirking. Evil in his eyes.
Finally when the animal had Rey on his shoulders to power bomb him, rey scaled the cage and got half way down when he saw Batista coming out the cage door. On instinct, little Rey slammed the door on his head dazing his muscle bound opponent giving Rey the chance he needed to hit the floor on both feet.
The WWE Universe were on their feet screaming for Rey, screaming that he had done what many people thought was to be impossible for him do do and that was to become the number one contender for the heavyweight championship that belongs to someone that is very, very intimidating and that my friend is the Undertaker.
I don't think Batista knew what hit him because he looked confused when Rey ran up the ramp and then it looked like a bell went off in Batista's head. He realized what had happened and there was anger, confusion, rage in his eyes.
Will Batista ever get the chance to fight for the convenet title that so many men want but can't have?
Now Rey faces the real test. He now has to face the phenom, dead man walking, he'll be in Taker's backyard. The odds are going to be against Rey unless the Undertaker decides to retire soon.
Royal Rumble is the road to Wrestlemania26, and everyone is looking out for number one. The match with Taker and Mysterio will be one of the most exciting matches at RR.
This article is
What is the duplicate article?
Why is this article offensive?
Where is this article plagiarized from?
Why is this article poorly edited?