Ohio State, 2010 National Champions!!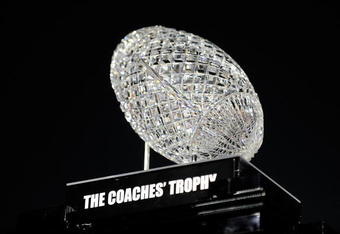 Kevork Djansezian/Getty Images
   Well, I want to be the first to congratulate The Ohio State University Buckeyes. Winning a National Championship is not easy and being a Buckeye makes it twice as hard.
   That is the headline I hope to see January 11th 2011. Ohio State winning their second National Championship in 8 years and fourth trip to the big game.
    It's been a tough road to get to where we are, but we are back. Winning the Rose Bowl lifted a huge weight off the back of the coaches and especially the players. Going into next year they don't have to worry about the perception of losing the big game. They can lay to rest the fact that they are overrated, and can sleep well knowing they can play with any program in the nation. Beating Oregon was about as good a thing as you could have asked for. Now we can just play football and enjoy the season.
    Don't think for a minute that 2010 is going to be a gimme ride through the Big Ten. Things have changed over the past year and there is a lot of competition in the league. Let's look at the schedule and the potential humps along the way.
    
    Week One: Marshal on a Thursday Night opener. This was just announced last week and I couldn't be more excited. Playing on Thursday has many advantages. First, the Buckeyes get an extra two days preparation for the rematch with The "U". We all know how extra prep time helps Tressel and the boys. Second, you get to go into the Labor Day weekend already knowing how the Buckeyes look for 2010 and they will be the talk of the opening weekend. Finally, it's a night game at the Shoe, need I say more.
  
    Week Two: Miami comes to the Shoe for potentially another night game (hasn't been announced yet). This will set the stage for another title run. This game has a ton of importance on the National perspective. Lately we have been struggling in these early showdowns, and this will be an opportunity to make a statement.
  
    Week Three and Four: We have Ohio and Eastern Michigan. I want to say these are gimme games, but you never know in college football, just ask the team up north.
    
    Week Five: We open up the Big Ten Season at Illinois. Could be an interesting game, but Illinois lost a lot of playmakers, but there isn't a gimme game in the Big Ten.
    
    Week Six: Indiana at home should be a good warm up game to get fired up for the following week. Will be a tough game , but at the Shoe should prove too much for the Hoosiers.
    
    Week Seven: This is probably going to be the toughest game on the Buckeyes schedule and will definitely be a night game in Camp Randall. I can only imagine that this one will make or break the rest of the season. I see the Buckeyes defense being too much and containing Clay and Wiskey O.
    
    Week Eight and Nine: We come back home for what I think will be a manhandling of Purdue. Remembering the catastrophe that was 2009, I see the Bucks laying down the hammer in this game. We then go on the road to Minny and I think it will be a tough game, but the Bucks will be way too much for the Gophers.
    
    Week Ten: I have trouble just giving this game to the Bucks even though Penn State is losing Clark. I think this game is hard fought every year, but I believe that OSU will be looking in fine form and roll the Lions going into what may be the de facto Conference Championship Game.
    
    Week Eleven: In what will be sure to be the Big Ten Title game for the second year in a row, we will be on the road in Iowa and again be playing a night game no doubt. I don't think we will allow this one to get away, but if we are going to drop one I see this as the one that might get away.
    
    Week Twelve: I never though I would see the day when Michigan would be so insignificant, but here we are. Michigan comes to OSU and tries to stop the Bucks from getting to the title game. It ends up being another blowout, because nobody understands the importance of "The Game" better than Tress.
    
That's how I see the season playing out, and when all is said and done we should be in fine form going into the title game. There are a ton of tough games next year, but I feel good about the fact that we have a lot of games at home. I think if we get by Wiskey and Iowa we are heading to Arizona. My prediction is 12-0 in the regular season and we bring another title to Columbus, going 13-0 and becoming the 2010 National Champions.
This article is
What is the duplicate article?
Why is this article offensive?
Where is this article plagiarized from?
Why is this article poorly edited?

Ohio State Football: Like this team?