A Season of Surprises – The Bad
January 13, 2010
In my last article (A Season of Surprises – The Good) I mentioned that the NBA has become increasingly unpredictable and somewhat capricious. I felt it necessary to clarify this point, as it could be misconstrued. I do not believe the strength of the league's top dogs have changed at all from last year, but the rest of the league has been altered so much that the 5-20th placed teams are consistently, well, inconsistent. As previously mentioned, Atlanta has gone from a mid-level team to one that's just as good as the Nuggets, Spurs, and Mavericks. Halfway through the season and only 3 games, record-wise, separates the 7th place Spurs from the 14th place Jazz. By the end of last season, that was an 11 game differential. The 3.5 games that separate 15th place Miami from 23rd place Sacramento tell a similar story.
So, what point am I making? Firstly, while the league is still very top-heavy, teams like Dallas and Atlanta are offering a bit more parity to the league than last year's hierarchy indicated. Second, there is quite a bit of parity in the middle of the league, much more than the standings themselves indicate. As outlined previously, there are a lot of teams that are on the rise that struggled mightily last year. For instance, Sacramento, the last place team from the previous season, have been challenging elite teams like the Lakers (twice) and the Cavs, forcing them both into overtime. Had a few bounces gone their way, and they would be just below .500 – though you can't fault such a young team for not possessing the killer instinct of a group of seasoned vets. Thirdly, this indicates how bottom-heavy the league still is. What surprises me is that it's not the Clippers, Grizzlies, or Kings in the cellar, but three teams that were expected to compete for the playoffs in the East – the Detroit Pistons, Philadelphia 76ers, and Washington Wizards.
Detroit Pistons
Yes, I realize they had a huge spate of injuries over the first 30 games of the season, but a 12-game losing streak that has pushed them all the way down to 6th worst in the league? Really? I saw the wisdom of trading Billups to essentially rebuild "on-the-fly" but his past summer's free agency just wasn't that great, especially with the absence of Boozer. With all that money they had to spend, adding Charlie V and Ben Gordon really hasn't amounted to much in the short-term and exposes this team's need for a star, not a few good players. Yeah yeah, I know the Pistons have won a championship without a star before, but can we really compare a group of Rodney Stuckey, Ben Gordon, Charlie V, and a few good, but aging, vets to a prime Hamilton, Tayshuan Prince, Ben Wallace, Sheed, and, of course, Chauncey Billups team that bounced the three-peat Lakers in 5 games? That Darko Milicic selection really stings right about now, as a Carmelo Anthony, Chris Bosh, or Dwyane Wade is exactly the type of star that this team needs.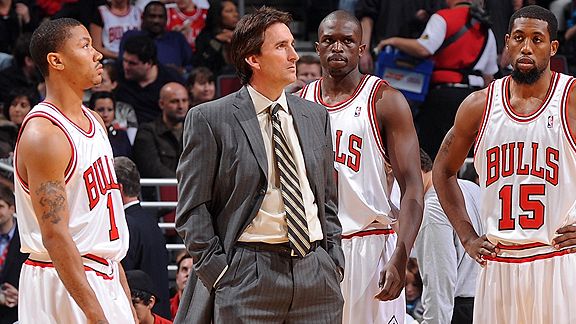 Chicago Bulls
I think everyone expected this team to shoot up the standings this season after their unexpected first-round performance against Boston last year, not least of which the Chicago faithful that have suffered through mismanagement and a coaching system fraught with errors and immaturity. Ben Gordon's absence has really hurt them, though, and the pre-season claims that his loss would be mitigated by the arrival of John Salmons and Luol Deng's return from injury have been irrefutably disproven. It's not specifically Ben Gordon, but at least the type of game he brought to the team – a shooter that commanded from the opposition, in the very least, a concerted effort to defend the perimeter. John Salmons, despite his recent breakout year, has not at all been a replacement for him and Kirk Hinrich has also badly struggled. The Bulls' offense looks stale – which their 93.6ppg attests to – and no one is hitting shots from deep which is making them look very one-dimensional. I can't fault Derrick Rose for this team's struggles, considering he has battled injury for nearly every game this season and has really picked it up lately. In the words of Bill Simmons, "Right now, Derrick Rose is like a $500,000 Maybach parked in the driveway of a $200,000 house in the middle of nowhere.
Washington Wizards
What happened in DC? This team has gone from pre-season favourites for the best "second-tier" Eastern Conference team to the biggest, most confounding and wholly illogical mess in the league. They're a sideshow that contains a couple of morons and a shocking amount of indifference. But let's just disregard Arenas' stupidity because, really, this team was burning out by the middle of November, and Gilbert's recent issues are only masking the fact that they are as bad as their record indicates which has nothing to do with gunplay. What was touted as one of the deepest teams in the league has provided very little spark from the bench. Mike Miller, – plagued with injuries – Randy Foye, and Nick Young, in particular have disappointed. The same goes for Caron Butler who, expectedly, has seen a drop in his PPG and APG production, but that doesn't excuse his across the board drop in offensive efficiency. It's looking like they would have been better off using their pick to draft Ricky Rubio because right now they have absolutely no prospects of note. Add to that their near-$80m commitment to this year's salaries and the obvious fact that the Wizards are spending a ton of tax money on a team that's going nowhere fast. I smell an impending firesale with at least one of Caron and Antawn Jamison leaving town, and for the sake of the citizens of Washington, I hope they can void Arenas' outrageous contract.
Philadelphia 76ers
Probably not as disappointing as the rest, but given the surprising challenge they posed to the Magic in last year's first round, this team did look promising especially with the return of oft-injured Elton 'Big Bucks" Brand. But despite Andre Iguodala's solid play, – and really, he has performed very well this year, from his excellent court-vision, to his lethal slashing ability, not to mention his elite rebounding for a guard – Brand has been far too inconsistent to vault them into the playoff race. 14/7 is not nearly enough, especially for someone who's making as much money as he is (16-18 million over the next 3 seasons). This guy used to be an automatic 20/10 with a good amount of blocks thrown in for good measure. Now he just looks like a washed up, undersized big that will ride out the rest of his days earning fat pay cheques and become the subject of a plethora of "what if?" scenarios about how he never truly reached his prime after an incredible early career. Philly took a risk in signing him after a serious injury lay-off, and they've been burned badly with an untradeable player who's eating up nearly a quarter of their roster's cumulative salary.
The Rest…
Indiana Pacers – Nothing was really expected of them, but they have really performed poorly and have virtually no financial flexibility until 2011/12. TJ Ford is making a lot of money for a third-string PG and while Danny Granger is locked up long-term, how long will it be until he requests a trade?
Golden State Warriors – What direction is this team going in? The SJax trade was clearly a salary dump to lessen their luxury tax bill, but why give Radmanovic more minutes than Anthony Randolph, arguably the most talented prospect they've had for the past couple seasons? Rebuild, rebuild, rebuild! This team is crying for a change in management and sobering brand of leadership.