Green Bay Packers: Refs Blow Game, But Pack Must Blame Themselves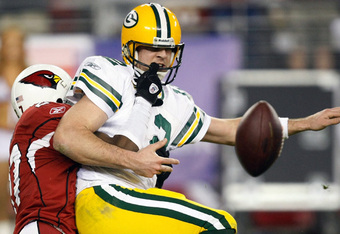 The Green Bay Packers were flat out robbed in their playoff game against the Arizona Cardinals this past Sunday.
Larry Fitzgerald is a physical receiver, and probably the best wide out in all of football. Charles Woodson is a physical corner, and was the best defensive player in all of football this season. With that said, Fitzgerald literally ran through Woodson, knocking him to the ground, at least three times, including on one of his touchdowns, and no penalty was ever called.
Defensive linemen Cullen Jenkins was called for a phantom roughing the passer the call in which he was making contact with QB Kurt Warner as he released the ball.
And do I even need to remind you about the obvious missed calls in overtime? First on a second down in which the Packers converted for a first down, but it was called back due to holding. The holding call was awful, but even worse was the missed call on a helmet-to-helmet hit on QB Aaron Rodgers .
As if turning a 1st-and-10 into a 2nd-and-20 wasn't bad enough, on the final play of the game, Rodgers was stripped of the football, but in the process was taken down by the facemask and no flags were thrown. Some people say the ball was out before the facemask, which means it was a good call. First of all, it is not conclusive that the ball was out, second of all if that is true, does that mean if a quarterback fumbles, suddenly a defender has the right to do as he pleases? I think not and at the very least it should have been hands to the face, also nullifying the game winning touchdown.
These are just the glaring bad calls that went in favor of Arizona, there was probably a handful more that didn't affect the game as much. Sure, you can say if Neil Rackers makes that field goal in regulation, Arizona wins. But for the most part, every break went to Arizona, and not Green Bay.
As much of a diehard Packers fan that I am, I remain in firm belief that referees, umpires, and officials have never cost any team, any game, with any specific bad call (and that includes last year's game between the Chargers and Broncos). I believe there are plenty of opportunities throughout a game in which the losing team had their chances. For example, in that Broncos game, the Chargers still could have stopped Denver from scoring a TD, or stopped them from converting the game winning 2-point conversion. In other words, refs can play a part in the outcome of a game, but they never decide the outcome.
The Packers game was no different. If Mason Crosby doesn't miss that field goal, it's a different game. If the Packers manage the clock at the end of the first half better, they likely score a touchdown, instead of settling for a field goal. Those two situations alone cost Green Bay seven points.
The Packers defense could have won the game if they could have simply stopped Arizona on a drive, or even held them to field goals. And let's not forget the first play of overtime in which Rodgers overthrew receiver Greg Jennings by two steps, which would have led to an 80 yard game winning touchdown.
Yes, it is unfortunate that one of the greatest NFL playoff games of all time was largely affected by the zebras, but the fact of the matter is even after trailing 17-0 and by 21 points in the third quarter, the Packers still had plenty of chances to win, and they didn't capitalize.
This article is
What is the duplicate article?
Why is this article offensive?
Where is this article plagiarized from?
Why is this article poorly edited?

Green Bay Packers: Like this team?