West Virginia Football: Bill Stewart By the Numbers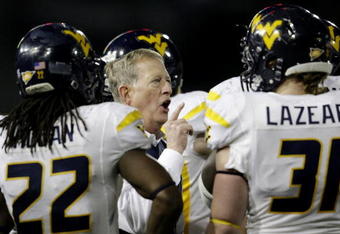 Andy Lyons/Getty Images
Bill Stewart's football teams have produced back to back 9-4 seasons at WVU. Numerous WVU football fans find those numbers cause for Bill Stewart's dismissal. Looking deeper into the numbers provides a different conclusion.
For the last two years the graduating class has had very little representation on the field. There were some outstanding talents in both classes. Yet the overall number of players represented on the two deep was minimal. Next season, 2010, will represent the first season in a number of years that actually has a large percentage of seniors playing quality minutes.
The breakdown of WVU players by class, for the 2009 season, were as follows Sr. 21, Jr. 22, So. 23, Fr. 51, as compiled by ESPN. The class average of the current AP top 20 are, Sr. 18, Jr. 22, So. 25, Fr. 49. Comparing WVU's class breakdown to the average of the top twenty shows that WVU is very similar. What those numbers don't show is the on field depth that each class presented.
The current graduating senior class at WVU was represented by three starters on offense. The defensive starters showed two seniors. Eight players of the senior class saw extended playing time on the offense and defense.
Scott Kozlowski was the full time punter, a senior.
Looking deeper still, there were two members of the senior class that deserve asterisks. Reed Williams was granted a medical redshirt last year for his shoulder injury, allowing him to play this season. Williams should have graduated last year. Alric Arnett was a junior college player, recruited by Bill Stewart and his staff. Both Williams and Arnett were starters.
The total number of players that used up their eligibility this year stands at 21. Take away Williams and Arnett. Three starters on offense and defense out of 19 possible is terrible, 15.8 percent. Logic would dictate that after four or five years in a program the senior class would be better than the underclassmen.
The junior class was represented by three starters on offense and six starters on defense. Nine starters out of a possible 22 is 40.9 percent. Improving the numbers for the players that Bill Stewart inherited. There is disparity between the depth of this year's senior class, and this year's junior class.
Noel Devine and Jock Saunders are currently deciding whether to enter the NFL draft. Obviously, the depth of next year's senior class will be effected by their decisions. Without Devine or Saunders, this year's junior class showed 11 players contributing regularly. Still, three more than this year's graduating class.
The sophomore class shows four starters on offense, and three starters on the defense for 2009. Those seven starters out of a possible 23 represents a 30.4 percent. Bill Stewart's first recruiting class is already providing more players than this year's senior class. Remember that Alric Arnett was part of this recruiting class.
It should not be forgotten that Stewart's first recruiting class was put together under duress. The ongoing soap opera that was Rich's departure had several potential recruits committing elsewhere. Yet here is that class outperforming, by participation, the senior class.
The freshman class already shows five players contributing regularly. Joe Madsen is the lone starter on the offensive, and Jorge Wright is on the defensive two deep. Tavon Austin and Ryan Clarke played quality minutes on offense. Eugene Smith won the backup quarterback duties. This year's freshman class competed with the senior class for on field participation.
Tyler Bitancurt was the place kicker, a freshman.
By contribution of his remaining recruiting classes, "The Product" did not leave the cupboard as full as he led everyone to believe. Rich simply didn't recruit well enough when he was at WVU. Certainly not to the extent that Bill Stewart and the current staff have. The numbers provide the verity.
It is my opinion Rich was aware of the lack of depth. Further fueling his motivation for leaving for the Michigan job. Rich did not posses the strength of character necessary to overcome the obstacles his recruiting presented.
Pat White, Steve Slaton, Noel Devine, Darius Reynaud, etc. all covered up the lack of depth through their superior natural ability. Jarrett Brown tried to do the same this year, he simply wasn't up to the task.
The 2010 recruiting class is currently ranked 20th by Scout.com. The class is projected at 25 players. Stewart and his staff currently have 22 verbal commitments. There are three commitments to be filled. Applying Stewart's short record in recruiting, one of those remaining commitments will become a starter.
WVU's roster numbers by class in 2010 should shake out to look very similar to this year's roster numbers. The depth that each class brings to the field will be decidedly better.
The 2010 WVU football team will begin to define Stewart and his staff. The picture will certainly be clearer, but not complete. Stewart will start a third quarterback in his third season at the helm. It will be 2011 before Stewart has the opportunity to start the season with a returning starting quarterback.
When Bill Stewart took over as the head coach, the job he was tasked with was daunting. Unite a fractured fan base. Rally a group of coaches, most of whom were leaving with "The Product." Play, and win, a bowl game against the No. 3 team in the country.
Having successfully completed those tasks, Stewart hired an entirely new staff. The new defensive staff consisted of coaches with deep ties to WVU over the years. The same cannot be stated of the offensive staff. The current offensive staff is comprised of coaches with their best coaching years in the future. I believe Robert Shuler said it best, "Tough times never last, tough people do..."
Stewart then did what seemed impossible, he improved recruiting. WVU currently has a national presence on the recruiting trail. A presence WVU has never experienced.
John "Doc" Holliday certainly contributed to the recruiting success. How his departure effects the long term success of recruiting is still uncertain. For the short term, WVU has signed first a four star, and then a five star recruit since Doc's departure. As reported by Scout.com.
Having weathered the storm, fans are calling for changes. The 2010 version of the Mountaineer football team will be deeper than the preceding two. Now is not the time to change. Now is the time to stay the course. Patience is a virtue few seldom have the fortitude for. WVU fans need look no further than Bill Stewart for their inspiration.
This article is
What is the duplicate article?
Why is this article offensive?
Where is this article plagiarized from?
Why is this article poorly edited?

WVU Football: Like this team?