When the Going Gets Tough, Pete Carroll Gets Going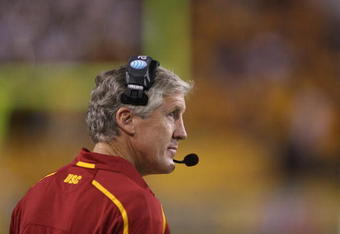 Jeff Golden/Getty Images
So much for sticking it out through the tough times. 
Pete Carroll is returning to the NFL, where he has twice before failed as a head coach.
Carroll's previous job, head coach at USC, was anything but a failure.
Carroll built, arguably, the best college football program in the nation, and USC will undoubtedly go down as the team of the decade.
All-Americans, Heisman winners, national championships, Carroll did it all.  He had made the Rose Bowl the Trojans' home away from home over the past several seasons.
But the current image of the USC program is not very rosy right now.
USC has drawn the attention of the NCAA for possible sanctions the Trojans' program faces as a result of an ongoing investigation over whether players may have received improper benefits.
Among the players involved are two of Carroll's star tailbacks. 
Joe McKnight had been seen driving in an SUV off campus in southern California.  The SUV was owned by a Santa Monica businessman.  That's strike one.
A few years earlier, Reggie Bush came into the spotlight.  Allegedly, Bush's parents lived rent-free in a San Diego area home and Bush had accepted improper benefits. That's strike two.
Both implications are in clear violation of NCAA rules and both implications could eventually cost the Trojans scholarships, money, or a variety of other penalties.
But rather than face strike three, Carroll is bolting for the Pacific Northwest and the Seattle Seahawks.
The trouble for the football program is coming off the heels of the basketball program's illegal acts that have already cost them.
The basketball team is currently on probation and have already had to forfeit wins, post season play, and scholarships.
Overall, the image of the University of Southern California athletic department is tarnished, to say the least.
For Pete Carroll, it obviously was not something he wanted to fight through.
A 9-4 season (unheard of, in the world of USC football) and the reality that both Joe McKnight and receiver Damian Williams had declared for the draft might have been the final straws for Carroll.
He says the time was right to move on, but the truth is, the time is right because he's about to get hit hard by the NCAA.
Carroll knows the NCAA will come down hard on his program, so by leaving it now he can be free of guilt.
Why else would he want to leave the sun and fun of southern California?
He has a stable of athletes on his roster, a winnable conference, and a fertile recruiting land in his backyard.
He can win a dozen games for a dozen years in a row, and he'd be the greatest thing since cosmetic surgery in Los Angeles.
Carroll admits he was surprised by the interest the Seattle Seahawks showed him and seemed to suggest that he hadn't thought very hard about returning to the NFL.
"But it came out of nowhere," he told the Los Angeles Times. 
I believe Carroll's new-found love for the NFL game is only due to the trouble waiting for him down the road if he stayed with USC.
Of course, Carroll would never admit to that.  He would never admit that he ran a dirty program.  He would never admit that any of the allegations against  his former team are true.
That former Trojans star LenDale White spoke out against Carroll says a lot about how his former players may feel betrayed.
White spoke of "disloyalty" and "being used."  He expressed anger towards Carroll for abandoning his team and leaving for a better deal.
Not a good sign when a former player bashes you like that, Pete.
And so it's off to the NFL for Carroll, hoping that the third time will be the charm for him as a head coach in the NFL.
Meanwhile, we will wait and see what happens with the Trojans program.
One thing is certain: if the NCAA comes down hard on the Trojans, we won't hear from Coach Pete about it.
The biggest fan of Pete Carroll is Pete Carroll and he'll take his smug, arrogant ways to a league that is unforgiving, a league where you're hired to be fired.
Make sure you run up the score on your weaker opponents too, Pete, we wouldn't want you to be out of character from your days in SoCal.
So much for loyalty in the world of sports.
So much for sticking it out through the tough times.
So long, Pete Carroll.
This article is
What is the duplicate article?
Why is this article offensive?
Where is this article plagiarized from?
Why is this article poorly edited?

USC Football: Like this team?