Is Depaul Finally Ready To Commit To a Winning Men's Basketball Program?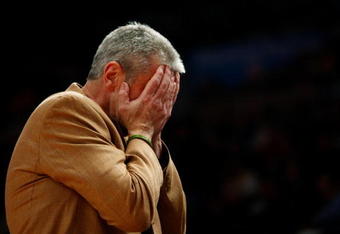 Chris McGrath/Getty Images
This picture has been a common sight on the Depaul basketball sidelines as Jerry Wainwright struggled in his bid to turn the Blue Demons into a competitive Big East team. as of this weekend, the men's basketball team was in the midst of a 21 game Big East regular season losing streak including three losses to open the 2009/2010 Big East season. On Monday, the administration announced that head coach Jerry Wainwright would be relieved of his duties as head coach, and will hand over the reins to assistant coach Tracy Webster for the remainder of the season. Since Wainwright became head coach in 2005 as replacement for Dave Leito, the team has only made one postseason appearance (a trip to the NIT quarterfinalsin the 2006/2007 season) and has had three losing seasons.
For many in the Depaul community, the fact that Wainwright was fired before the season ended Is only the first step in what could be the most important decision-making processes in Depaul history. Firing the coach in the middle of the season shows that they are not going to sit by and let a bad coach deprive the program of top 10 recruits.  Having it out there that your program is looking for a new coach will often convince recruits to keep an open mind about the program. it is imperative however that the administration spends the necessary money to hire a coach that will not only recruit well, but has experience as a winning major conference coach.
Having made this decision before the season ends gives the administration opportunity to start preliminary searches for coaches using the list of available coaches now. That way when the season ends, the national search for a new coach can have a little bit of a head start. The question is, do they have the resources and know-how to go out and hire a coach that will help lead the blue Demons back to glory.
The resource question was seemingly answered by athletic director Jean Lenti Ponsetto during this morning's press conference. When asked whether or not the school planned to hire someone on the cheap she is quoted as saying "we have the resources to pay a top level coach."however, you can't blame some fans for greeting this quote with trepidation as many feel like Wainwright was hired because he would be cheap and a safe bet to not leave the program. the question is not really whether or not they have the resources, it's whether or not the university will be willing to use its resources to improve the basketball program and hire a coach that can be successful. According to basketballstate.com the Blue Demon program is 15th out of 16 in the Big East in basketball expenditures. The average Big East team spends over $5 million a year on their basketball program, while Depaul only spends 2.8 million. This disparity does not necessarily mean that the school does not have the money to improve the program, but it does mean that the administration has been unwilling to pump more money into the program.
What is important and what will show that the Demons are serious about returning to competitiveness, is that they take their time and interview every available coach that may be interested in the job. During the last coaching search, many coaches that may have had interest in the job were not interviewed, including some that express interest in taking the job (Steve Lavin). Aside from hiring an assistant from a high profile program, there's a lot of opportunity to hire former coaches, such as former Indiana coach Bobby Knight(probably a longshot). As mentioned before, Steve Lavin is another candidate that might bring some excitement back to the Lincoln Park campus. throughout his career, he was known as a great recruiter and a somewhat decent coach. However many people in the Depaul community remember hearing about another great recruiter who was also a decent coach (Pat Kennedy), and we all know how that turned out. Another important priority according to the athletic director is hiring a coach that has connections in the Chicago area and can help recruit players from the city and surrounding area.
Last season, Jerry Wainwright entire coaching staff was fired and were replaced with assistance was more of a connection both to the University and the city of Chicago. Billy Garrett, David Booth,and Tracy Webster were hired in an effort to improve both coaching of players and local recruiting as all three of them have connections in the Chicago and suburban area. This makes it possible that the Demons may look towards improving their relationship with the Chicago public schools by hiring a coach that would relate well to local coaches and schools. Another name that has been floated has been Craig Robinson from Oregon State. he has experience recruiting in the Chicago area as he was an assistant for Bill Carmody at Northwestern for six years starting in 1999.
This is a great opportunity for Depaul to prove that they want to win and they are willing to do whatever it takes to turn this once proud program into a winner. This tremendous opportunity does not present itself to many times. So it is my hope and the hope of many other Depaul fans said they do not let us down this time. Only time will tell, in the meantime I am excited at the possibilities and will continue to support the coaching staff and especially the players throughout the rest of the season.
This article is
What is the duplicate article?
Why is this article offensive?
Where is this article plagiarized from?
Why is this article poorly edited?