NBA Fiddles while Arenas Burns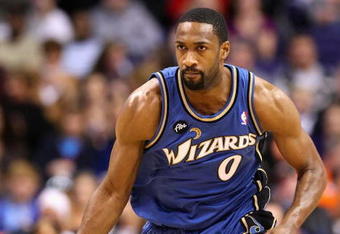 Christian Petersen/Getty Images
NBA Commissioner David Stern once again finds himself in the middle of a deepening crisis, and once again finds himself farther and farther behind the situation with each passing second.
It took Stern almost a week to do the obvious and suspend Washington Wizards Gilbert Arenas indefinitely after he was part of an incident that nearly turned the team's locker room at the Verizon Center into the OK Corral. Now comes word that the gun teammate Javaris Crittenton used in the incident was loaded.
The clock is ticking.
Stern had fiddled while a situation burned once before: Stern had been warned as early as 2002 that at least one of his referees may have been involved in gambling on NBA games.
Yet he did nothing until Tim Donaghy was well on the way to prison. It is still not clear what the league is doing to prevent similar incidents. Stern's silence on the matter is deafening.
Now, Stern finds himself stuck in another highly embarrassing situation and his movement can be timed with a sundial on a cloudy day.
Wizards' Arenas and Crittenton are reported to have pulled guns on each other in the team's locker room over a gambling debt. The team took no action after the incident on direct orders from Stern who then backtracked on the whole matter after Arenas made a clear handgun gesture with his hand during a timeout in the team's next game.
Never mind that the incident was being investigated by a grand jury, Stern issued the suspension for the hand gesture and nothing else. To argue otherwise is a fool's errand.
While Stern stands still, the league's publicity machine is in high gear papering over the entire matter.
League GMs asked about the situation by reporters are being asked to contact the league's PR office (not its general council).
Players are being warned that the subject is off limits, and the NBA's partner ESPN is tiptoeing around the matter (can you imagine the ESPN reaction if this were occurring in the NHL, a sport it does not do business with?).
Arenas has admitted that he kept guns in the lock box in the team locker room for some time before incident and claims to have handed them over to a team official once he was informed that keeping them violated Washington, D.C. law.
That alone should have warranted action from both the team and the league, but Stern waited to see how quickly things would blow over. When they instead blew up, he again assumed the ostrich position and hoped for the best.
Stern and the league came within a heartbeat of an unimaginable tragedy, a teammate shot to death by another teammate in a team locker room. Yet there has been no action taken by the league or the players union to prevent another occurrence.
Both are falling back on language in the players' contract banning such practices, but no one is spelling out any clear punishment for them.
Of this much we can be sure: the NBA and its leadership do not learn lessons from their mistakes.
The NBA waits until its problems burst into flames and then hopes that reaction from its fans and its corporate partners put out the blaze for them. Arenas and Javaris will likely spend time behind bars for this incident, and the league will consider the matter closed.
A greater tragedy awaits the NBA on its current path. Will its leadership and its fans remain mute until then?
This article is
What is the duplicate article?
Why is this article offensive?
Where is this article plagiarized from?
Why is this article poorly edited?

Washington Wizards: Like this team?