Jair Jurrjens Should Improve His Swing To Increase Run Support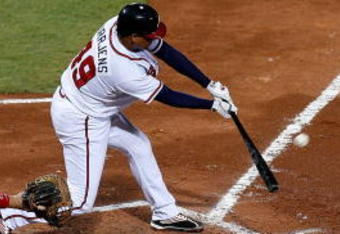 Kevin C. Cox/Getty Images
Who would have ever thought that the Atlanta Braves would find another 'kid from Curacao' that would impress us with his swagger and confidence down the center of Turner Field. Rather than precisely patrolling the center of a vast outfield at The Ted, this 'kid' worked his talents at the center of the diamond, pitching with precision off a ten-inch mound of dirt. The new kid, Jair Jurrjens has not received the attention that is deserving of a pitcher that is coming off of a season in which he tossed 215 innings and managed to keep his earned run average to a paltry 2.60. He gave up less than 2 earned runs in 26 games that he pitched. Performing under pressure is where JJ excels though. In his last five starts of the season when the Braves where shooting for a wild card birth, JJ compiled four wins and held opposing teams to four runs over 37 innings. He holds runners on and steps up his game to get the big outs that for years evaded many of the Braves young starters. Young starters like Kyle Davies, Chuck James, Charlie Morton, Jo-Jo Reyes and do I dare mention Odalis Perez, Horacio Ramirez and Jason Marquis? You get the point, JJ is the first young pitcher to make an impact on the team in over ten years since Millwood back in 1998 when He had his first full season at the age of 23, a full two years older than Jair when he tossed his first complete season. So why is it that JJ has not received the type of attention that other young rising pitching stars like Matt Cain, Clayton Kershaw, Jon Lester and Felix Hernandez have garnished? Well, because the Braves can't hit oil in an Arabian desert when He gets the ball every fifth day. The kid can't do it all himself. Last time I checked, when a Major League pitcher has an ERA as low as JJ and that pitches deep into games like He did, it usually warrants at least 17-19 wins. Jair had to deal with bad run support and a shaky back end of an Atlanta bullpen that blew several of JJ's fine pitching performances. Jair Jurrjens was part of an elite pitching staff in Atlanta in '09 and just like He anchored the staff after injuries decimated the Braves starters in '08, Jair continued his leadership skills that are beyond his years. He shows no fear on the mound and works with diligence and precision often seen in veterans of the trade. Jair will have to work hard to find things to improve in his game as He is as solid as a starter than any in the game and entering a season where He will be 24 years old, the only direction for JJ's talent to travel is up. Expect big things from him as He is the new kid from Curacao, and this kid isn't going to be a lazy, over eating star that relies on his talents to strive. This kid puts in the hard work and it will continue to show as He becomes the next ace pitcher for the Braves, eventually turning into a mentor for young guns Julio Teheran, Randall Delgado and Arodys Vizcaino in 2012 and beyond.
This article is
What is the duplicate article?
Why is this article offensive?
Where is this article plagiarized from?
Why is this article poorly edited?

Atlanta Braves: Like this team?