Jason Peters Trade Looks Better and Better For The Buffalo Bills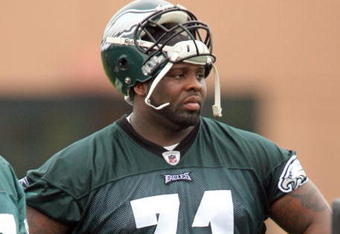 Hunter Martin/Getty Images
The trade that supposedly led the Buffalo Bills to ruin. The trade that was going to make the Eagles an offensive force in the NFC. So far neither of these things have come to pass. True the Bills still need a left tackle but was Peters going to be the guy?
"I was shocked," Peters said. "I had no clue. I had just told Buffalo I was going to play two more years there and I was done with them. And then my agent [Eugene Parker] called."
This quote coming from Peters during contract negotiations and i think is a fair assessment of his overall attitude and the Bills' quick negotiations to get what they could for him in a trade.
So the trade came to pass and the Bills got some draft picks (1st and 4th in 2009 and 6th in 2010) and Peters got his huge contract in which he will make roughly $60M over the next 6 seasons.
Philadelphia Eagles head coach Andy Reid exclaimed, "Jason Peters is the best left tackle in football. He is a powerful and athletic tackle and I have admired his play over the last few years on film. I have always believed that success in the NFL is derived from the strong play of the offensive and defensive lines."
He then proceeded to miss large parts of training camp with injuries. Then he was hurt in a preseason game and did not even travel with the team for a game. The regular season came and Peters spent almost the entire season on the injury report and missed all or part of several games, yet he still made the Pro Bowl (that is another story altogether).
The games that he did play in told the real tale. He never looked at home at left tackle in Philly. Sure he had a couple good games but when it came to stopping a quick pass rush from multiple spots he struggled greatly as was seen throughout the season and especially on Saturday night against Dallas.
Sure you could say that he couldn't block everyone on Dallas but the left side of the line was over matched every other play. Shouldn't a tackle that is "the best tackle in football" be able to make the players around him better? Shouldn't he make an average left guard into a stud brick wall? This is clearly not the case.
The flip side of the coin is what did the Buffalo Bills get in return for Peters? Well indirectly they got some team cohesion and peace of mind. Directly they got Eric Wood in the first round and Shawn Nelson in the fourth round using picks they received from the Eagles in the draft.
Eric Wood had a productive rookie season, starting from the first pre-season game and starting his first 10 games until his horrible leg break that ended his season. This could have been a career ender even 5 or 6 years ago, but with the way medical technology is now i have full faith that he will return to the Bills and be ready to go for the regular season. That being said the jury is still out on his overall value as a first round pick but has shown that he has the talent to be a stalwart guard.
Shawn Nelson is the other player that was chosen in the 4th round with the draft pick traded from the Eagles. He was drafted in the mold of Tony Gonzalez and Dallas Clark, tight ends that are more slot receiversand deep middle threats than blocking machines. His development and production was hampered by the team's inability to block with a 5 man line and his lack of size to be a sixth lineman when needed to block. He finished sixth on the team with 17 receptions, one touchdown and second overall in rookie TEs. He has a huge upside and with improved blocking skills should be considered one of the steals in the 2009 draft.
However you look at it, the Eagles did not get what they wanted or expected. The Bills still have a year or two to see if they drafted players who will contribute to their team. If you consider addition by subtraction a positive gain, well then the Bills are the clear winners by not signing an over-rated player to an over-inflated contract and getting some hopeful rookies in the deal. After all, the Bills didn't draft Peters in the first place they signed him to an undrafted free agent contract and developed him on their practice squad.
The hand that fed and groomed him was bitten and subsequently pointed him to the door.
Karma?
This article is
What is the duplicate article?
Why is this article offensive?
Where is this article plagiarized from?
Why is this article poorly edited?

Buffalo Bills: Like this team?