Mike Tomlin Has Intertwined His Own Fate With That of Bruce Arians'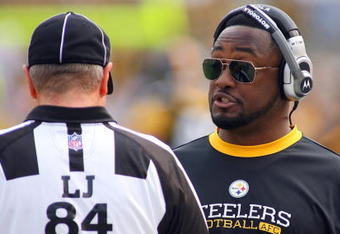 Rick Stewart/Getty Images
Amongst all the controversy surrounding the third year offensive coordinator of the Pittsburgh Steelers, Mike Tomlin has made a move that has the majority of Steelers nation shaking their collective heads.
After a meeting that lasted several hours, Bruce Arians walked out of Tomlin's office with his job intact. He will enter the final year of his contract with the Pittsburgh Steelers as their offensive coordinator.
Many non-Steelers fans may wonder why there was ever any controversy at all, considering the fact that Bruce Arians led his offense to the super bowl and won it just one season ago. Not to mention, he followed that up in 2009 with a season statistically better than the last.
The Steelers passing offense went from 15th in the league in 2008 to fifth best in the league in 2009. Their running game even improved from 23rd best in the league to 19th. But, probably the most telling stat is Pittsburgh's offense overall went from being ranked 22nd in the league after the 2008 season to 7th best in the league after the 2009 season.
Considering that, why in the world would so many Steelers fans have a problem with their offensive coordinator and want him removed? Is it the fact that the season didn't culminate in another super bowl victory? Or the fact that Pittsburgh didn't even make the playoffs?
That is how many may see it, but I don't think so.
Looking at the "bigger picture" it seems rather unfair that Arians and his offense would take the heat for the failed season, when it was the defense and special teams units whose performance dropped off from last season to this one.
Why would Dick Labeau be given a free pass, so to speak, when it was his unit who dropped from No.1 in the league in 2008 to No. 5 in the league this season?
Especially when considering how horrible the defense played at the end of games? They gave up leads of 10, 14, and even 21 points in the fourth quarter alone and allowed comeback victories in six of the Steelers' seven losses.
The offensive line coach Bob Ligashesky and special teams coach Larry Zierlein were not as lucky, as both were held responsible for their units failures and both were fired. The first such moves made by Tomlin since taking over the head coaching position in 2007.
I believe for anyone to understand the mentality of the people wanting Arians removed, one would have had to watch the Steelers games throughout the season. Because the answer obviously does not lie in the statistics; rather, the answer lies in what happened on the field...week in and week out.
Watching the football games it was clear that Arians does not have the capacity to call the right play at the right time, which is of utmost importance for an offensive coordinator to be capable of.
Arians' tendencies to call the very same plays in similar situations led to a predictability that quite often resulted in busted plays, as the defense knew what was coming. His lack of imagination was second to none.
Arians' failures in important game situations must not be overlooked either. Pittsburgh's red zone performance, short yardage situations, as well as third down conversions were all near the bottom of the league. What good are great statistics if you are weak in scoring?
His playing "not to lose" style of football was apparent as he explained why they didn't use Dennis Dixon to his full abilities. They did not want him to get hurt. That is playing with fear in your heart and is not the way football should be played or coached.
The same goes for when he would simply opt to let the clock run out at the end of the first half of several games instead of trying to move the ball down the field and attempt at least a field goal. He was afraid of turning the ball over. As it turned out, several of those games were lost by only three points.
Also, Arians' offensive philosophies do not lend themselves to a good running game which is paramount to any team's success. Balance is the key and we did not have it. No team should know that better than the Pittsburgh Steelers, who have become the most consistent team over the past forty years as a consequence.
Pittsburgh's offensive success had less to do with Arians being a good offensive coordinator and more to do with the talent on the field. They truly played good games in spite of him, as they did in 2008, and that is clear to every Steelers fan.
How it remains unclear to Tomlin is beyond my explanation. He should have it in him to realize that statistics do not mean everything.
What was discussed behind Tomlin's closed office door remains to be seen, but this much is true... whatever Arians does from here on out will reflect upon Tomlin every bit as much. As Tomlin turned the Steeler's offense over to Arians for yet another season, despite popular opinion.
Tomlin has now taken responsibility for Arians, for better or worse, and their fates will forever be intertwined.
This article is
What is the duplicate article?
Why is this article offensive?
Where is this article plagiarized from?
Why is this article poorly edited?

Pittsburgh Steelers: Like this team?