Phoenix Coyotes can take inspiration from classic film "Field of Dreams"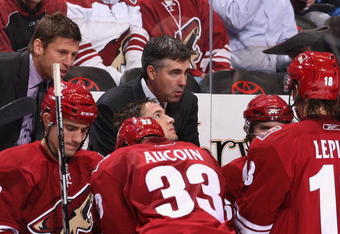 Christian Petersen/Getty Images
The classic baseball movie Field of Dreams , starring Kevin Costner and Amy Madigan, was one of the best sports films ever produced. It also serves as an inspiration for fans of the Phoenix Coyotes—hopeful that the team's recent problems with bankruptcy and attendance will not drive the promising young team away, probably up to Hamilton, Ontario.
We will always look at Field of Dreams as the movie in which Costner's character built a baseball field on his Iowa farm after hearing a whispered voice telling him "if you build it (a baseball field), he will come." After building the field, Costner's character eventually started to see former players such as "Shoeless" Joe Jackson, who eventually brought his teammates from the 1919 White Sox, and "Moonlight" Graham playing baseball on that field. It was the inspiring story that ended with Costner's character finally being able to play catch with his father—whom for a long he'd had a tough relationship with.
"If you build it, he will come."
Coyote fans hope that the same will be the case for the team this year—only it is not the spirit of former baseball players that will come, but consistent fan support at Jobing.com Arena during the midst of the team's hunt for a playoff spot. Phoenix is currently sporting a 26-14-4 record in the Western Conference, and is sitting at the fourth spot in the West as of right now with 56 points—a performance no one expected at the start of the season.
Phoenix, even before the season began, was a team and franchise in turmoil. For what seemed like every day last summer, there were constant rumors that Blackberry CEO Jim Balsillie would purchase the bankrupt organization, and as early as probably next season start the move of the franchise from the Arizona desert to Southeastern Ontario in Balsillie's hometown of Hamilton. At the very most, the 2009/10 season looked like the franchise's last in the Phoenix area, and another lost season with the young team again finishing in the depths of the Western Conference, far, far away from playoff contention.
However—there was indeed light for fans in Phoenix, all in a weeks' span. On Sep. 24, head coach Wayne Gretzky announced his resignation as Coyotes head coach and as Phoenix's head of hockey operations, due to his uncertain contractual status as the club faced bankruptcy. Gretzky left a far worse legacy in Phoenix than he had as a player in his stops with Edmonton and Los Angeles—he finished with a dismal record of 143-161-24, and never even came close to making the postseason in his four seasons as coach.
That was not it however, as on the Sep. 30, judge Redfield Braum dismissed Balsillie's bid for the Coyotes organization for the second time in just months, effectively marking the end of Balsillie's attempt at making the Coyotes the seventh Canadian-based team in the National Hockey League. Just like that, in a weeks' span, the prospects of the Coyotes staying in Arizona just got much better.
However, there are still potential barriers to hopes that the Coyotes would simply just stay in Arizona including an apathetic fan base and low home game attendance—which is an NHL-lowest ranked 30th at just 10,700. The number is so low that the New York Islanders, who are 29th, are over 2,000 ahead of the Coyotes in this category. Simply put, as a former resident of the state of Arizona, this is disappointing, but not surprising.
Arizona has been known as the home of fair-weather professional sports fans. Remember when the D'Backs played host to the first two games of the National League Championship Series against the Rockies in 2007 in front of a fair amount of empty seats at the upper level? Remember when the Cardinals required an extension to sell out the NFC Divisional playoff game against the Atlanta Falcons last season? Remember all those empty seats at Sun Devil Stadium when the Cardinals used to call it their home with the large numbers of opposing fans invading the stadium on game day?
See, like is the case with other West Coast cities like Los Angeles or San Diego, and to an extent Seattle, fans are simply too fair-weather and have less passion for sports than East Coast cities, per say. Other attractions and great year-roiund weather may be drawing crowds elsewhwere. Now, am I saying that is right? No. Do I like it? No. I would love it if the state of Arizona had more passionate fans, and that the future of the Coyotes would not even be in question.
Of course, it doesn't help, either, that Jobing.com Arena is not a favorable drive in Phoenix rush hour traffic—which, at least in my opinion, is one of the worst in the nation. The problem may be that the city of Glendale is in the Western part of the area, where fewer people reside than the Eastern part. Glendale is too far away from bigger suburbs such as Chandler, Mesa, and Tempe (all in the Eastern part of the Phoenix area), where there is a much greater potential fanbase. A trip to Glendale is simply not worth it—even for passionate fans.
Regardless of the team's problems with support and attendance, and their still-unclear future in the Valley, it does appear that the young 'Yotes have been inspired by all those events and dark clouds that surrounded them in the offseason. As I wrote earlier, Phoenix currently is the fourth seed in the conference, and would be in line, if the season ended today, to host an equally surprising team, in the Colorado Avalanche, in the first round of the playoffs.
Russian goaltender Ilya Bryzgalov has played extremely well all season long. A nice turn-around from a year ago, when he struggled and finished the year with a 26-31-6 record and a GAA near three. In support of their goalie, Phoenix has seen balanced scoring and used it to their advantage. Even though the Coyotes don't have a point-scorrer that has more than 30, and Scottie Upshall leads Phoenix in goals with a mere 14, Phoenix has eight players with 20 or more points, and also has eight players each with eight or more goals. It is a team that might need some more offense, but has clearly thrived with a clear team-effort, winning games in front of a goaltender enjoying a career year.
I really think that the support and attention, and the attendance at Jobing.com Arena will significantly pick up, something that has happened to some extent in Phoenix's last three home games. Phoenix played in front of 16,131 in a game against the Los Angeles Kings, 13,976 against the Vancouver Canucks, 12,472 against the Sharks, and 17,125 in a home game against the Detroit Red Wings. Now granted, the games against the Canucks and Sharks did not see all-too-great numbers, but the fact that the team can play in front of at least decent crowds for four straight home dates is a positive. As long as the Coyotes can keep this pace up, or at least stay in contention for a playoff spot, attendance will pick up and support will increase—hopefully keeping them in Arizona.
Simply put, after having witnessed Cardinal-mania take over in the city of Phoenix, the Phoenix area, and the state of Arizona, I have no doubt that the Coyotes can endure.
"Build it and he will come." That is a line the Coyotes can take inspiration from—only it is not necessarily a "he" they will want and expect. It is a new throng of Coyote fans.
This article is
What is the duplicate article?
Why is this article offensive?
Where is this article plagiarized from?
Why is this article poorly edited?

Phoenix Coyotes: Like this team?