What Will It Take For Boise State To Finally Get Respect?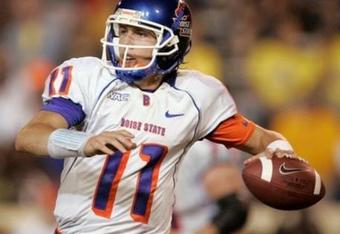 Well the Boise State Broncos completed a 14-0 season last night by winning the Fiesta Bow and defensively handling TCU. This victory gave Chris Pederson and the Broncos two BCS bowl victories since 2007. In 2007 the Broncos capped off a fabulous season by defeating Oklahoma in one of the greatest games ever played. Since this game the Broncos have racked up a record of 35-4; however, they have yet to gain the respect of the national audience. It has often been argued that in order for Boise to make the National Championship, they would need to be in a stronger conference. Although Boise does not have a strong conference, they have beaten a strong Oregon team twice, TCU, Oklahoma, and a highly ranked Fresno State team by 51 points. These wins only strengthen Boise's case for a National Championship bid. Each year the Broncos rank among the NCAA's highest scoring offenses, and their defense has gotten stronger each year. No matter what the Broncos seem to do, they are slighted by all of the polls. Many analyst gave TCU a chance to finish #1 in the AP Poll at the end of the year, and Boise State outplayed them the entire game. Yet it seems that no one will ever give Boise the respect they need in order to ever get a fair chance to compete for a National Championship. Next year the Broncos will have a strong team yet again. The Broncos Heisman Trophy Candidate, Quarterback Kellen Moore, will be returning for his junior season and junior speedster Titus Young will be returning as well. The offense will return 4 big time receivers, their starting running back, their starting tight end, and all 5 starting offensive lineman. The defense will also be returning 10 of 11 starters. This will be basically the same team that went undefeated this year. The Broncos will also have a stronger out of conference schedule as they will face Oregon State in Boise, and Virginia Tech in Washington. If the Broncos run the table yet again will they be passed over once more? The returning team will easily be one of the most talented teams in the country. Kellen Moore is already one of the favorites in the Heisman Race. Is there any chance we could see Boise in the National Championship next season or will voters pass over them again simply because of their name? The Boise State Broncos have had very talented teams that have made 2 BCS bowls by the skin of their teeth. In each of these games, Boise has defeated teams that were believed to be superior. Now I'm not arguing that Boise State is college's best team this year, but I question what will it take for Boise to finally get the respect they deserve? Must this team win another lower BCS bowl game in order to finally get a chance at a National Title, or must they switch to a stronger conference like the Big 12 or Big 10? Though the Broncos will most likely get slighted yet again next season, expect them to be even better than they were this year. 
This article is
What is the duplicate article?
Why is this article offensive?
Where is this article plagiarized from?
Why is this article poorly edited?

Boise State Football: Like this team?