Clemson Football: Top 10 Wins of the Decade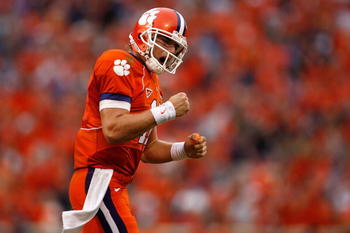 In a decade marked with high expectations and big disappointments, Clemson fans were relegated to some absolutely classic moments spanning from big-time kickers, big-time defenses and thunder and lightning, to memorable quarterbacks, overtime thrillers and blowouts against big rivals.
Here are your top 10 wins in Clemson football from 2000 to 2009...
No. 10: Sept. 3, 2005 vs. Texas A&M (25-24)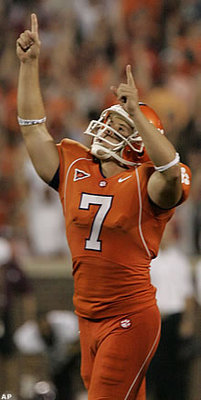 After an ugly loss to the Aggies the season before, Clemson kicked off the 2005 season with a rematch against A&M, this time in Death Valley with the Aggies ranked No. 17 in the nation.
It took WR Chansi Stuckey returning a punt 47 yards for a touchdown and Jad Dean kicking a Tiger-record six field goals, including the game winner with six seconds remaining, to lift the Tigers to victory.
No. 9: Sept. 3, 2007 vs. Florida St. (24-18)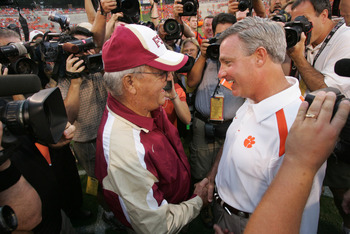 In a Labor Day night classic, Clemson knocked off the No. 19 Seminoles 24-18 behind James Davis' solid performance running the ball (18 carries, 102 yards, one TD) and Will Proctor's efficiency (14-24, 160 yards, 2 TDs).
The Tigers jumped out to a 21-0 lead, but FSU would storm back to be down by only six in the fourth quarter. Clemson's defense held off the Seminoles on three-straight drives to end the game.
Little did he know it, but Tommy Bowden would coach his last game ever against his father that night.
No. 8: Dec. 27, 2009 vs. Kentucky (21-13)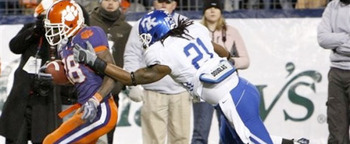 Not only was it Dabo Swinney's first bowl win as Clemson's head coach, it was also CJ Spiller's last game as a Clemson Tiger.
Spiller gained 172 all-purpose yards and scored a touchdown in his 14th consecutive game.
Kentucky came out and scored quickly on its first drive. Clemson's defense then snapped from its slumber and held UK to just a couple of field goals the rest of the game. This was just Clemson's fourth bowl win of the decade despite being bowl eligible every single season.
No. 7: Oct. 24, 2009 at Miami (40-37, OT)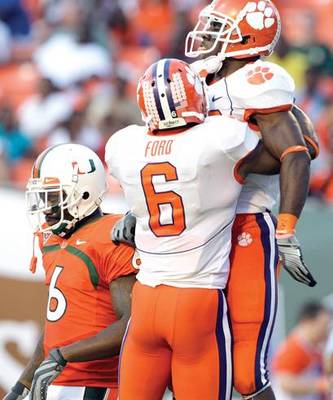 This game was a huge one for Clemson in the 2009 season.
Coming off two tough losses to Maryland and TCU, Clemson hammered Wake Forest the week before. Heading to Miami, Clemson was considered a huge underdog against the No. 8 Hurricanes.
In a game that had more back-and-forth blows than a heavyweight fight, Clemson managed to outlast the Canes in overtime 40-37. CJ Spiller had 300-plus all-purpose yards while Kyle Parker threw for 326 yards and three touchdowns, including a 26 yard pass in overtime to cap off an instant classic.
No. 6: Sept. 29, 2001 at Ga. Tech (47-44, OT)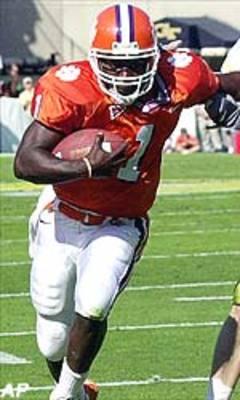 Another overtime thriller. Another win on the road against a top-10 team.
In 2001, Clemson had sights set on an ACC title. Standing in its way was rival Georgia Tech, a team going into the game ranked No. 9 in the nation.
It was quarterback Woody Dantzler who made play after play, guiding the Tigers to a thrilling overtime victory by being personally responsible for 418 of the team's 502 total yards.
In overtime, on a 3rd-and-6 play from the Tech 11 yard line, Dantzler ran a draw untouched into the end zone to win the game.
No. 5: Nov. 22, 2003 at South Carolina (63-17)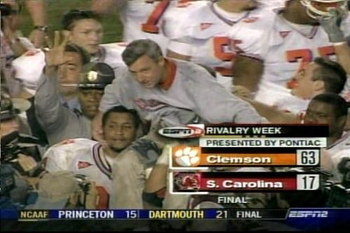 It's always great to beat your rival. It's really nice to beat your rival in its own building. Better still? Beating the team by 46 points when Lou Holtz is its coach.
In what was a key W saving Tommy Bowden's job, quarterback Charlie Whitehurst tossed four touchdowns to give the Tigers their largest-ever point total against their in-state rivals.
No. 4: Nov. 6, 2004 at Miami (24-17, OT)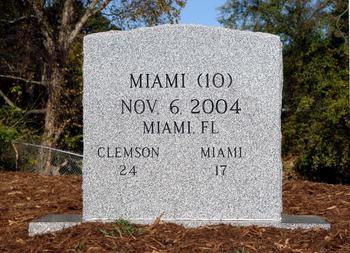 For some reason, Miami and Clemson just can't finish games in four quarters.
In fact, every game between the two teams in the past decade has been decided in overtime. This one was completely unexpected. Clemson wasn't having the best of seasons—having been crushed by Florida State, Texas A&M, and Virginia earlier in the season. Miami was ranked first in the ACC and No. 10 nationally.
Reggie Merriweather had 114 yards rushing and three touchdowns to spark the Tigers. It was the Clemson defense, however, that got the job done in overtime, forcing three straight Miami incompletions to seal the deal.
Above you see pictured a tombstone commemorating the win, something Clemson does for every road win against a top-25 team.
No. 3: Oct. 21, 2006 vs. Ga. Tech (31-7)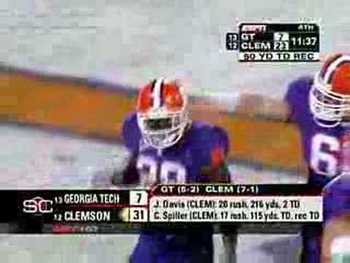 It was the first time ESPN Gameday made a visit to Clemson.
The Tigers were ranked 12th nationally, while the Yellow Jackets came in No. 13 in the nation. The game was the most hyped game the ACC had seen in years.
And yes, Clemson rocked all purple unis.
James Davis ran for 216 yards and two touchdowns while CJ Spiller had some absolutely mind-numbing touchdown plays of his own to lead Clemson to the easy victory. GT star wide receiver Calvin Johnson was held without a catch.
This was perhaps the most dominating performance Clemson had all decade against a top 25 team.
No. 2: Jan. 2, 2004 vs. Tennessee (27-14)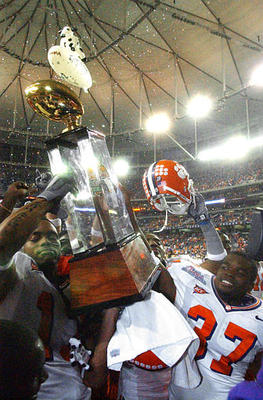 For at least one evening, Clemson laid claim to this truth: The ACC can outplay the SEC.
The Vols, ranked No. 6 in the nation, were run all over by the Tigers, namely Chad Jasmin who rushed for a career high 106 yards and a touchdown in the Peach Bowl win.
The win capped off what could be defined as the best season Clemson had under Tommy Bowden. But even this postseason bowl win wasn't the best Tiger W of the decade.
No. 1: Nov. 8, 2003 vs. Florida St. (26-10)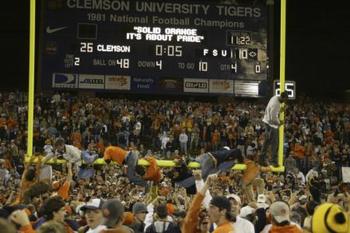 No single win from the past decade tasted sweeter than on a clear November night, son finally bested father.
After 11-consecutive losses against Florida State, Clemson finally got the monkey off its back and got Tommy Bowden his first ever win against his dad.
The Tigers thoroughly dominated the game, especially considering FSU didn't get its first (and only) touchdown until 2:14 left in the fourth quarter.
The Seminoles came into the game ranked third in the nation, making them the highest ranked opponent Clemson knocked off the entire decade.
Clemson out-rushed the Noles 152 to 11, and had a 13-minute advantage in time of posession.
This win was monumental in that it really helped turn things around for Tommy Bowden. Just a week before, Clemson had been humiliated by Wake Forest 45-17, a loss that had many fans calling for Bowden's job.
He would finish the season on a four-game winning streak, including this win, a win over Duke, the 63-17 thrashing of South Carolina, and knocking off Tennessee in the Peach Bowl.
Keep Reading

Clemson Football: Like this team?