Orlando Titans To Play First NLL Game, Usher In New Era of Lacrosse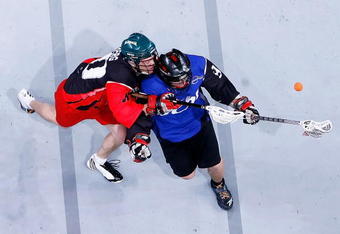 Quinn Rooney/Getty Images
A crossroads is approaching, and a team in an old league is coming to a new city.
For the sport, it is new territory. Box lacrosse, to be exact. The indoor variety of the true heir to the term "America's game."
And that city is Orlando.
The Orlando Titans begin play in the National Lacrosse League, a consortium of 11 teams in the U.S. and Canada, this Friday night, Jan. 8, against the Philadelphia Wings.
Uncharted territory indeed. No team has existed for more than three years in either the NLL or its outdoor lacrosse analogue, Major League Lacrosse, south of Washington, San Jose, or Denver.
On top of that, no Florida university has an NCAA-level lacrosse program. The Big Five—Florida, FSU, Miami, USF, and UCF—all have non-varsity programs in the Men's Collegiate Lacrosse Association.
The Titans themselves are in transition. For the past three seasons, they played in New York City. They had to spread their games between four different venues, and the franchise just had no hope of making any money there. So a new owner brought the team to Orlando.
Why lacrosse in Orlando? There are several good reasons:
Orlando does have experience with lacrosse. It has a growing high school lacrosse program.
Orlando has a large population of residents from northern states, and residents both permanent and seasonal from Canada.
Most importantly, box lacrosse has a resemblance to a sport Orlando has been missing for much of the previous decade: ice hockey. There was a lot of scrutiny when Rich DeVos raised the Orlando Solar Bears of the International Hockey League in 1995. They proved popular, though, and only folded after the IHL was disbanded in 2001, leaving with the final Turner Cup championship.
The mechanics of box lacrosse are similar to ice hockey, just without the skates and the ice. Both are played five-plus-goalkeeper to each side. Both have penalties. Both have fighting. All former Solar Bears fans should come give the Titans a try.
For those who are more familiar with lacrosse, there are plenty of reasons for them to throw their support behind the Titans as well. The Titans are the indoor team of forward Casey Powell—one of the revolutionary forces in modern lacrosse, both indoor and outdoor. The Titans also drafted and signed defenseman Dan Hardy, a college star for Syracuse who helped win the last two NCAA D-I lacrosse national titles.
It's also not like Orlando is building a team from scratch, either. The Titans were runners-up in the 2009 NLL championship despite the rigors of having several different home venues.
But lacrosse in Orlando isn't just an experiment for Orlando. It's just as much an experiment for lacrosse itself.
Lacrosse has struggled to find mainstream support in the United States on a national level. It has to pick its battlefields very carefully. The success of the Orlando Titans may open the door for more indoor lacrosse teams south of the Mason-Dixon line, finally breaking the cycle of bad luck in cities like San Jose, Portland, and Phoenix, where teams have failed in the past.
The NLL as an entity has held its own. Indeed, it has outlasted the Arena Football League; both leagues were started in 1987.
In order to thrive, it must be able to sustain a larger, more widespread league. Hopefully, the Orlando Titans will be the beginning of that new era, at least for indoor lacrosse.
This article is
What is the duplicate article?
Why is this article offensive?
Where is this article plagiarized from?
Why is this article poorly edited?